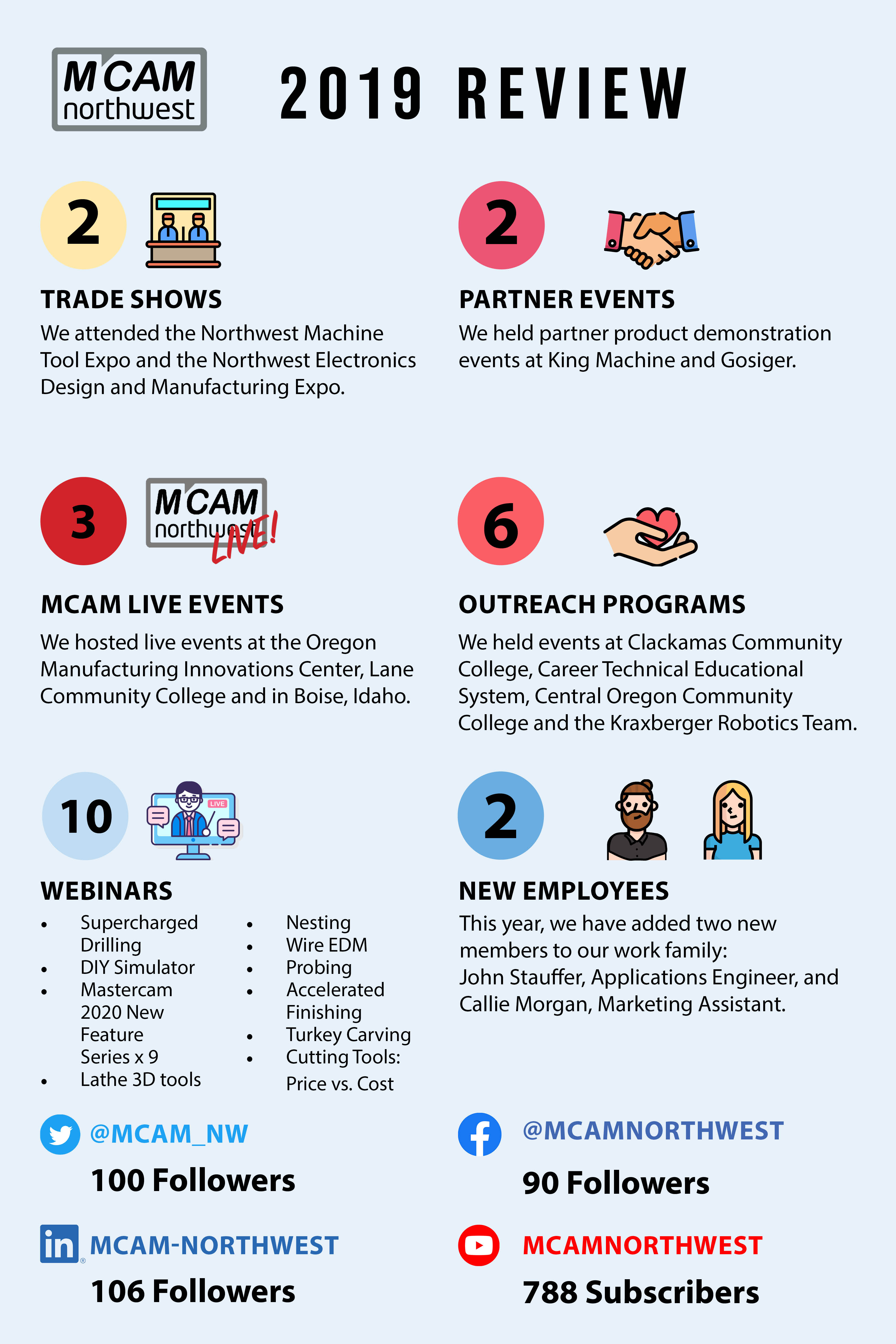 Our 2019 in Review
Happy New Year, Everyone! What a year 2019 was for us at MCAM Northwest! We have enjoyed being part of the ever-evolving manufacturing industry for over 20 years and we can't wait to see the innovations in store for the industry in the new year. Let's break down our 2019 and take a peek into what we have planned for 2020!
Trade Shows
Trade shows are one of our favorite events to participate in across the Northwest. In 2019, we attended the Northwest Machine Tool Expo and the Northwest Electronics Design and Manufacturing Expo.
MCAM Live Events
Every year we hold live demonstration events. This year, we held our MCAM Live events at the Oregon Manufacturing Innovations Center in Scappoose, and Lane Community College in Eugene. 
Webinars
Through a partnership with Streamingteacher, MCAM Northwest now offers free access to Live webinars about the latest features of Mastercam and deep-dives into the best practices on specific subjects. We host these webinars to save you time and money on travel while sharing knowledge about topics of interest. This year, we offered 10 different webinars with topics ranging from Mastercam 2020 features to how cutting tools can affect your bottom line. 
Partner Events
You may have seen us with some of our great machine tool company partners. This year we were happy to assist King Machine in Boise Idaho at Haas Demo Days and Gosiger in Oregon City at Automation Within Reach. 
Outreach Programs
We recognize the growing need to attract the new generation to careers in manufacturing. Every year, we hold educational outreach programs at local community colleges to encourage more students to pursue careers in the manufacturing industry and more public investment in manufacturing education. This year, we held events at Clackamas Community College, Career Technical Educational Center in Salem, Central Oregon Community College and the Kraxberger Robotics Team.
New Employees
This year, we have added two new members to our work family. John Stauffer is our Applications Engineer. He currently works as an instructor for our Mastercam training sessions and as an instructor for Streamingteacher. Callie Morgan is our Marketing Assistant. She manages our online presence, in addition to crafting our promotional materials.
Looking Forward
We have much in store for this year! In addition to anticipating the release of Mastercam 2021, Mastercam 2021 webinars and continuing our outreach efforts for the manufacturing, we have many events we are looking forward to participating in. 
Our first major event of the year will be the North Idaho Manufacturing Expo (NIME), presented by MCAM Northwest. This event will be not only be a trade show, but will also be an opportunity to network with other manufacturing industry professionals, and to learn about the latest manufacturing trends through seminars. The event will take place at 4:00 pm on February 6th, 2019 at North Idaho College in Rathdrum, ID. The link to register for NIME is here.
In support of the future of manufacturing we are greatly looking forward to returning to the Oregon Manufacturer's Summit, Central Oregon Skilled Trades Fair, Skills USA Conference, CTEC IAC Meetings, Clackamas Community College advisory meetings and Manufacturing Day events in October. We also plan to hold more partner events with DMG Mori, Selway, Gosiger, Ellison, and King Machine. 
This year we supported the Kraxberger Robotics Team as a local sponsor and advisor. We welcome requests from more schools and teams seeking local support. Mastercam continues to support students in SAE International, First Robotics, NASA HUNCH, National Robotics League, and Masters of CAM.
We thank our customers for their continued support! We strive to help you all in any way we can to strengthen the manufacturing community within our region.