MCAM Northwest: Past, Present and Future
2018 was a banner year for MCAM Northwest as we celebrated our 20th anniversary. Our flagship product, Mastercam, entered its 35th year. As the new year begins, we reflect on where we've been, where we are at and where we're heading.
Past
MCAM Northwest incorporated in 1998. Mastercam was at version 6 (v6), then 32 bit and fairly new to the Windows environment. The interface was designed to look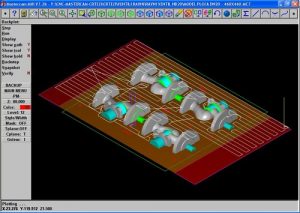 like the old DOS product to remain friendly to existing users. MCAM Northwest, like most of our customers, was running Mastercam on what Intel had just released: 350 or 400 MHz Intel Pentium II processors with 100 MHz memory bus interface. The 400 MHz version performed at 832 MIPS. It was common to wait upwards of 30 minutes to generate roughing for a 3D mold cavity. This was providing you had enough RAM, otherwise it would page to the hard drive. Then all bets were off for consistent generation times.
As Mastercam continued to improve with each version, MCAM Northwest began exploring the additive component to manufacturing with products like Solidscape and Airwolf 3D printers. We added representation of additional CAD/CAM related products that fulfill additional needs to industry such as Cimco DNC communications and Verisurf Metrology and reverse engineering software.
Present
Today, our team has grown to 10 people dedicated to serving local manufacturers We have expanded our offerings to be a better resource for our customers and now include Streamingteacher, ANSYS SpaceClaim, and the ability to develop custom posts in-house or with 3rd party vendors.
Mastercam has expanded from the time when machining a 3d surface was impressive to now include advanced multi-axis, mill-turn, and swiss machines with advanced post and machine simulation options available for a wide variety of machines. All of this is wrapped in an easy to use ribbon interface with the best graphics available in any system. Demos are now run on laptops with Intel i9 processors. According to Cinebench, this processor is 14.4 times faster than any Pentium II that was available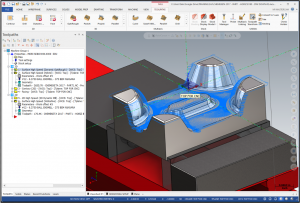 in the desktop PC era of 1998. Mastercam is now 64 bit Multi-Threaded. To generate that same cavity roughing that took us 30 minutes in 1998 now takes about 63 seconds – even less when multi-threading is factored in.
ANSYS SpaceClaim and Discovery Live is also a great fit alongside Mastercam in these manufacturing environments, allowing for quick re-design of parts and assemblies that were initially developed to be machined, taking full advantage of the material and operational cost savings.
Future
MCAM Northwest remains committed to providing our customers with the best software driven manufacturing solutions available. We are excited about the future of the industry – manufacturing is strong, and products continue to improve alongside technology. Mastercam 2020 is now in development and soon we will be able to share the enhancements with you as Public Beta 1 is released. We expect another 100+ improvements this year.
With ANSYS SpaceClaim and Discovery Live we look forward to exploring the benefits of quick re-design for additive while utilizing additional simulation capabilities that greatly speed up the decision making process.
Streamingteacher continues to add content and improve with bold new changes on the horizon to make basic Mastercam knowledge even more accessible while diving deeper into complex machining strategies.
Along with the rest of the manufacturing community at large, we recognize the urgent need for employable machinists and programmers as a large number of workers exit the labor pool to enjoy their retirement. As such, one of our key goals is to improve our relationships within the educational realm (high schools, trade schools, community colleges, etc.) helping them strengthen their CAD/CAM and manufacturing programs to make them current and relevant to the needs of today's employers. Included in that goal will be more community outreach to help the overall image of what a modern manufacturing career looks like to the students (and parents) that would consider this as a possible direction for their future.
Thank you to all our customers for taking this journey with us, we strive to help you all in any way we can to strengthen the manufacturing community within our region.