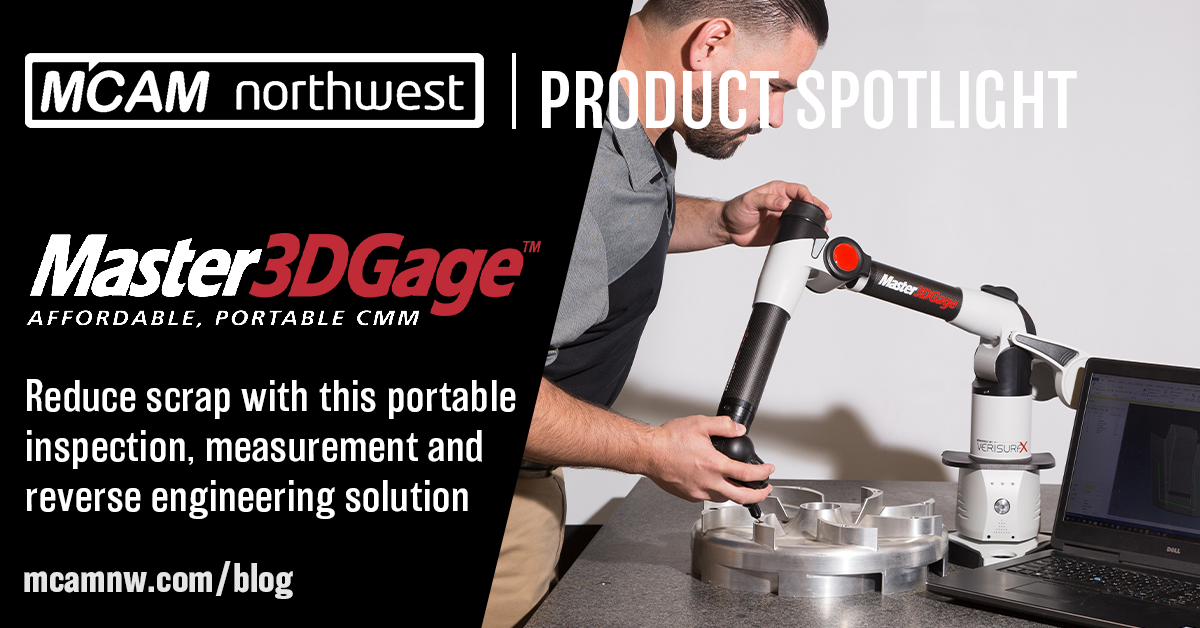 Spotlight: Master3DGage
Want to reduce scrapped parts in your shop? Consider Verisurf's tried-and-true portable CMM solution for inspection and reverse engineering.
By Callie Morgan
October 29th, 2021, 8:00 AM PDT
Powered by Verisurf 2021 software, which runs inside Mastercam, the Master3DGage is capable of doing first article inspections and creating sophisticated reverse engineered models. The difference between Master3DGage and other CMM devices is that the Master3DGage arm is completely portable. The arm includes a hardshell, wheeled case for safe storage and transport. For even better portability, its built-in rechargeable battery and Wifi frees it from the constraints of a wired device.

The arm is light, weighing in at around 22 pounds, with a counter weight and strong base to prevent tipping. The lightweight design makes going from shopfloor inspection to field inspection situations trouble-free. The Master3DGage can measure a part even before it is removed from workholding, or taken out in the field to reverse engineer a broken component on your equipment.
This arm offers both contact and non-contact 3D scanning and inspection. You can swap out the probes for the optional non-contact laser scanner head to capture measurement data. The Master3DGage saves data as point-clouds that generate a mesh that can be exported as an .STL file for 3D printing or inspection and as a 3D CAD model for Mastercam, with programmable toolpaths for CNC machining.

Reports from scan data only take minutes to compile and export to Excel, 3D PDF, PowerPoint, Word, HTML, text and database formats. Before exporting, you can customize the information you want included in the report. 
Inspection results are shown in real time with deviations down to the last decimal of tolerance, which makes Verisurf 2021 Boeing DPD Compliant. Verisurf will indicate when a model is in tolerance with the green, while blue and red indicate out of tolerance.

If you are interested in buying Master3DGage for the first time, options are available from Verisurf to package their inspection and reverse engineering software with the Master3DGage. The software packages are "modular-based", meaning you can include the software you need and exclude the software your shop doesn't need.
If you currently have a first-generation Master3DGage, you can get a sizable discount towards the purchase of a new third-generation Master3DGage Portable CMM after trading in your current unit, in any condition, before December 31st, 2021. 
This new upgraded generation PCMM includes: 
1-year hardware warranty  

Reliable built-in Wi-Fi

Rechargeable Lithium-Ion Battery

Innovative Counterweight Design

Quick Start Absolute Encoders

Hot Swappable Probes

Lightweight and Ergonomic design

Low CTE Carbon Fiber

3 months of FREE Verisurf self-paced training!
New accessories include: 
Rugged, wheeled carrying case 

NIST certified length bar 

Control Pack- Wireless

Power supply cable 

(3) magnets 

15 mil steel ball probe
You have the option to keep your existing Probe Case, 3mm and 6mm probes, Chrome Sphere, and Plate, since these parts are compatible with the newest model, or purchase new for an additional fee.
This is also a great time to take advantage of new 1, 2, and 3-year maintenance options available for the new arm, software add-ons or adding a non-contact laser scanner to your shop's fleet.
If you are interested in adding CMM inspection and reverse engineering with Verisurf's Master3DGage to your operations, give us a call at (503) 653-5332 or email us at sales@mcamnw.com.