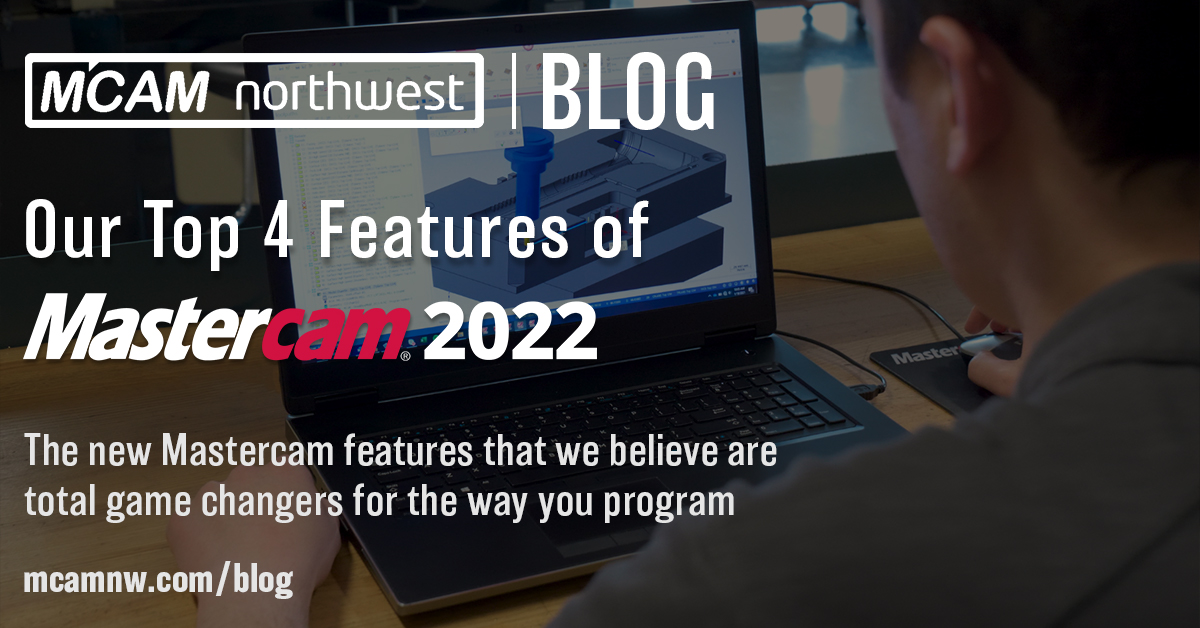 Top 4 Features of Mastercam 2022
Mastercam 2022 was released in June 2021! If you haven't updated to 2022 yet, we'll give you at least 4 reasons to do it!
By Callie Morgan and John Stauffer
July 30th, 2021, 9:00 AM PDT
Are you excited for Mastercam 2022? We sure are! Mastercam 2022 hosts many automation updates, which will make your programming faster and more efficient. Although it is hard to pick favorites, our resident Mastercam "Ninja-neer", John Stauffer, shows you how 4 of these new features work and how they will greatly improve the way you program.
1. Unified Toolpath
Unified is the first choice, all-in-one solution for Multi Axis toolpaths. The Unified toolpath can provide seamless programming techniques between 3, 4 and 5 Axis machining.
2. Automatic Regions Chaining
This tool automatically selects machining regions, air regions, and avoidance regions for fast toolpathing.
3. OptiRough for Mill & Router
The OptiRough Toolpath is now available in Mill and Router! Rough and rest mill complex shapes with a single, highly efficient toolpath.
4. Holemaking Toolpaths
Selecting multiple holes just got easier! PLUS, adjust projection lengths for holemaking tools to assure the tool is right for the job, without Simulation or Verify.
Nervous about learning a new Mastercam version? We're here to make transitioning as easy as possible! Current Maintenance customers have primary access to Mastercam software updates, version releases and unparalleled technical support and training from us! MCAM Northwest offers private online Mastercam training sessions for your team to get started with Mastercam 2022. You can sign up for a custom Mastercam training session here through filling out our form
on the Training page on our website.
Current Mastercam Maintenance customers can download Mastercam 2022 from their
My.Mastercam
account. If you are an MCAM Northwest customer, and are unsure if your company is eligible to update to Mastercam 2022, fill out this
contact form
on our website to get connected with our Sales Team.
Connect with us!
Facebook: @MCAMNorthwest
LinkedIn: mcam-northwest
Twitter: @MCAM_NW
YouTube: The MCAM Northwest
To view and register for upcoming MCAM Northwest events, visit our Events page.