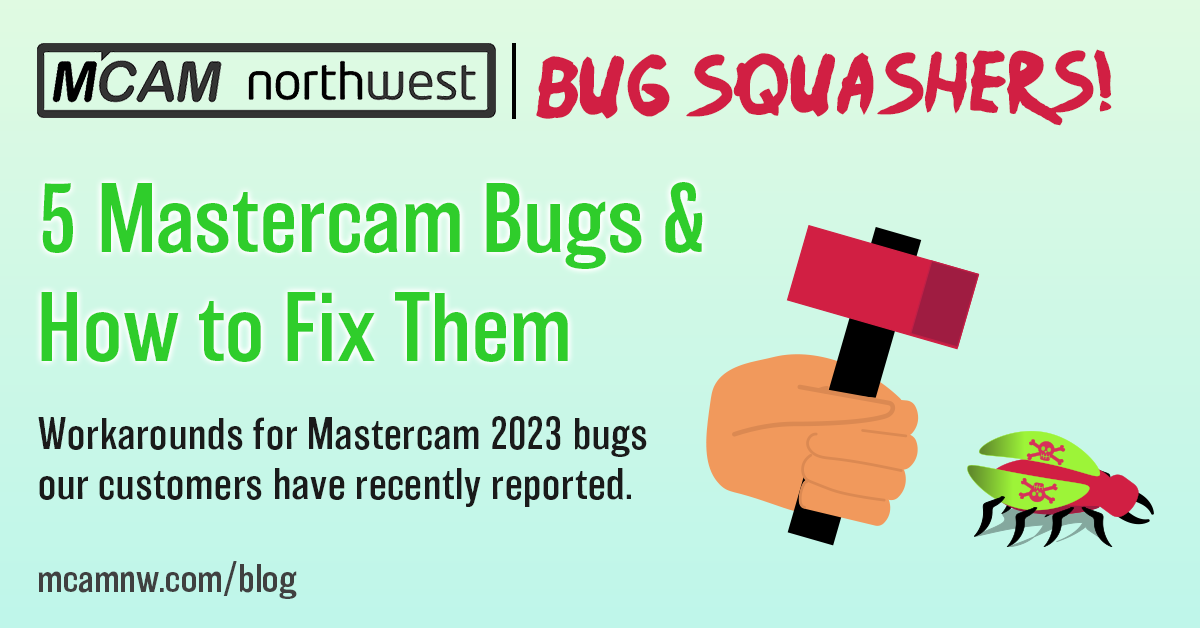 5 Mastercam Bugs & How to Fix Them
We cover workarounds to five Mastercam 2023 bugs our customers have reported in this month's edition of Bug Squashers.
By John Stauffer, Geoff Phoenix and Callie Morgan
Thursday, February 23rd, 2023, 11:00 AM PST

In this edition of Bug Squashers, we will cover five bugs that cause issues with Verify, machine definitions, Mastercam Downloads page, Backplot, and random system slowdowns in Mastercam 2023.
It is important to keep in mind that reported Mastercam bugs are often corrected with updates to the software, so always check that you are running the latest version of Mastercam 2023. To check if you are running the most current Mastercam version, visit the Help tab in Mastercam and select "About Mastercam" from the drop-down menu. The pop-up will display the Mastercam version number you are running. Compare this to the number to what appears on the Downloads page from your Mastercam.com login. After you confirm that you are running the most current version of your software, let's start squashing these pests!
Jump to:
Pixelated Display in Verify
Unable to Select New Machine Definition
Unable to Access Mastercam Downloads
Incorrect Simulate Axis Rotation
Mastercam Slowing Down
How to Report Mastercam Bugs
Pixelated Display in Verify
There are some cases where Verify looks quite pixelated for Mill, especially when it comes to holes in the model. Whether these are drilled or milled in the holes have rough edges and don't appear round at all. This can cause difficulty determining if things like chamfer sizes are correct.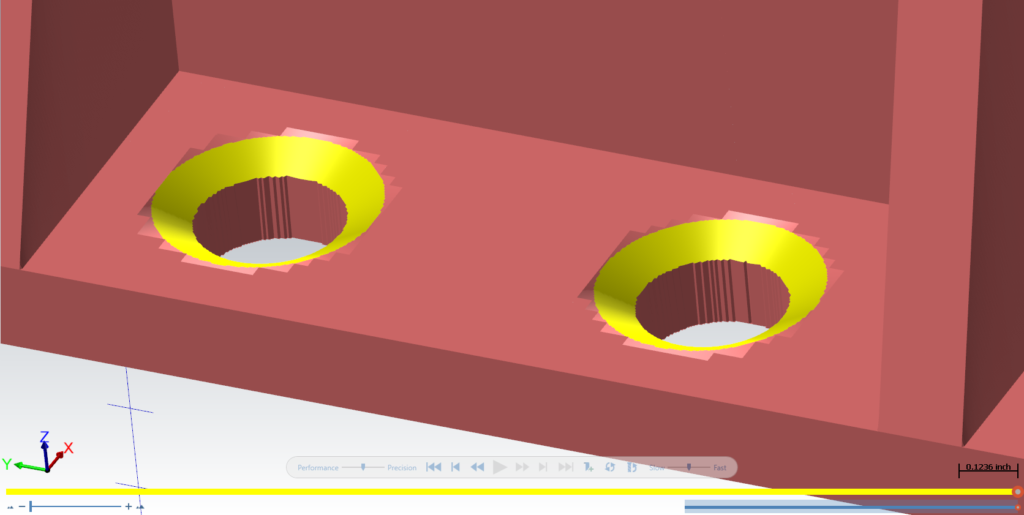 To fix this issue, go to the File tab in Verify, the select Options. Set the Simulation engine setting to 5-axis and your model will clean up immensely. This is okay to do even if you're running a 3 axis machine. This only has to do with the way the image is rendered, and the 5-axis engine does a better job than the 3-axis engine.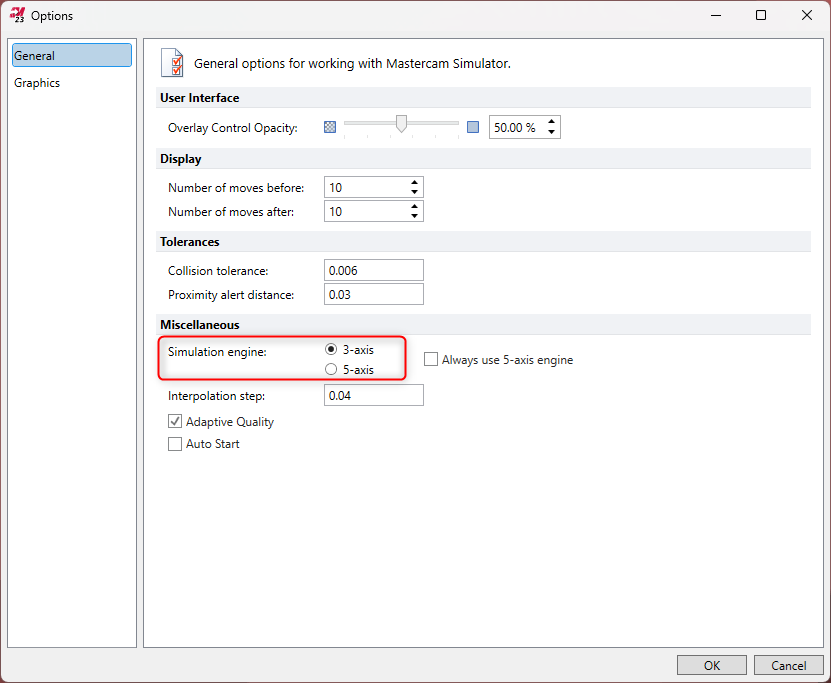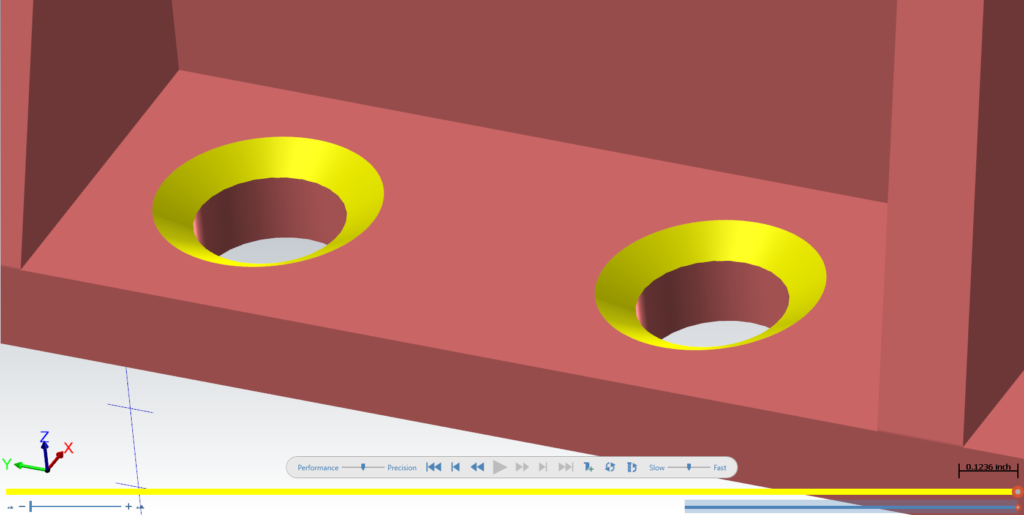 Unable to Select New Machine Definition
Some users have witnessed after adding their new machine definition (post) in Mastercam that the old machine definition is still selected as the default. 
This issue is specifically tied to changing your machine definition in a file while programming with Lathe or Mill-turn. After selecting a new machine definition you will get another prompt to select a machine definition.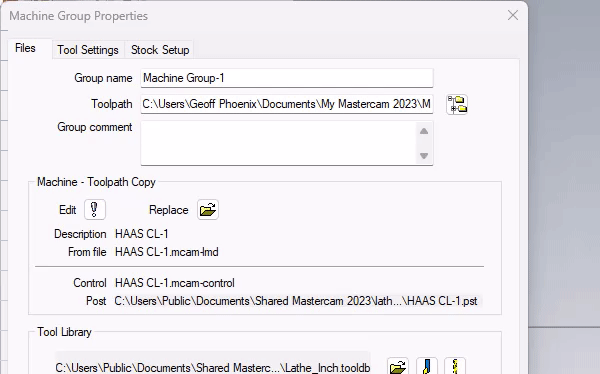 Having the wrong post selected without knowing can cause a crash! To resolve this, go through the process twice to select the machine definition correctly.
Unable to Access Mastercam Downloads
Users have reported being unable to access the Downloads page after linking their Mastercam.com account to their license. To resolve this, go into your browser settings and clear your cache, then reopen Mastercam.com and log in. You should be able to now access your Mastercam downloads page. If this does not solve the issue, please contact our support team.
Incorrect Simulate Axis Rotation
In the C-axis Face-Milling Toolpath for Mastercam Lathe, the Backplot "Simulate Axis Rotation" is incorrect if the WCS of the program is rotated off the default Top plane.
To combat this bug, use the Align-to-Z tool to line your part up with the Top plane.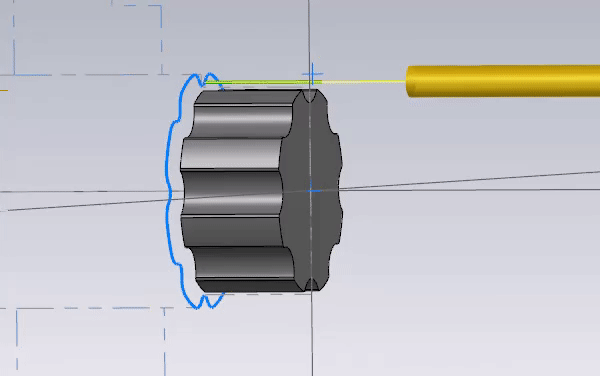 Some users have reported that their Mastercam begins to slow over the course of the day (i.e. right-click menus take longer to open). This may be due to an unconfirmed memory-leak. If you experience this, save your .mcam file and close out Mastercam, then relaunch your file.
If you're experiencing consistent or semi-consistent Mastercam slowdowns, there are a couple of other things that could cause this. Try temporarily disabling your antivirus software to see if performance improves. Notably, BitDefender tends to cause slowdown issues along with other various problems in Mastercam. If Microsoft Active Directory Syncing is being used, try disabling that as well. We have seen a couple of instances where this has caused severe Mastercam slowdowns.
How to Report Mastercam Bugs
If you do find a bug, make sure that you report it to your reseller first before reaching out to CNC Software. To report an issue, send an email to support@mcamnw.com or call us at (503) 653-5332. Alternatively, you can report the issue to CNC Software's support team via email at technical.support@mastercam.com, but make sure to CC your Mastercam reseller (support@mcamnw.com ) in the email.
When reporting a bug, here are the things you must have ready before your support call or email.
Reported Mastercam bugs are often corrected with updates to the software, so always check that you are running the latest version of Mastercam 2023 (return to the top for instructions).

Your contact information, the Mastercam version you are running, and the serial number of your license.

Be ready to describe the problem in detail.

Be in front of your computer when you call.

Try to duplicate the problem before calling. The technician may require you to replicate the problem while on the phone.

Know the hardware your computer is using, including your operating system (OS), central processing unit (CPU), graphics processing unit (GPU), and memory.

Files required to reproduce the issue you are having such as the Mastercam geometry file, system configuration files, and post processors. Use the Zip2Go utility to gather Mastercam part data into a .Z2G file and attach this file to the

email

. This can be found in the Mastercam Help menu.