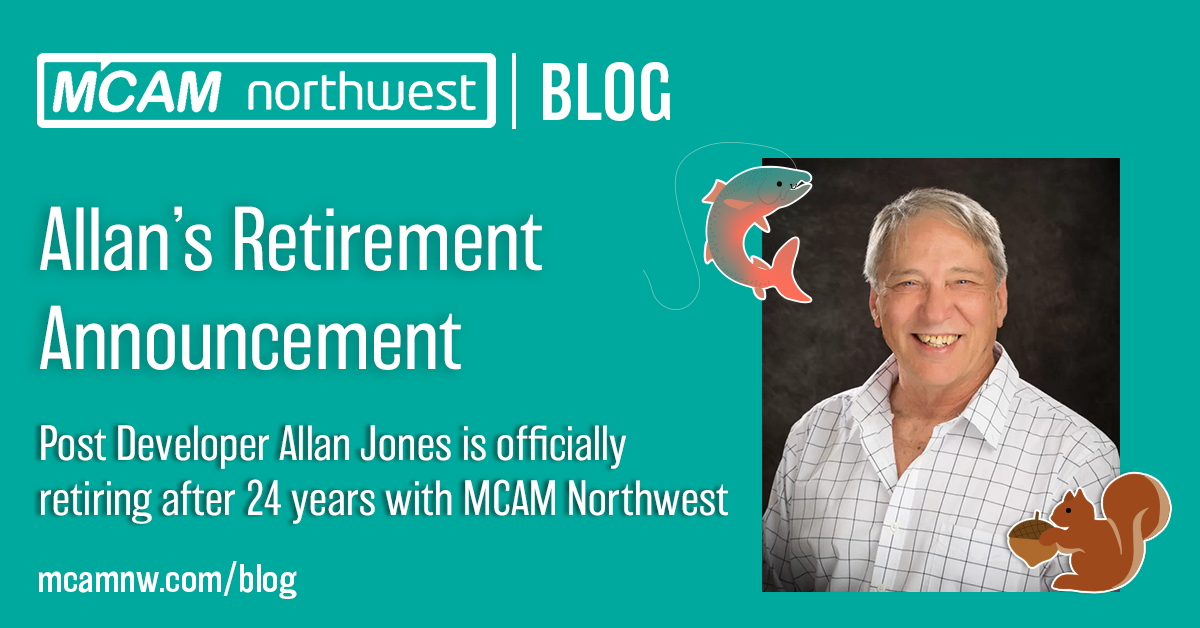 Allan's Retirement Announcement
Allan Jones is officially retiring after 24 years with MCAM Northwest.
By Callie Morgan
Wednesday, November 22nd, 2022, 11:00 AM PST
We are simultaneously pleased and saddened to announce the retirement of Allan Jones. Allan has been an integral part of MCAM Northwest, serving as our resident Mastercam Post Developer since our company's founding in 1998. 
Before joining MCAM, Allan served in United States Marine Corps as a T-58 engine mechanic for the CH-46 helicopter (also known as the Boeing Sea Knight). He started his career in machining "by accident" after leaving the Marine Corps in 1974. Without machining experience, but plenty of mechanical experience from his time in the corps, Allan started his manufacturing career at a cutting-edge job shop in Long Beach, California that used Catia and a Boeing super computer.
"I was hooked as soon as I saw an NC-controlled mill cutting parts," said Allan. "I never looked back and have never been unemployed since." 
Allan later joined materials company Allegheny Technologies Inc., Specialty Alloys (ATI). When they purchased Mastercam, Allan transitioned to working with Mastercam posts, then joined the MCAM Northwest team in '98.
With Allan's decades of experience in the industry, he has witnessed lots of changes and has always emphasized the need for machinists and CNC programmers to stay current on techniques and technology. He offers this piece of hearty advice for future generations of manufacturers:  
"My advice is to get as much well-rounded experience as possible," said Allan. "Learn to program and read G Code, become proficient with as many types of machines as possible and keep up with the latest developments. CAD/CAM is progressing at an ever-increasing rate and a broad base of experience can take you to unexpected and rewarding places. Being able to create something useful (and even beautiful) from a raw piece of stock has its own reward. Try to see the art in the trade and the fulfillment of working with your hands as well as your mind. It's not always 'just a job'. Good luck!"

Post-retirement (pun intended), Allan plans to focus more on his outdoor hobbies of fishing, photography, gardening fresh tomatoes, and woodworking. But, most of all, Allan wants to master the art of doing nothing at all.
Allan's last day at MCAM Northwest will be December 31st, 2022. If you have questions related to Mastercam posts, Applications Engineer Geoff Phoenix will assist you from the support@mcamnw.com email going forward. For more information on how to request posts, refer to our Post Processing Services page on our website.
We will be missing Allan's stories about his battles against the squirrels around his home in Albany, Oregon, and his hilarious quips about life and all things about Elon Musk. From all of us at MCAM Northwest, we thank Allan for lending his G-code expertise and humor to us for all these years. We wish him the best of luck and leisure in his retirement!
Follow MCAM Northwest!
Facebook: @MCAMNorthwest
LinkedIn: mcam-northwest
Twitter: @MCAM_NW
YouTube: The MCAM Northwest
To view and register for upcoming MCAM Northwest Mastercam webinars, visit our Events page.