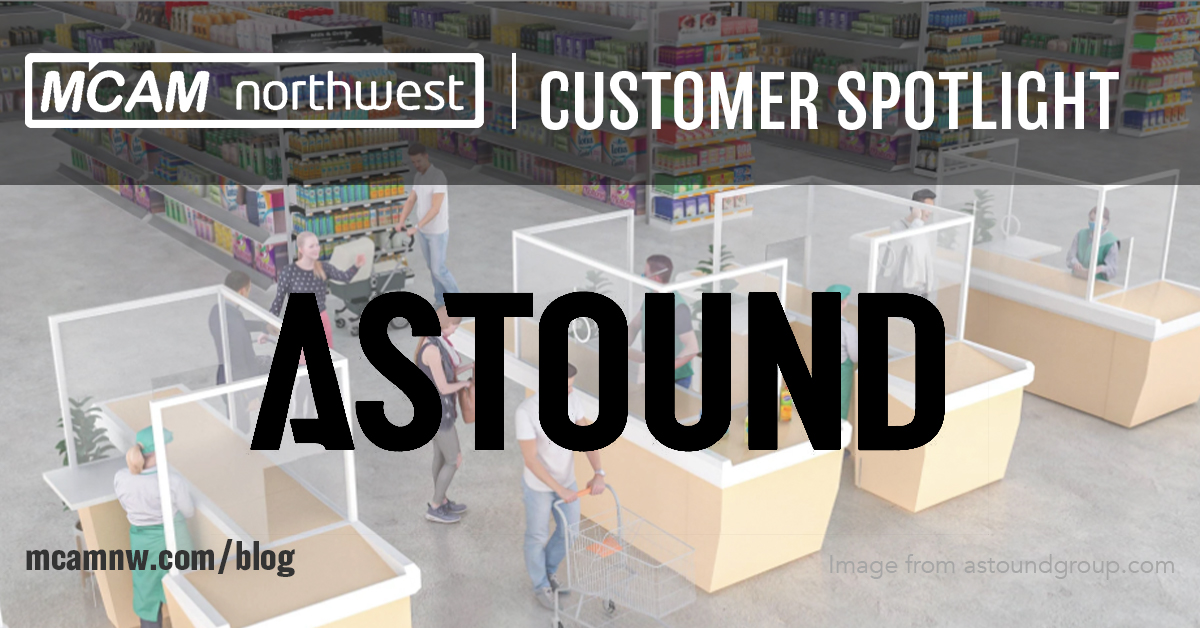 Customer Spotlight: ASTOUND
We sat down (remotely) with Julia Lueck and Jordan Millar from ASTOUND to discuss the adjustments that the global creative agency has made to their production to join in the fight against the novel Coronavirus (COVID-19).
April 14th, 2020, 11:00 am PST
By Callie Morgan
ASTOUND is a worldwide creative agency that specializes in the design, fabrication and execution of memorable public experiences for companies to share with their customers, such as fan events, trade show exhibitions, pop-up stores, retail store rollouts and temporary structures. 
With a client list ranging from LEGO to Lamborghini, designing intricate branding experiences for the public is this global design agency's claim to fame. However, with the current prohibition on public gatherings due to the Coronavirus outbreak, around 80% of ASTOUND's business has come to a screeching halt. 
Where many businesses in the events design industry would have chocked all the wheels on their operations, ASTOUND is keeping their production facilities rolling. Utilizing the architectural design side of their business, ASTOUND converted its production facilities in Toronto, Portland, Milwaukee and Las Vegas to design and manufacture temporary structures that protect frontline workers from viral exposure. 
ASTOUND has been working with hospitals across North America to construct temporary indoor and outdoor environments for Coronavirus testing, assessment and quarantine. Their product catalog has expanded to include portable containment kiosks for medical workers, social distancing queues, portable countertop containment barriers for grocery store and pharmacy clerks, temporary pickup windows for takeout restaurants, and moveable full turnkey assessment centers for indoor and outdoor use. 
Their list of products is still growing, as more sectors of essential businesses are requesting containment solutions to fit their unique needs. "We have been contacted by banks, fast food restaurants, and restaurants all looking for solutions," remarked Julia Lueck, ASTOUND's Global Vice President of Corporate Development. 
Switching their production has not been a big challenge for ASTOUND. Each of their production facilities are equipped with a full metal shop and woodshop that contains CNC machines, welding machines, table saws and drop band saws. Their employees are very versatile and very accustomed to working tight deadlines, which made their 72-hour guarantee on producing and installing containment solutions a very manageable deadline.
Like other businesses during this time, their greatest challenge has been balancing the new worker safety requirements with productivity. "It's been an overall challenge to stay organized and be really efficient in our processes and safety measures," said Julia. "They wear protective gloves and masks but can't always be 6 feet apart." 
To overcome these unprecedented safety challenges, communicating with all of their employees has been key to ASTOUND's success. "It has been amazing to see everyone band together in these trying times and I think we have done a really great job at listening to the employees and allowing them to be part of the solutions," added Julia. 
ASTOUND Portland's Production Designer, Jordan Millar, praises Mastercam for making their shift in production so seamless. Their production facility has been using Mastercam 2020 Router ever since they opened their doors in Summer 2019. 
"That's the beauty of Mastercam," said Jordan. "We haven't experienced any new programming challenges shifting our production. Mastercam allows us to pivot from one project to the next at a fast rate without any hiccups." 
Mastercam's integration with their CAD program has also been instrumental in programming their barrier designs so quickly. "Mastercam provides the ability to edit and manipulate our 3D models, as well as create new parts," said Jordan. "Being able to view models in 3D is many times more helpful than blueprints in a lot of situations."
Jordan attributes part of the Portland facility's success in producing components so quickly to keeping their Mastercam software version up-to-date. "Updates makes sure things are working smoothly and provide useful tools for getting products to the market faster," said Jordan. "We love the changes that Mastercam provides [with each software update] because most updates aid in the ability to produce parts quickly and more accurately." 
Much in line with ASTOUND's "Think Big. Build Love. Give Back" corporate mantra, their containment solutions designs are available on their website to any manufacturers that can help. To request their designs, fill out the request form at www.astoundgroup.com/containment.
Learn More About ASTOUND!
Website: www.astoundgroup.com
Containment Solutions: www.astoundgroup.com/containment
Twitter: @ASTOUNDGroup
Facebook: @ASTOUNDGroup
Linkedin: astoundgroup
Follow MCAM Northwest!
Facebook: @MCAMNorthwest
LinkedIn: mcam-northwest
Twitter: @MCAM_NW
YouTube: The MCAM Northwest
To view and register for upcoming MCAM Northwest events, visit our Events page.