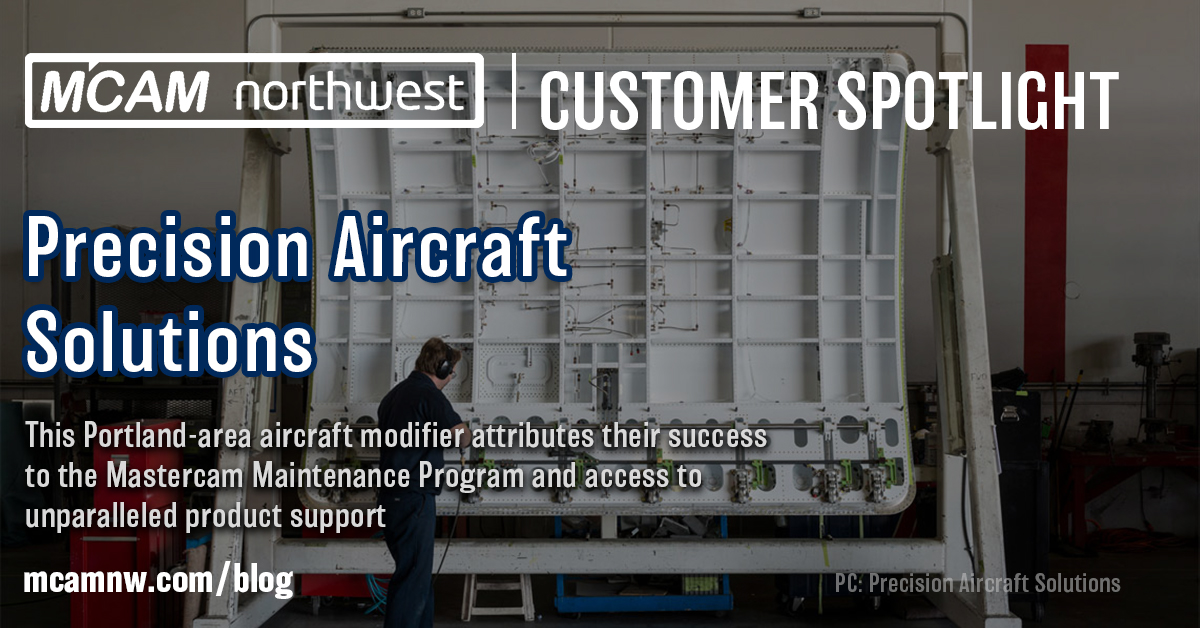 Customer Spotlight: Precision Aircraft Solutions
Portland-area aircraft modifier, Precision Aircraft Solutions, attributes their quick turnaround on cargo plane conversions to keeping their Mastercam software current through the Mastercam Maintenance Program and having access to high quality product support.
By Callie Morgan
July 1st, 2021, 9:20 AM PDT
Headquartered in Beaverton, Oregon, Precision Aircraft Solutions manufactures conversion kits and parts for passenger aircraft around the United States to give them new life as cargo planes for civilian and military use. 

Making planes to hold cargo is a delicate feat. From parcels and livestock to jet engines and fire bombing tanks, Precision designs and produces parts to safely secure and accommodate all kinds of cargo from shifting during flight. During the devastating wildfires in Oregon in Summer 2020, Precision supported the initial aircraft development of the two MD-87 air tankers that doused the forests of Phoenix, Oregon with fire retardant by developing the modifications and documentation for their Supplemental Type Certificates. These aircraft have gone on to be produced and maintained by other manufacturers.

To make a variety of cargo plane components quickly, Precision currently hosts an arsenal of 5-axis machines, including 3 HAAS machines, VF-10s, and two VF-3 SSYT's, along with multiple rotaries. For absolute part consistency, they use a Hexagon Romer Absolute 7-AXIS Portable CMM (coordinate measuring machine).

Mastercam Mill 3D and Multi Axis is used for all of Precision's CNC programming, in concert with Solidworks for CAD modeling. Precision has been using Mastercam since 2019, but their programmers have experience with the software as far back as Version 9. 
Programmer Kyle Adams attributes Precision's quick turnaround to keeping their Mastercam software up-to-date through the Mastercam Maintenance Program.
"Keeping Mastercam up-to-date is key in our productivity," he says. "Not only are we using it to implement the newest features as they are released, it allows us to open the latest files from other software packages also. Having to wait for files to be converted into a format that outdated software can't understand costs time and ultimately money. With Mastercam we do not have that."

When asked which particular Mastercam feature has consistently made their day-to-day operations easier, Adams highlights Viewsheets.
"When programming complex operations, the ability to adjust planes efficiently is key," says Adams. "Mastercam is the best at this, as it is intuitive and simple to understand. Viewsheets allows the user to toggle multiple functions inside Mastercam at once, eliminating the need for multiple clicks and window switching."

So far, their go-to feature in Mastercam 2022 has been the new Unified Toolpath for Multi Axis.
"The quick changing between machining strategies and operations keeps us in the programming window longer and allows for a large increase in efficiency," adds Adams.
To assist with their programming, Precision felt it was critical to find a documentation solution for their Mastercam software. Precision wanted to introduce Setup Sheets into their routine, which are instruction templates that document how to set up a machine for a particular job. They spent months deciding which setup sheets solution would work best for their needs. 
"When Precision Aircraft made the decision to go with Varco Reports it was not something we did lightly," stresses Adams. "With Varco Reports, we have amazing support."
Varco Reporting's Setup Sheets for Mastercam use the same reporting package as Mastercam, but with added flexibility and customization. Precision greatly enjoys how highly personalized Varco's setup sheets have been to their business' needs and how easy it was to get new features added to their sheets by reaching out to Varco Reporting via email and through their online forum. 
"These improvements take out all the "Guesswork" of the daily production," remarks Adams. "This, in turn, allows us to produce more parts in a consistent and timely manner."
Like all shops, Precision has had their share of programming challenges. When programming an A321 Latch Fitting for the lower assembly of a cargo door in Mastercam, they ran into difficulties with a 4th axis toolpath. They were thankful to have the immediate support that MCAM Northwest and Mastercam offers to its customers.

"After contacting MCAM Northwest, and speaking to their support, we had an answer within an hour, and a solution the exact same day…and even an explanation from CNC Software," said Adams. "This allowed us to make educated adjustments to, not only our programming, but our practices going forward. All of these answers and solutions came within the same day. That kind of turnaround really sets a gold standard for others to achieve."
Learn more about MCAM Northwest customer Precision Aircraft Solutions!

Website: https://www.precisionaircraft.com/

Facebook: @PrecisionAircraftSolutions

Linkedin: precision-conversions
Follow MCAM Northwest!
Facebook: @MCAMNorthwest
LinkedIn: mcam-northwest
Twitter: @MCAM_NW
YouTube: The MCAM Northwest
To view and register for upcoming MCAM Northwest events, visit our Events page.