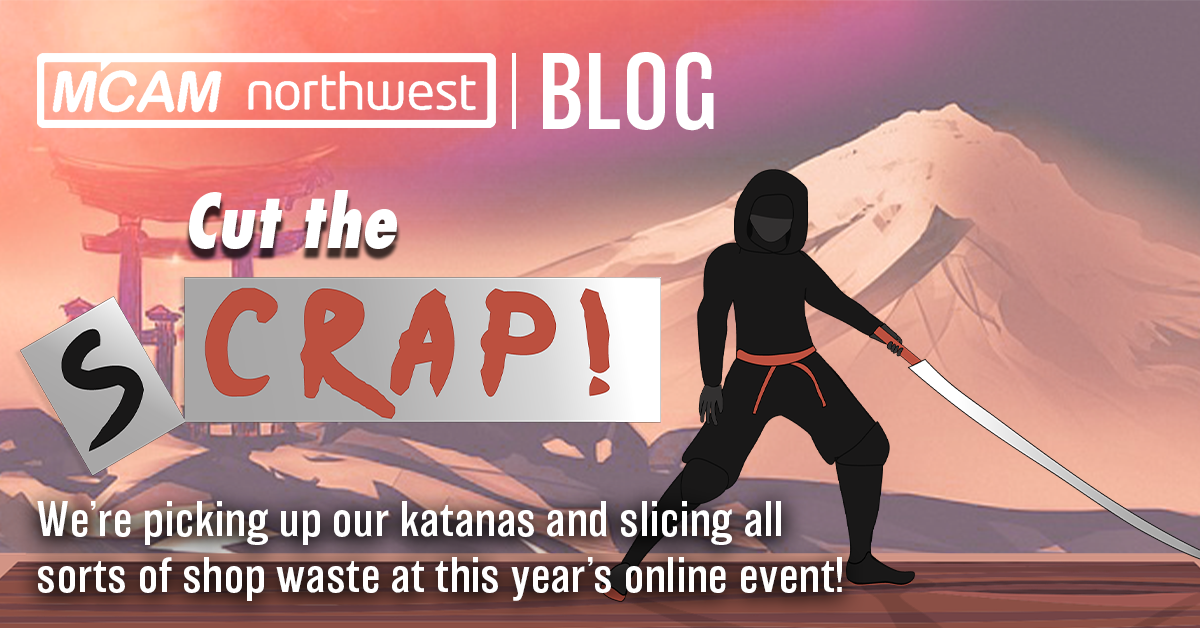 Cut the S/Crap!
Industry experts are slicing all sorts of shop waste with katanas at this year's MCAM Northwest online event on April 12th, 2022.
By Callie Morgan
Thursday, March 24th, 2022, 1:00 PM PDT
What do we mean by "Cut the S/Crap"?
We are thrilled to announce that this year's MCAM Northwest online event, "Cut the S/Crap", will be held on Tuesday, April 12th, 2022 on Zoom Webinar! The theme of this year's event will focus on reducing waste, both in terms of physical part materials and in production time. This free event will host 10 intriguing topics in the areas of cutting tools & holders, workholding, hybrid manufacturing (additive with subtractive), inspection, reporting and CNC software.
Similar to last year's "Sa-Squashing Manufacturing Inefficiencies" event, each speaker at Cut the S/Crap will spend 20 minutes sharing ways to reduce waste framed by stories of real manufacturers, big and small.
The goal of the event is to provide you with the knowledge and resources that your business needs to succeed! With 10 insightful topics to choose from, you are welcome to stay for the entire event, from 9:00 AM PST to 2:00 PM PDT, or attend only the presentations that are most relevant to your shop's needs. 
There will be time for presenters to answer your questions after every presentation, plus a longer, multi-presenter Q&A session at the end of the event to assure you get all the information that you need.
To view the full event schedule, keep scrolling! CLICK HERE TO REGISTER FOR THE EVENT!
Download a PDF of the Event Schedule here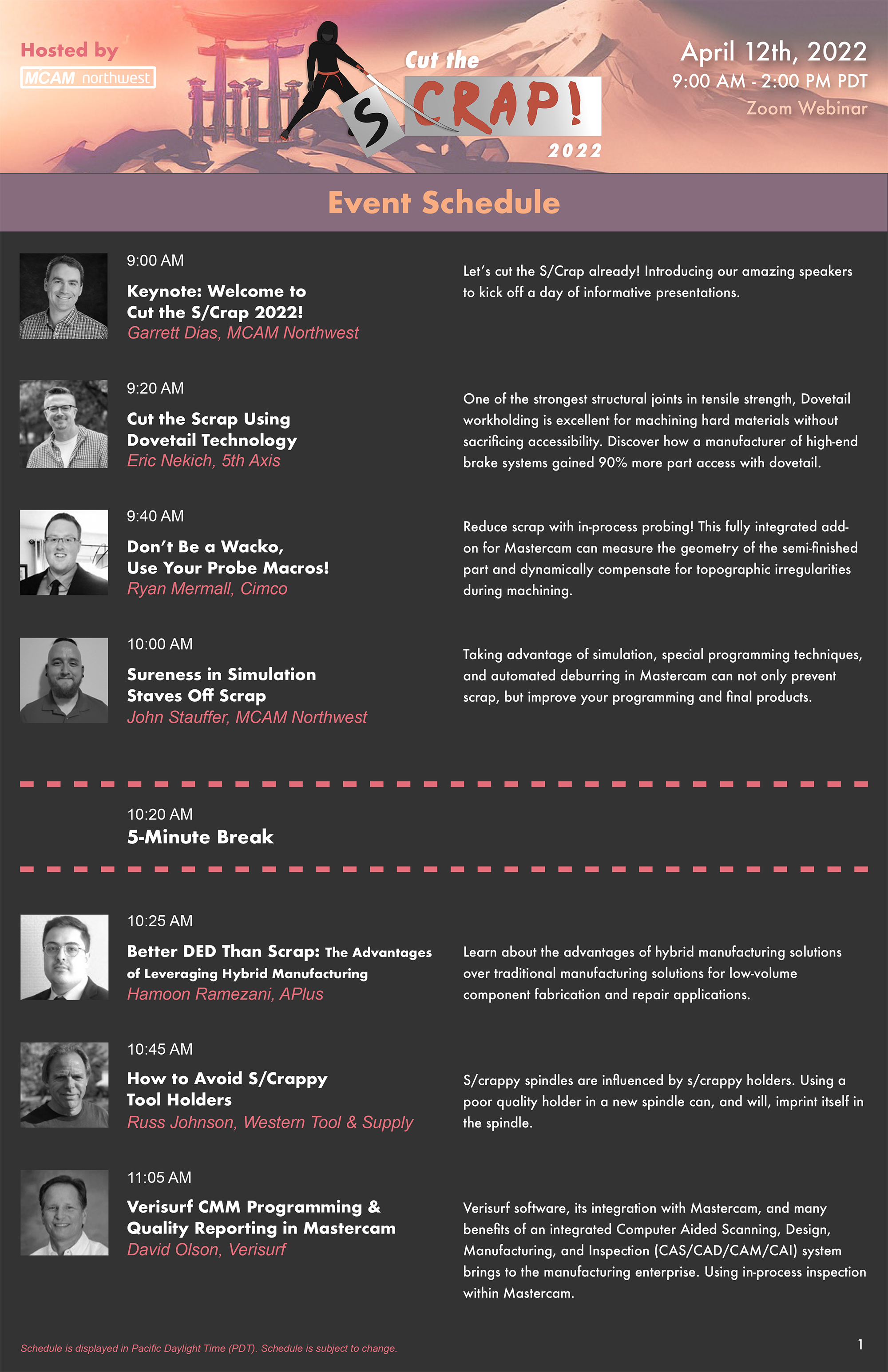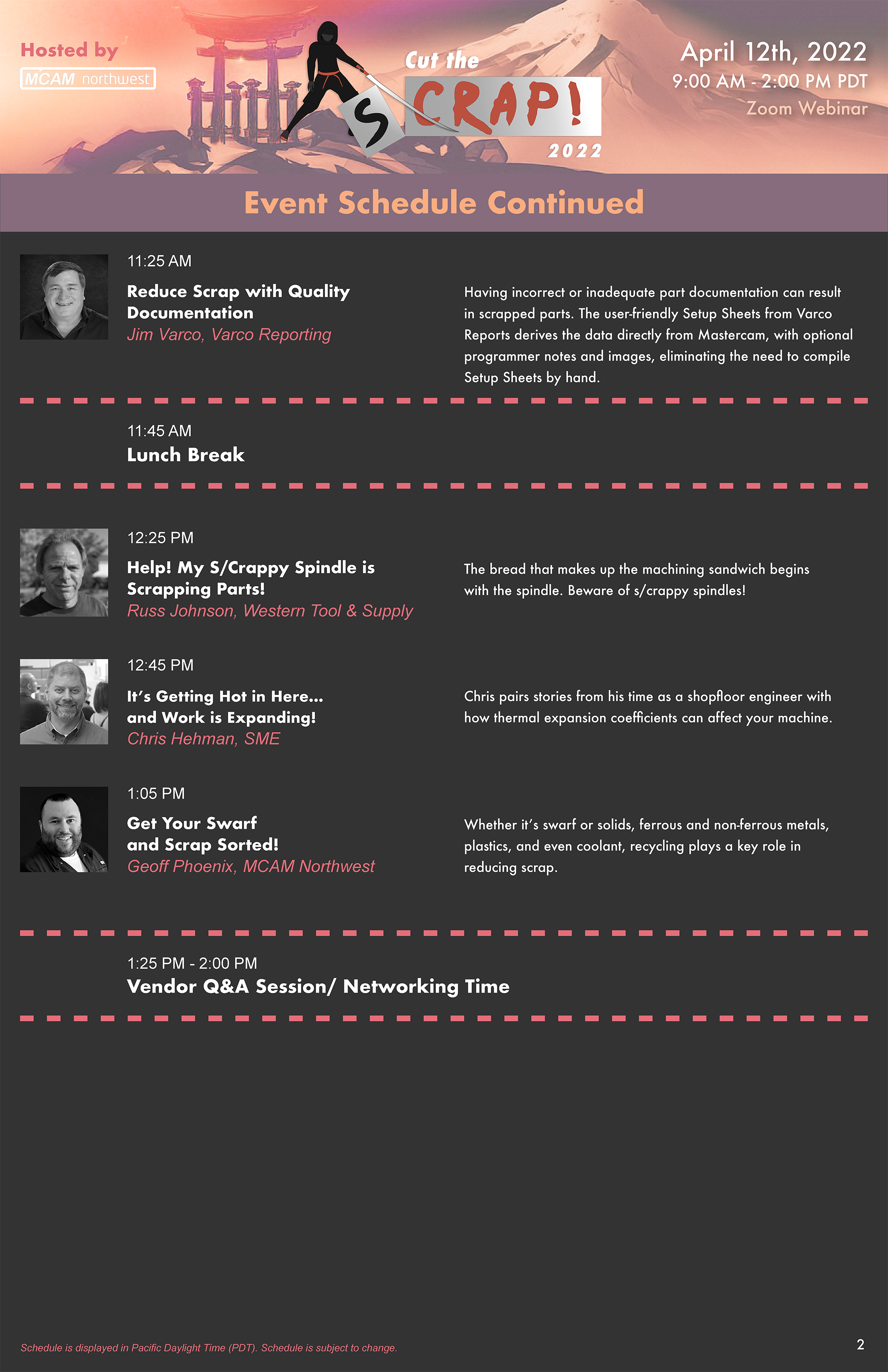 Cut the S/Crap is one of many events that embodies MCAM Northwest's goal to strengthen the Northwest manufacturing community through the power of knowledge and business relationships. We hope to see you there in April! Register now for Cut the Scrap!
Follow MCAM Northwest!
Facebook: @MCAMNorthwest
LinkedIn: mcam-northwest
Twitter: @MCAM_NW
YouTube: The MCAM Northwest
To view and register for upcoming MCAM Northwest Mastercam webinars, visit our Events page.