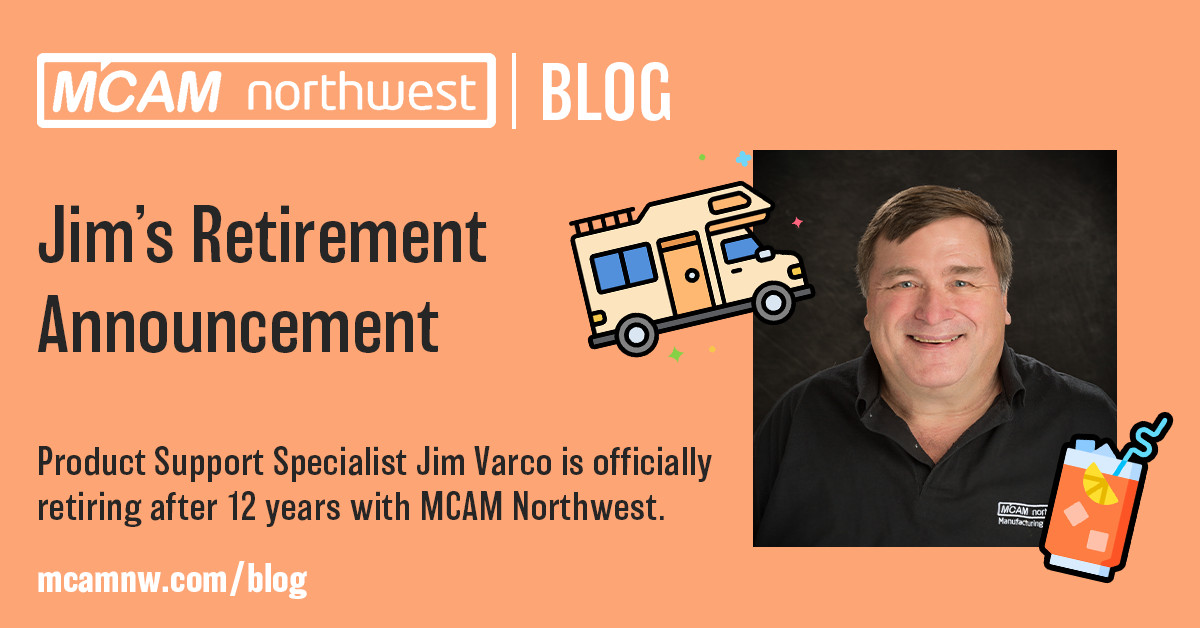 Jim's Retirement Announcement
Jim Varco, a longtime member of the MCAM family,  is retiring!
By Callie Morgan
Friday, April 22nd, 2022, 9:00 AM PDT
It is with mixed emotions that we announce the retirement of our longtime Product Support Specialist Jim Varco. Many of you know Jim as the jubilant, tranquil voice behind our customer support line. Jim has lent his expertise to troubleshooting and giving advice to MCAM Northwest's Mastercam customers for 12 years. Prior to working at MCAM, Jim worked in the manufacturing industry as a manual machinist for 10 years, then as a CNC machinist, programmer and lead for over 25 years.
Jim's last day at MCAM Northwest will be on May 13th, 2022. Our two Applications Engineers (AKA our "Mastercam ninjaneers"), John Stauffer and Geoff Phoenix have been assisting Jim with fielding calls for our support line and will continue to work our support lines during this transition. 
For his next chapter, Jim will be keeping himself very busy with his Mastercam setup sheets business, Varco Reporting, and a couple of classic car restoration projects, including a 1969 Ford Mustang, a 1925 Ford Model T, and a 1928 Ford Model A. He also anticipates a lot more "glamping" trips with his wife Adele and dog Nico, and (safely) working on more projects on his property outside of Eugene, Oregon.
On behalf of all of us here at MCAM Northwest, we thank Jim for lending his knowledge and expertise to us for all these years and wish him the best of luck and leisure in his retirement!
Follow MCAM Northwest!
Facebook: @MCAMNorthwest
LinkedIn: mcam-northwest
Twitter: @MCAM_NW
YouTube: The MCAM Northwest
To view and register for upcoming MCAM Northwest Mastercam webinars, visit our Events page.