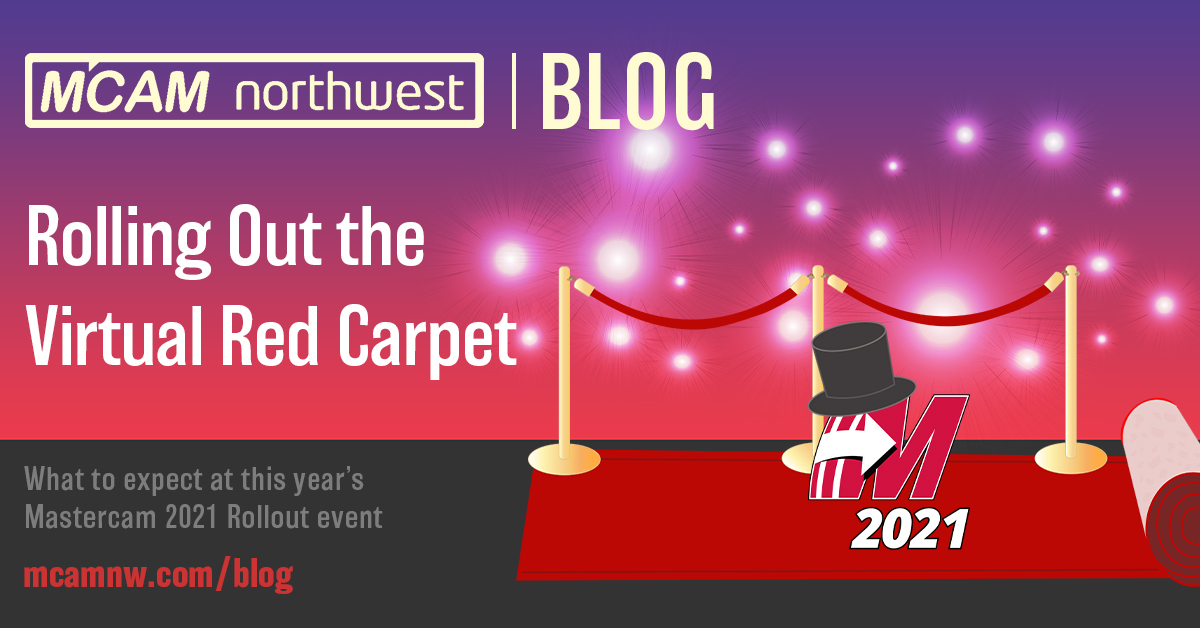 Mastercam 2021 Virtual Rollout!
The show must go on! This year's MCAM Mastercam 2021 Rollout event will be presented over GoToWebinar on August 4th, 2020! Here's what to expect at this year's event.
By Callie Morgan
10:30 AM PDT, July 16th, 2020
At the end of March 2020, we made the decision to send our office employees home to work. For some MCAM employees, this was something they were already accustomed to doing, and for the rest of us–well, it was quite an adjustment!
Oregon counties have begun their reopening phases and some staff have returned back to the office after working from home. However, for the safety of our community, we are hosting our annual rollout event for the latest Mastercam release over GoToWebinar.
How will this all work?
For those of you who have attended our rollouts in the past, we aim to make this online event as similar as possible. There will be many opportunities to chat with us, ask questions and learn about how Mastercam 2021 can help your business thrive, all without traveling!
To attend this year's rollout, visit the registration page for the event here and sign up. There is no need to create a GoToWebinar account to attend this event. You will be emailed the link to join the event after registering. This link will go live at 12:30 PM on August 4th.
Is there a schedule?
This event will take place over a 4-hour period between 12:30 PM – 4:30 PM PDT. We will be dividing the event into sections. The first sections will cover Mastercam 2021's features in each Mastercam product. 
General

Design / Solids

Mill

Mill 3D

Multiaxis

Lathe

Mill-Turn

Simulation

Swiss
We will also have an overview for owners and managers. After the product presentations, we will discuss the process of installing and migrating your files in Mastercam 2021. Then, we will cover post processing and probing. The remainder of the event will contain a Q&A session where our team will answer any questions you have about Mastercam 2021 and even more opportunities to chat with us.
We will email the final schedule to all who register one week before the event goes live. 
What kind of prizes will there be?
Everyone who attends the rollout event will get mailed a swag bag filled with Mastercam goodies as thank-you for joining us. As an added bonus, we are holding a prize raffle that will include Columbia Sportswear Mastercam jackets and the ultra-premium Mastercam OGIO laptop backpacks! 
Do I have to be present to win?
You will be automatically entered into the raffle by showing up at the event. If you are only able to stay for an hour or two, no problem! Attendees don't need to stay for the entire 4-hour duration of the event to win a raffle prize. 
We will announce the prize winners on the August 10th edition of our manufacturing news series MCAM Minutes, so be sure to follow our Facebook, LinkedIn or Twitter channels on that day, OR subscribe to MCAM's YouTube channel, to make sure you don't miss this episode! 
We have missed seeing everyone at our in-person live events, but we're looking forward to making this virtual rollout event just as fun as our traditional rollouts, and, of course, packed full of useful information about Mastercam 2021. We look forward to seeing all of your shining faces on our computer screens on August 4th! 
If you have any questions about the Mastercam 2021 Rollout Event, please contact our Sales department at sales@mcamnw.com.
Follow MCAM Northwest!
Facebook: @MCAMNorthwest
LinkedIn: mcam-northwest
Twitter: @MCAM_NW
YouTube: The MCAM Northwest
To view and register for upcoming MCAM Northwest Mastercam webinars, visit our Events page.