What is NIME?
MCAM Northwest is proud to announce the first ever North Idaho Manufacturing Expo (NIME) taking place on February 6th, 2020 at North Idaho College Career & Technical Education Facility in Rathdrum, Idaho! 
NIME is a 4-hour trade show, networking and educational expo featuring the latest innovations in manufacturing technology. This year's expo theme is Automation for Machine Shops. We recognize the growing need for manufacturers to keep up with the industry's ever-evolving technologies. The ultimate goal is to connect Northwest manufacturers with top manufacturing services, so they can get all the information they need for their shops to thrive.
WHO WILL BE AT NIME?

NIME will host 16 vendors specializing in metrology, CNC machine maintenance, CAM, CAD, reverse engineering, robotic technologies, and cutting tools. There will be many opportunities for you to talk to these vendors about how automation can benefit your operation.
Among our 16 vendors, there will be seven special informative presentations with topics pertaining to the theme of automation. Attend one or all 20-minute presentations to soak up all the knowledge you need. This year's presenters will discuss CNC software, simple automation, robots and more.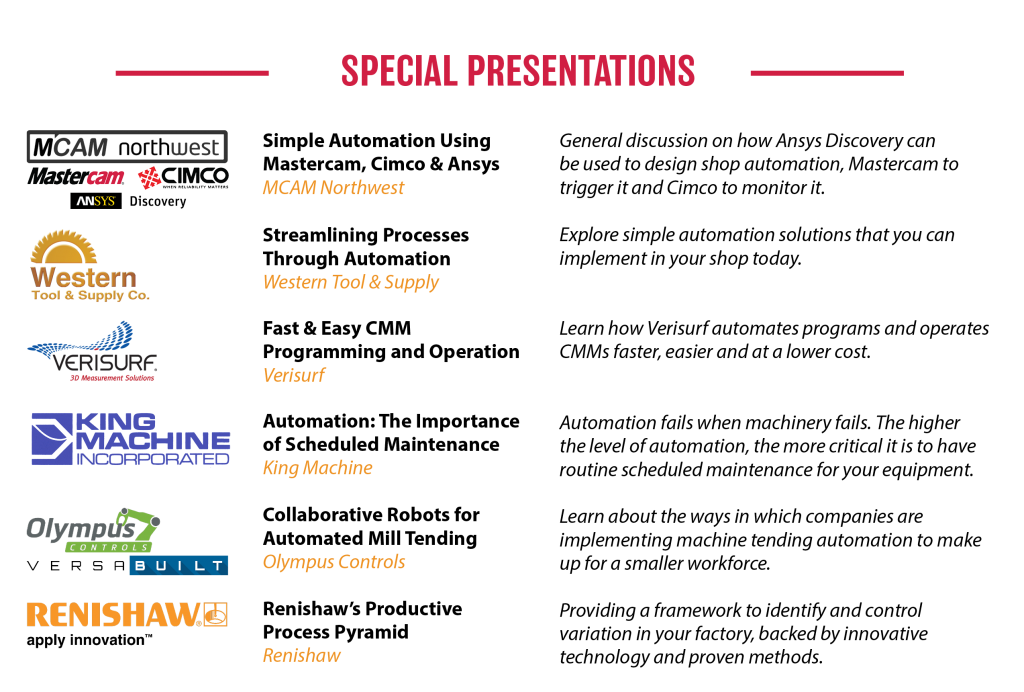 NIME is one of many events that embodies MCAM Northwest's goal to strengthen the Northwest manufacturing community through the power of knowledge and business relationships. We hope to see you in Rathdrum next month. Register for NIME 2020 here!
Follow MCAM Northwest!
Facebook: @MCAMNorthwest
LinkedIn: mcam-northwest
Twitter: @MCAM_NW
YouTube: The MCAM Northwest
To view and register for upcoming MCAM Northwest events, visit our Events page.