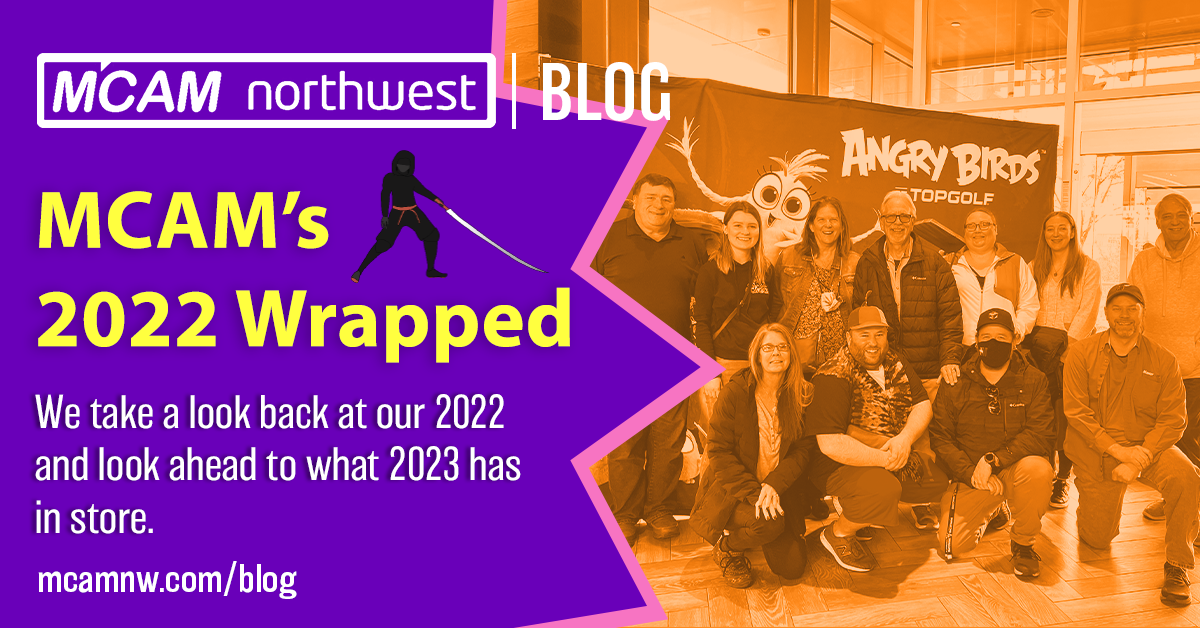 MCAM's 2022 Wrapped
That's a wrap on 2022! We take a look at highlights from us and the industry in 2022 and share what we are looking forward to in 2023.
By Callie Morgan
Wednesday, December 28th, 2022, 3:00 PM PST
For the industry, 2022 was a year of new challenges. With pandemic restrictions and supply chain disruptions in the rearview mirror, manufacturers overcame a slew of economic pressures. For MCAM, it was a year of changes. In-person events made a more widespread return in 2022, giving us more opportunities to travel than we did in the past two years. 

New Employee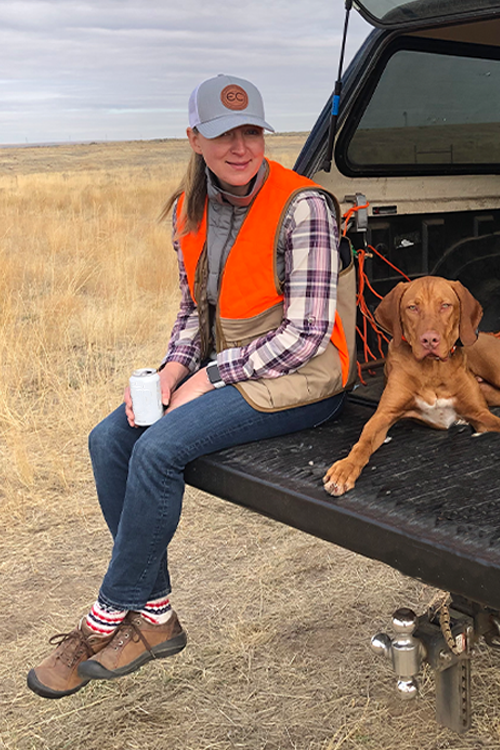 In May 2022, we added our Accountant Shelly Clark! She worked in a tax office for 16 years, specializing in Corporate tax and bookkeeping before joining us. At MCAM, Shelly tracks and manages all financial information, processes payments for customers and handles payroll for our employees.
Retired Employees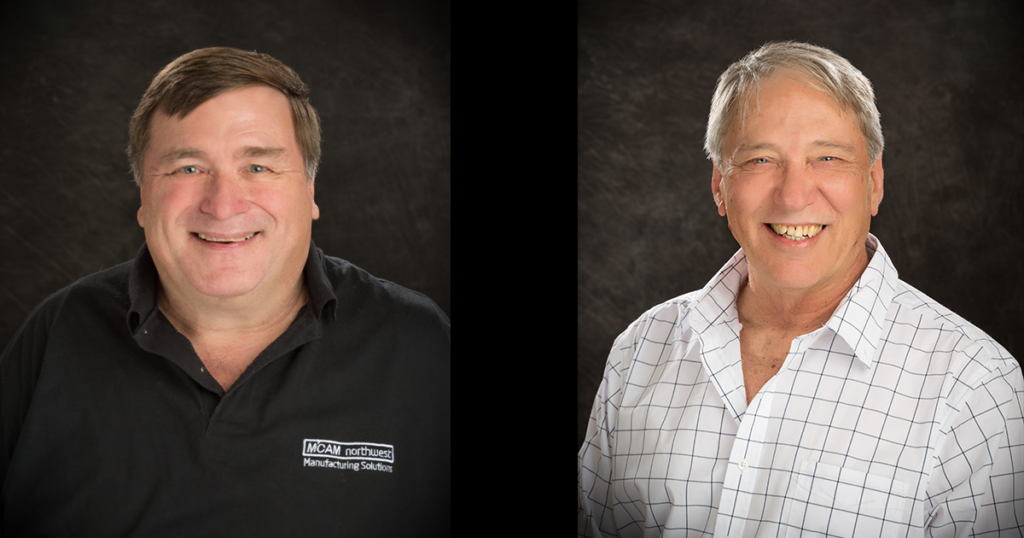 We had two of our longest term employees retire this year! Jim Varco retired after 14 years with us as our Support Specialist.
Our Post Developer Allan Jones retired after being with us for 24 years. We wish both of them the very best on this new chapter in their lives and greatly miss having them here. Check out their retirement announcements on our blog here.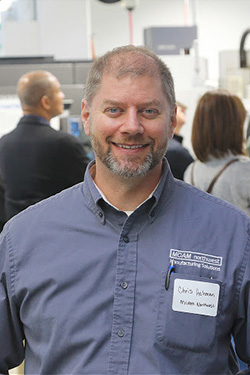 Recognizing the growing need for manufacturing/machining educators in Oregon, MCAM Sales Team member Chris Hehman departed MCAM in October to teach manufacturing and engineering STEM classes. We are very proud of Chris and wish him well on his new role as an educator!

Company Retreat
We closed down the office for one day in May to celebrate the retirement of Jim and Allan in style at Top Golf driving range in Hillsboro. 
The competition was especially stiff between Jena Larson from Customer Care and Chris Hehman from Sales, who both had experience playing golf competitively. They were tied for the highest top score out of our whole office!
Online Events
We hosted 3 online events this year for our customers! We kicked off the year with our "Tag, You're I.T.!" webinar in February to teach I.T. teams how to install and manage a variety of Mastercam license types.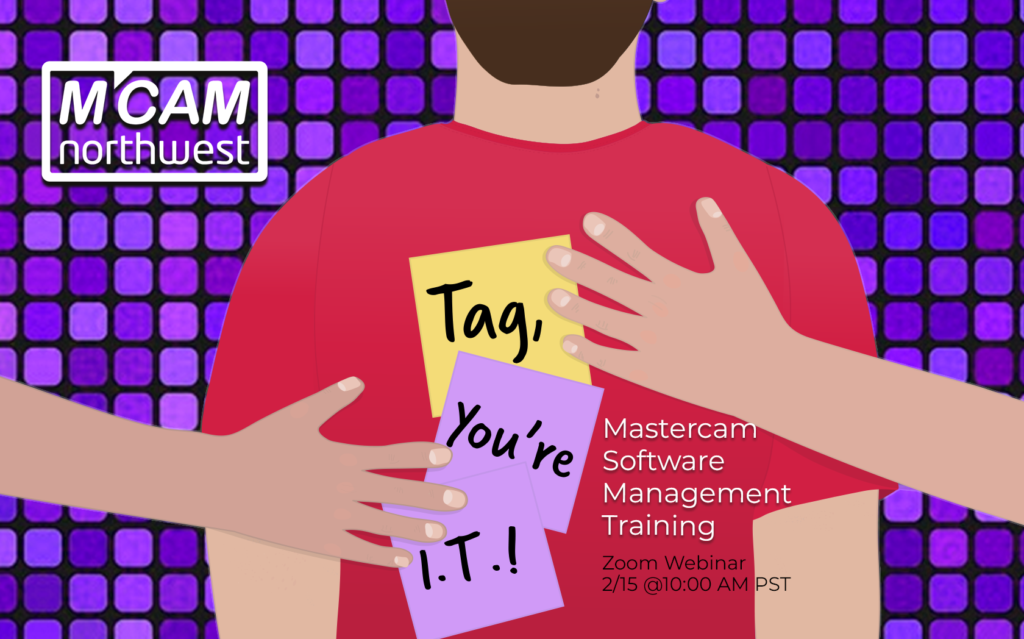 Even though it was tailored to I.T. teams, this webinar is helpful for anyone who has questions about installing their Mastercam license. We put the recording of this webinar on our YouTube page with timestamps, and it can also be watched from our Mastercam Support Page (https://mcamnw.com/mastercam-support/).
Every year we host a big online event with our industry partners full of quick, informative presentations offering solutions to a variety of challenges experienced by our customers. In 2022, we held "Cut the S/Crap!" as an all-day online event in March with ten 20-minute presentations from industry experts that covered reducing all forms of waste in your shop: physical and non-physical.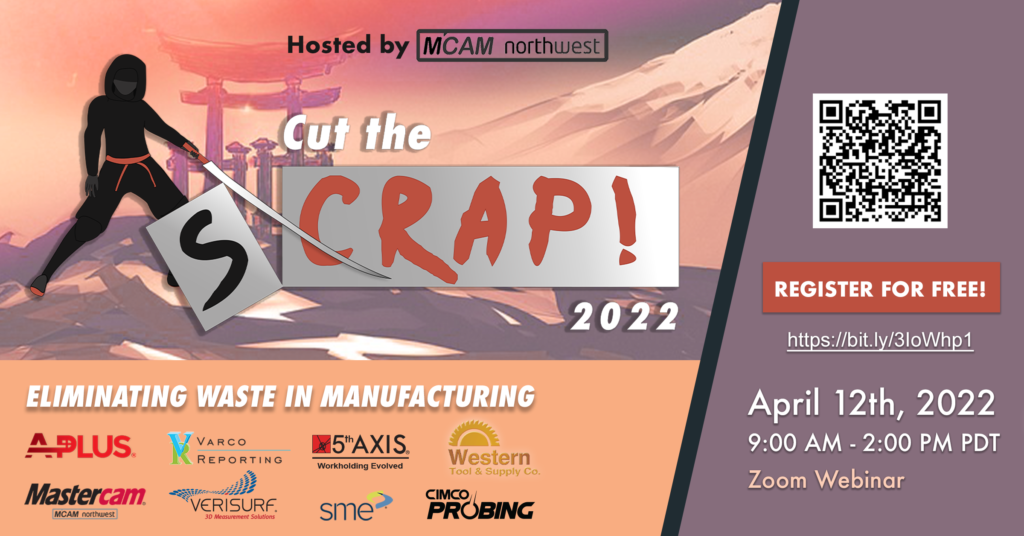 We enjoyed swapping happy and scary shop stories and had great conversations about efficient and creative ways to prevent scrapped parts. You can watch all Cut the S/Crap presentations on our Vimeo showcase page here: https://vimeo.com/showcase/9460879.
We also held our annual rollout for Mastercam 2023 online over two different days during the summer in a slightly different format to showcase the amazing streamlining features added to Mastercam in the latest release.
In-Person Events
We traveled to six in-person events this year! Back in June, we helped Oregon Manufacturing Innovation Center Research and Development (OMIC R&D) host a Mastercam training session for industry professionals and manufacturing educators at their brand-new PCC OMIC Training Center.
As part of our mission to help reduce the Manufacturing Skills Gap in the Northwest, we participated in more community and school events in 2022. We tabled at the Central Oregon Skilled Trades Fair in Redmond twice in 2022! This career fair in February and November gave high school students an opportunity to explore a variety of technical career options, like emergency services, healthcare, manufacturing, construction and more. At November's fair, roughly 1,100 students showed up!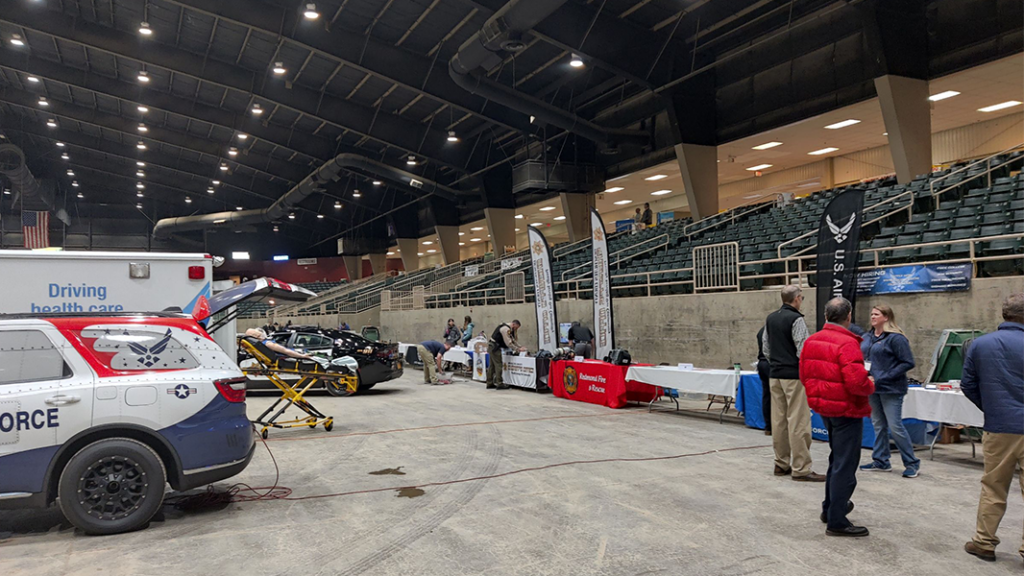 We participated in Chemeketa Community College's Open House in Salem in July. This was a fun community event that showcased over ninety different career and technical education programs, transfer programs and high school partnerships. 
We returned to OMIC R&D for Manufacturing Day in October 2022! Manufacturing Day is an opportunity to show young people, policy makers and the general public the value of manufacturing careers to encourage more people to pursue them.
OMIC R&D's MFG Day event in Scappoose took place at their PCC Training Center and R&D locations. We had students engrave their names on their very own hex widget on an Okuma 3-axis mill with the help of OMIC's Associate Machining Solutions Researcher, Taylor. 
We attended one trade show in 2022 in Meridian, Idaho to booth at King Machine's annual Haas Demo Days trade show in August. We had a great time talking to some new faces this year and filling up on some good local barbecue. We were very happy to have our friend from Postability, Ammar, join us at our booth this year to help answer attendees' machine post questions!
New Customers
We welcomed 31 new industrial customers and 11 new educational Mastercam customers in 2022. We look forward to getting to know all of you better and to help you reach your productivity goals in the years to come!
2022 Industry Facts
The manufacturing industry demonstrated continued strength in 2022, performing better than expected, regardless of the two years of obstacles stemming from the global pandemic. Although the industry continued to defy expectations in 2022, manufacturers had to contend with inflation and overall economic uncertainty. The Institute of Supply Management's Purchasing Managers Index (PMI) fluctuated a few points over 50 in 2022, until taking a slight dip to 49 in November. In more positive trends, we witnessed U.S. exports increase dramatically by $33 billion in 2022 from 2021 and hiring for manufacturing has remained at high levels.
Looking Forward to 2023
We greatly appreciate all our wonderful customers and partners for making 2022 such a fantastic year! We have tradeshow events to look forward to in 2023 like the Northwest Machine Tool Expo 2023 in Portland, Oregon and Haas Demo Days 2023 in Meridian, Idaho, and more fun events at OMIC R&D.
With the success of Cut the S/Crap and the previous big, online seminar events, we will also be hosting a similar event with our partners this year with a new manufacturing hot topic. Stay tuned for the details on that! We have enjoyed going to events for the local schools such as Central Oregon Skilled Trades Fair and Manufacturing Day events in 2022 and hope to participate in these and more events like these in 2023. We believe that supporting these types of local community CTE events are instrumental to shrinking the skills gap in the industry as a whole. 
We are optimistic for another great year in the industry and are always so proud to be part of such a resilient, innovative industry. We are looking forward to helping our customers utilize the latest technology to tackle the trials this year is sure to bring. From all of us at MCAM Northwest, we wish you all a very profitable and joyous 2023!
Follow MCAM Northwest!
Facebook: @MCAMNorthwest
LinkedIn: mcam-northwest
Twitter: @MCAM_NW
YouTube: The MCAM Northwest
To view and register for upcoming MCAM Northwest Mastercam webinars, visit our Events page.