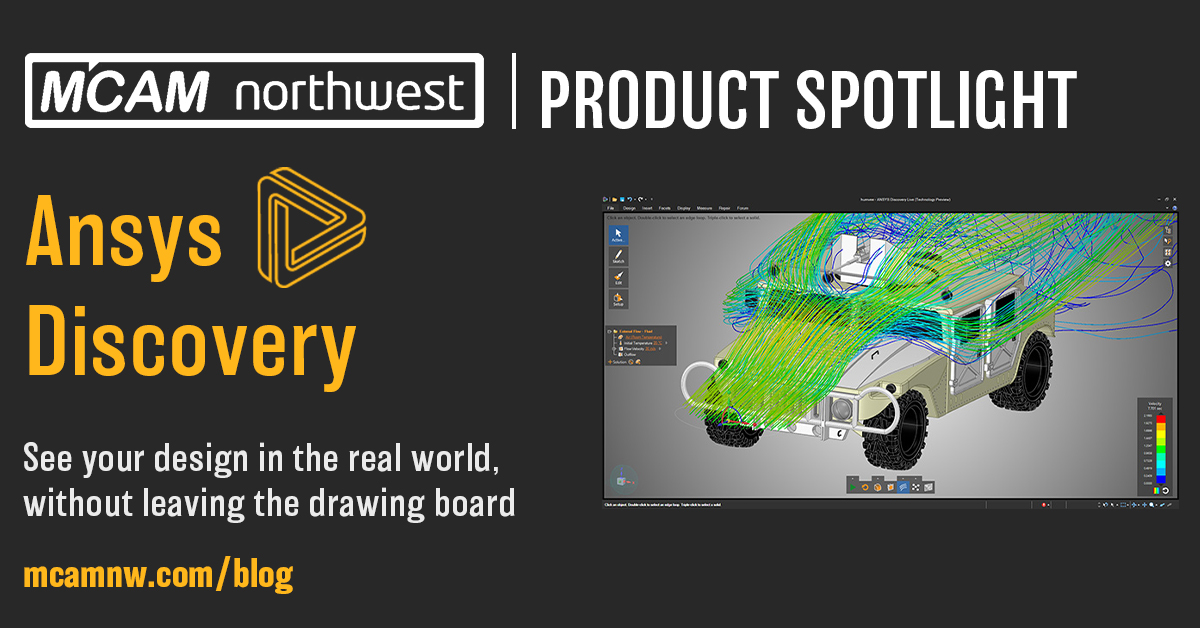 Product Spotlight: Ansys Discovery
A user-friendly software that produces machine simulations in seconds rather than days? Sign us up! Check out Ansys Discovery, their companion to their popular Spaceclaim 3D modeling software.
By Callie Morgan
11:12 AM PST, November 2nd, 2020
Simulation software has become increasingly important for manufacturers to save on costs associated with prototyping a product. Especially when implementing it early in your design process.
With Ansys Discovery, a user can see how their design will function in the world, without leaving the drawing board. The software can simulate environmental factors on your design such as thermal outputs, withstanding loads and fluid behavior. The software also assesses vibration and topology.

The physics and design in a simulation can be altered, while the simulation is running, without any hiccups. The user can even set up multiple design point studies and have them assessed simultaneously. 
The level of interaction and quick responsiveness of this program gives the user more room to quickly explore different variables, while the design is still in its digital stage, giving the engineer more room to perfect a product. 
You don't need a dedicated simulation analyst or advanced engineering education to run Ansys Discovery. Designed for shops that don't have a dedicated System Analyst Engineer, Discovery allows engineers to focus more on the design and physics of prototyping, rather than fussing with setting up the simulation software. 
Traditional simulation software often requires an advanced computing setup and can take hours, even days, to produce a single simulation. With Ansys Discovery, you neither need a high performance computing setup nor need to wait days to see your results. 

Ansys Discovery produces simulations in seconds by using the power of your computer's graphics card (GPU), rather than your central processing unit (CPU). Basing the production of the simulation on the GPU is more reliable than basing it on the CPU because graphics card processing speeds have surpassed the current computational power of CPUs. This assures reliable, faster simulation processing for years to come. 
Another reason why producing a simulation is so quick is because simulation speed in Discovery depends on the volume of the part's geometry, not its complexity.
Designed as a companion to Ansys Spaceclaim (3D modeling software), a purchase of Ansys Discovery includes the latest version of Spaceclaim. If you have already purchased a copy of Spaceclaim, you may qualify for special pricing with a purchase of Discovery.
To learn how your shop can take advantage of simulation by Ansys Discovery, contact our Sales Team by emailing at sales@mcamnw.com or calling at (503) 653-5332.
Follow MCAM Northwest!
Facebook: @MCAMNorthwest
LinkedIn: mcam-northwest
Twitter: @MCAM_NW
YouTube: The MCAM Northwest
To view and register for upcoming MCAM Northwest Mastercam webinars, visit our Events page.