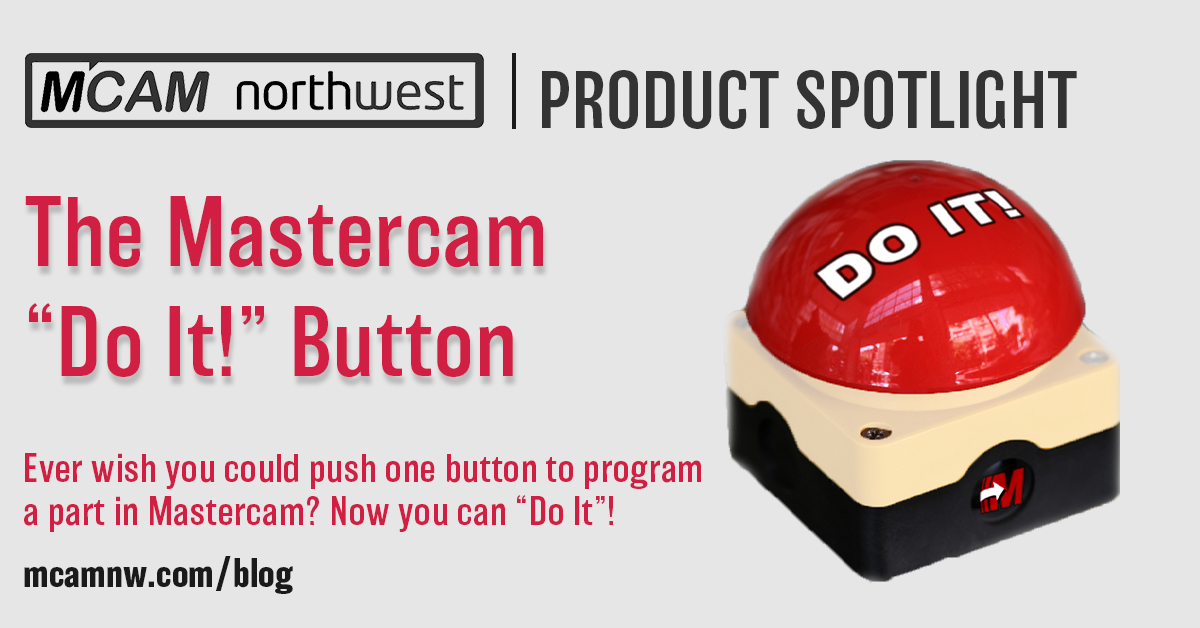 Product Spotlight: "Do It!"
Programming in Mastercam has never been so easy with this new "one and done" solution introduced in Mastercam 2022 Beta.
By MCAM Northwest, Inc.
April 1st, 2021, 11:36 AM PDT
Ever wish you could push only one button to program a part in Mastercam? Now you can "Do It"! Introducing the new Mastercam "Do It!" button, introduced in Mastercam 2022 Beta. The button is intended to complement, or fully replace, your Motion Controller. The ergonomic, luxury red rubber design of the button mimics the feeling of being in control of something powerful, such as nuclear launch codes or the list of things leaving Netflix next month.
"This button really changes the way we choose Multi Axis Toolpaths!" Said Chip Von Lathe from Good Enough Manufacturing Group. "Now, any Average Joe or Josephine, can just press the button with their cup of Joe, and it will automatically choose the best toolpath for the job! Talk about saving lots of brain power!"
By utilizing the latest vaporware technology, Mastercam's deep-thinking robotics engineers have created the ideal solution for every programming situation. At the press of the "Do It!" button, the proper feeds and speeds can be determined for plastics to Inconel (air to Zirconium), by using a complex RFM algorithm (including XYZ-PDQ-assist) based on the latest cutting tool manufacturer research. The button can also run a Python script to contact every workholding representative and parsing the data with AI, and tell you the optimal way to mount material in the machine.
"We listened to our customers' need for a 'one and done' solution, and we answered." Said Nunya Bisniss, Chief Satire Officer at CNC Software, Inc. "This button will not only further streamline an already powerful CAD/CAM software for the average user, but also remedy an issue that the manufacturing community is currently facing, which is finding skilled workers."
"Do It!" can be integrated directly with Beantown Dynamics robots software for a fully human-free machine shop. BD robots will handle the part loading, unloading, deburring, inspection, cleaning, polishing, packing, and shipping of all your parts without any human supervision. [Editor's note: deburring was taken off of the BD robot's plate, as we realized that the "Do It!" button actually deburrs the parts before they come out of the machines.]  
In speaking with an unnamed source, we learned if the "Do It!" feature tests well with current Industrial Maintenance customers in 2022 Beta, the tool will have a major update at the end of the year that will include integrations with post developers and meal delivery services like Grubhub. 
"Next year, we're upgrading it to a "Think It!" button," adds Nunya. "What? No, you can't quote me on that!"
Get a few now, before some billionaire buys them for a colony on Mars!  
To see if Mastercam "Do It!" Button is right for your shop's programming needs, please do not talk to our Sales Team by emailing sales@mcamnw.com or by phone at (503) 653-5332. April Fools from MCAM Northwest! [Editor's Note: The new Unified MultiAxis Toolpath in Mastercam 2022 comes pretty close to being a "Do It!" Button].
Follow MCAM Northwest!
Facebook: @MCAMNorthwest
LinkedIn: mcam-northwest
Twitter: @MCAM_NW
YouTube: The MCAM Northwest
To view and register for upcoming MCAM Northwest Mastercam webinars, visit our Events page.