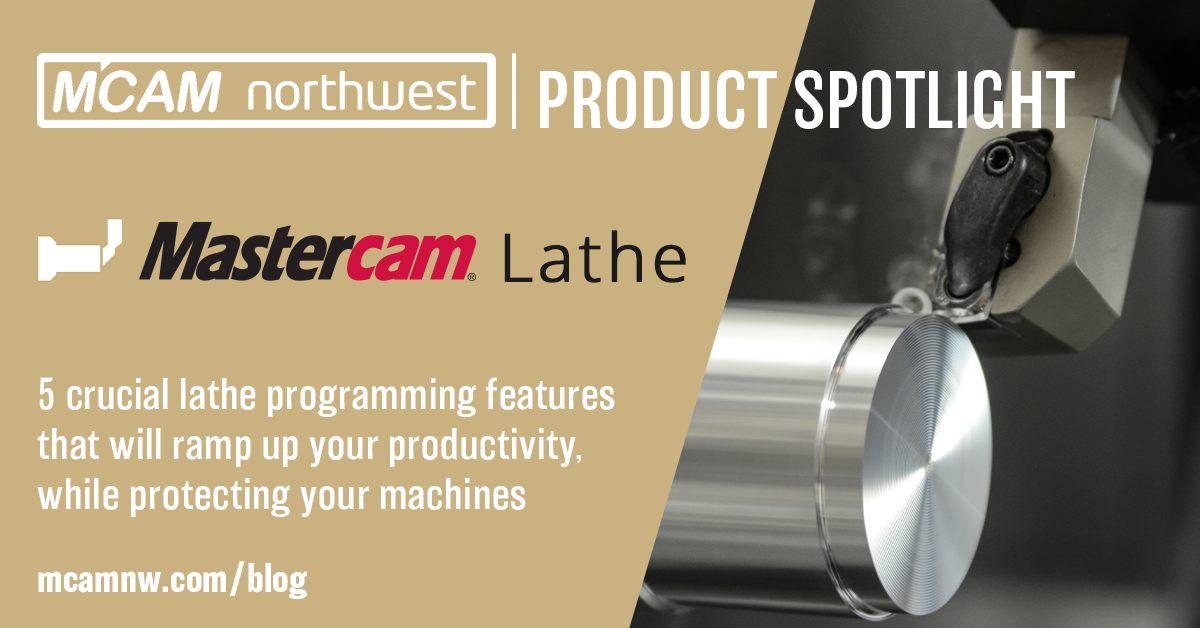 Spotlight: Mastercam Lathe
We'll cover 5 of the most important developments of Mastercam Lathe that keep you efficient and productive, and your machines happy.
By Callie Morgan
Tuesday, November 30th, 2021, 4:00 PM PST
Mastercam Lathe is an excellent choice for lathe programming software, not only because it trims down programming and production time, but also because it extends the life of your machine and tools without skimping on efficiency. We looked back on the last 5 versions of Mastercam and picked 5 enhancements to Lathe that we feel are the most essential to reducing the wear on your machines while keeping you productive.
1. Support for 3D Tools

3D models of tools are crucial for preventing damage to your machine because seeing collisions between a tool and the part in Verify and .machine simulation are much harder to identify when using 2D tools. 
From the Tool Manager, you can select the "Create 3D Tool" option from the flyout menu. From there, you are taken to the Tool Designer page where you can build a customized tool or, you can search for lathe tools, inserts and holders in the "Tool Manager" option from the flyout menu. Holders and inserts can be filtered by radius, direction or type.
2. Chip Break

Chip breaking is another feature that prevents costly damage to your machine while cutting stringy materials like plastic or aluminum. Back in the day, you would need to hit the stop button on your machine to pry off and sweep away the scraps before they encircle the tool holder in a hazardous bird nest-like snare.

However, modern CNC software programs, like Mastercam Lathe, have chip breaking capabilities that instruct the machine to do its own chip breaking. Mastercam 2017 introduced the dialog box for Lathe Rough and Lathe Contour Rough toolpaths in the Rough parameters and Contour parameters tabs. The dialog gives you the option to set chip breaks at certain times and lengths, plus set retract and dwell options. 
In Mastercam 2018, Chip Break was added to the Finish parameters tab for Face and Finish Turning operations. Jumping ahead to Mastercam 2022, a chip break move is also available for the Advanced Drill toolpath in Lathe, if you have a Mastercam Mill license*. On the Cut Parameters page, you can select the "Top of Stock" option to return the tool to the top of the part to clear chips. 
*Note: When combined with Mastercam Mill, options for toolpaths are expanded beyond advanced drill, including face contour and drilling and cross contour and drilling.
3. Sandvik Prime Turning

Even before they were acquired by the Swedish engineering giant earlier this year, Sandvik has been a Mastercam partner. Starting in Mastercam 2018, Mastercam worked closely with Sandvik Coromant to implement their specialized Prime Turning toolpathing methodology within Mastercam Lathe and Mill-Turn. 
Prime Turning technology grants programming flexibility for turning in multiple directions. Also, it doubles speed and feed, making for quicker metal removal rates and quicker machining. According to CNC Software's 2017 press release about the feature, Prime Turning can increase overall machine productivity by an average of 50-80% while doubling your tool life.
Sandvik Prime Turning in Mastercam
4. Custom Thread Forms

The Custom Thread toolpath was added in Mastercam 2021 to simplify the process for creating more complex thread profiles. You can choose from four distinct parametric definitions: rope, buttress, square, and trapezoidal. You can also use this toolpath to cut a thread when your insert doesn't fit the form of the thread that you intend to cut. You can make shapes that don't match your tool.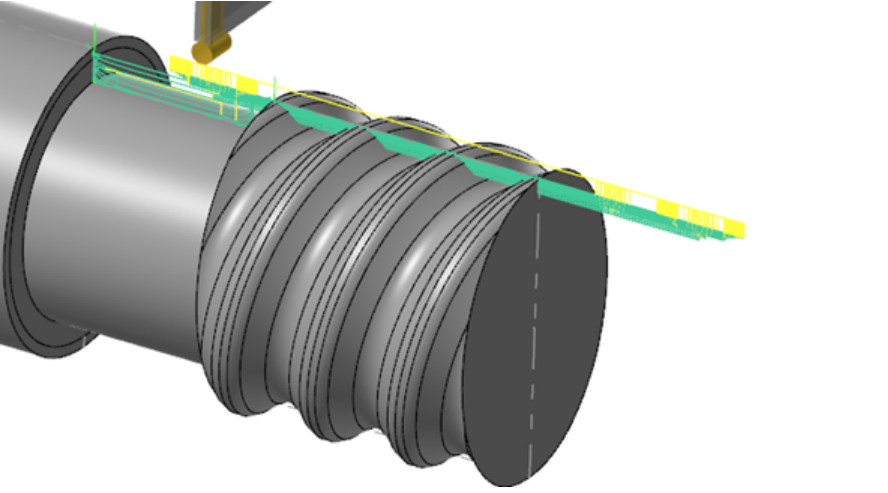 Custom Thread functions much like a Mill 3D toolpath by using step down and step over to create profiles. The parametric definitions (rope, buttress, etc.) eliminate the need to chain geometry as dimensions can be specified in the properties panel. You aren't limited to the parametric definitions. You can also draw any custom thread in Wireframe and it'll treat it the same way. To streamline your programming, you can save your created custom thread forms for future uses. Also, with the Tool Inspection feature, you can set times or conditions to have your machine stop to check the insert for wear or breakage, without needing to manually enter code.  
5. Full Collet and Solid Jaw Support

The added solid modeling support for jaws is an essential feature for machine simulation released in Mastercam 2021 Lathe and Mill-Turn. These solid components greatly improve .machine simulation accuracy while also making programming easier. Solid jaws are available for use in Lathe, whereas solid jaws, chucks, collets, and collet chucks are all available for lathes with a .machine environment, also known as a Single-Stream Lathe environment. To learn more about .machine environments and their many benefits, contact our sales team.
These are only a handful of the features that make Mastercam a great choice for lathe programming. If you are interested in implementing Mastercam 2022 for your Lathe programming, contact our Sales team today for a quote at sales@mcamnw.com or (503) 653-5332. 
Don't forget about this month's special deal! For updating to 2022, you can get 50-100% your Mastercam update fee with a new purchase of 1 or more years of Mastercam Maintenance
until December 29th, 2021 at 5:00 PM PST. Contact our sales team for more information!
Follow MCAM Northwest!
Facebook: @MCAMNorthwest
LinkedIn: mcam-northwest
Twitter: @MCAM_NW
YouTube: The MCAM Northwest
To view and register for upcoming MCAM Northwest Mastercam webinars, visit our Events page.