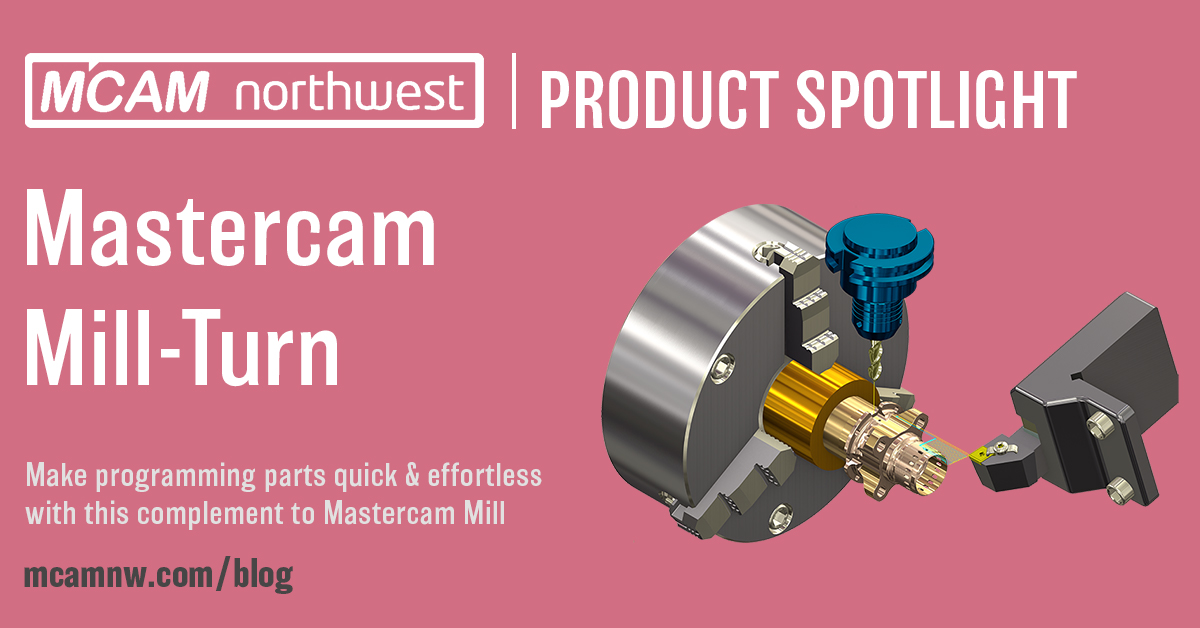 Product Spotlight: Mill Turn
Make programming complex parts quick, effortless and safe with this hybrid of Mastercam Mill and Lathe: Mastercam Mill-Turn.
By Callie Morgan

8:15 AM, July 31st, 2020 
What is a Mill-Turn Machine?
Mill-Turn machines are multitasking, multi-function CNC machines capable of producing complex parts in a single operation through rotating tool operations. The machine's ability to perform multiple functions simultaneously increases shop productivity by reducing setups, redundant fixturing, manual part handling, and idle time.
Mill Turn in Mastercam
Mastercam Mill-Turn hosts a single environment for both establishing routines and testing cutting strategies before you set your stock on the machine. With its smart, stock-aware toolpaths and visually-precise machine simulation feature, you can create parts without the risk of costly collisions or damage to your machine.
This mill and lathe hybrid software uses Mastercam's milling and lathe toolpaths to simplify the programming process with automated job setups and part handling tools customized to your machine. 
Some highlights of this Mastercam product are:
Optimization, synchronization, and visualization in a single platform

Automation to easily manage complex operations between multiple machine data streams

Efficient milling, turning, and drilling operations with fewer setups at high speed

Program simple lathes to complex machines

Powerful Gantt- or Tree-style synchronization
Learn more in-depth details about Mastercam Mill-Turn by visiting the product page on our website here.
What's New in Mill-Turn 2021?
Mastercam 2021 introduced many new features for Mill Turn, including Mill-Turn Simulation, improved workholding support, and Toolpath Transform. We covered all of these new features in our 2021 New Feature Series: Mill Turn webinar. In case you missed it, you can watch the recording any time on Streamingteacher with a Pro account in the Presentations tab.
To get a quote for Mastercam 2021 Mill-Turn, give us a call at
(503) 653-5332 or send an email to our Sales Team at sales@mcamnw.com.
Follow MCAM Northwest!
Facebook: @MCAMNorthwest
LinkedIn: mcam-northwest
Twitter: @MCAM_NW
YouTube: The MCAM Northwest
To view and register for upcoming MCAM Northwest Mastercam webinars, visit our Events page.