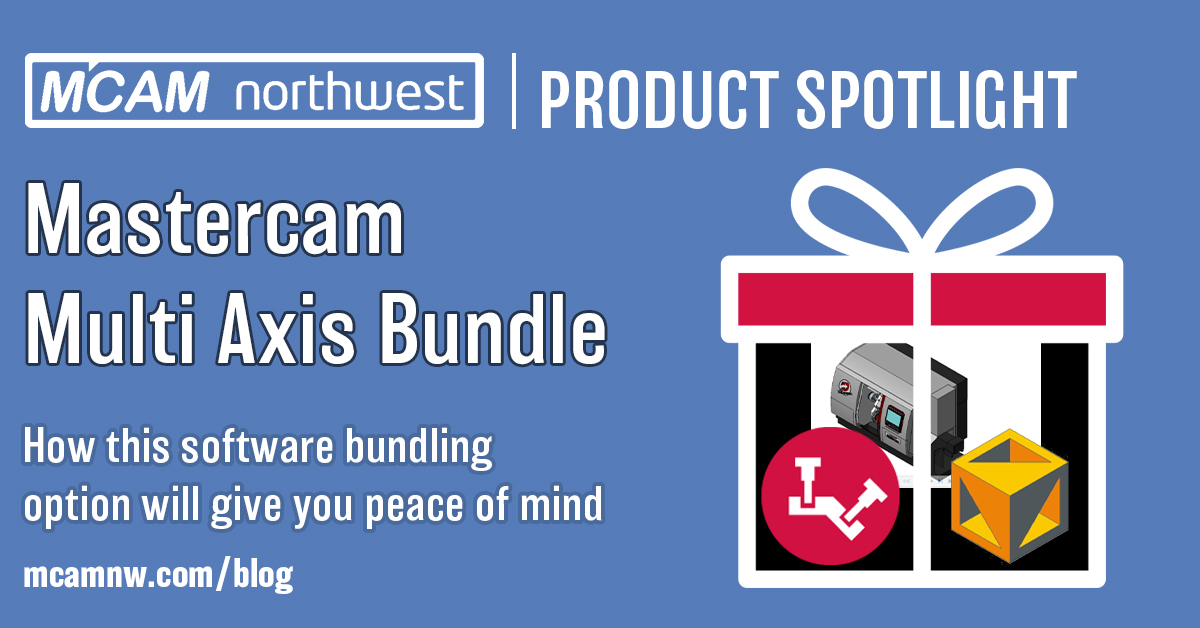 Product Spotlight: Multi Axis Bundle
The Mastercam Multi Axis Bundle gives you more than a simulator and post processor–it also gives you peace of mind. 
By Callie Morgan
February 1st, 2021, 8:00 AM PST
As a Mastercam customer buying a 5 axis Mill, you have the option to get both a post processor and machine simulator included with the purchase of the "Multi Axis Bundle". This is provided by a variety of vendors, such as MCAM Northwest, Postability, InHouse Solutions, CNC Software, and a few others.
Post Processing
Running a machine is not possible without a machine post. A lot of resellers used to have Post Processor Developers on staff to serve this purpose. However, as CNC machines have gotten more complex, external post processing services exist to fulfill the ever-changing programming needs of CNC machining.

A purchase of the Multi Axis Bundle from MCAM Northwest includes unparalleled Mastercam post processing service and support from Postability, an official Mastercam Business Partner.
Machine Simulation
The more axes your machine has, the more likely it is for your machine to experience a collision. Whether you set the wrong feed rate, linking parameters or tool length incorrectly, errors in a program can lead to catastrophic, costly damage to your machine. For reference, the cost to replace the spindle of a 2014 Mazak VCU Vertical Machining Center, is roughly $21,000, and that doesn't include the cost associated with machine downtime while you wait for that repair.
The most important piece of this Multi Axis Bundle is access to Mastercam Simulator within the Multi Axis interface. Machine Simulation is not just an additional Mastercam feature, it also acts as a low-cost form of insurance for your machine.
Before machine simulation existed in CAD/CAM software, a worker would check for program errors by single blocking, which involves having a hand on the Emergency Stop button, while the machine runs through every line of code in a program, one at a time. 
Single blocking involves many steps, making this a non-ideal method of checking for errors. You have to post the code out to the machine, set up the machine for the job, block each line, and stop the machine whenever an error occurs. After that, you have to go back into Mastercam to fix that error then export the code and run through the steps all over again. 
This may have worked back in the day when programs were simpler, but some modern programs have 15,000 or even 1 million lines of code. Any of those lines has the potential to crash your machine and, at that length, you don't have time to run every single line. 
The bottom line is that paying workers to stand by and run a machine line-by-line wastes a ton of time and money. On the other hand, if you were sitting in the programmer's seat and ran Machine Simulation, you would see the error without having to send the code to the machine, avoiding a major time sink.
The Evolution of Checking Your Work
Mastercam products all include the Backplot and Verify features, which both offer a very narrow views of machine simulation. With the Machine Simulation feature, you can see the full picture of your machine: the tool, holder, spindle, stock, vice, all the moving axes, even the sheet metal; everything about your machine. Modern-day programmers use a combination of Backplot, Verify and Machine Simulation to check their work.
Let's say you aren't 100% convinced that using only machine simulation to check for machining errors will work, and you would prefer to use single blocking as your backup method. Even so, you will still save yourself time. As long as you run Machine Simulation to check for errors and fix them while in the programmer's seat, the part will run without errors when you go to single block the program at the machine. 
Posts, plus the ability to simulate your toolpaths, provide an invaluable benefit to your shop. The bundle provides the Machine Simulation feature in the Mastercam interface, so you can simulate a job without needing an outside post developer. Most importantly, Machine Simulation gives you another reason to trust your software and provides a form of low-cost insurance for your machine.
If you are interested in purchasing the Mastercam Multi Axis Bundle, give our Sales Team a call at (503) 653-5332, or send them an email at sales@mcamnw.com.
Follow MCAM Northwest!
Facebook: @MCAMNorthwest
LinkedIn: mcam-northwest
Twitter: @MCAM_NW
YouTube: The MCAM Northwest
To view and register for upcoming MCAM Northwest Mastercam webinars, visit our Events page.