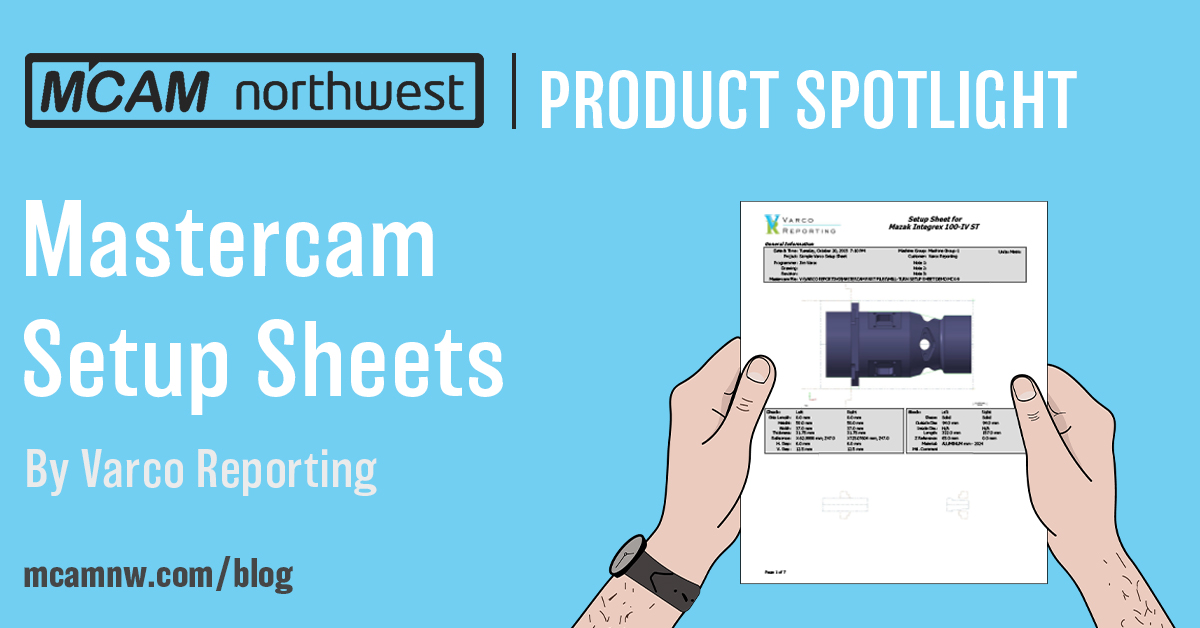 Product Spotlight: Setup Sheets
Bridge the missing link between the programmer and the shop with the most sophisticated, powerful setup sheets for Mastercam by Varco Reporting.
By Chris Hehman
8:00 AM PDT, October 1st, 2020
How does a shop keep track of all the information about the program that needs to come out of the programmer's head when the job is being set up? Documentation. Specifically, documentation in the form of a setup sheet.
Setup sheets are an essential aspect of shop operation. After the router/traveler, they may be the second most important pieces of paper floating around a shop. They are the pieces of documentation that tell the CNC machine operator how to set up the machine to perform a job (i.e. tool, holder, stick out, gage length, carousel location, etc.), and things to watch out for during the setup or operation. Setup sheets make creating these instructions easy.
Developed by MCAM Northwest Support Specialist, Jim Varco, Varco Reporting's Setup Sheets are the most sophisticated and powerful setup sheets available for Mastercam. They have an easy to use Wizard interface to customize them for your shop.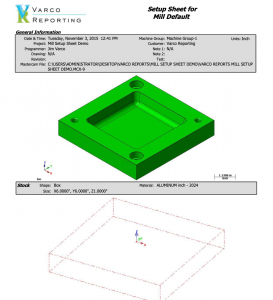 Reports can be set as templates, will work with all machine types (Mill, Lathe, Wire, Router, Mill-Turn, etc.), and are highly customizable to contain as much or as little information as desired. The programmer can even have their own setup sheet for double-checking information before sending it out to the shop.
Multiple templates can be set up, so that each machine can have its own templates for programming and setup ops, with information specifically relevant to that machine. The reports have an option to import or create a Rich Text File (RTF) or Text (TXT) file for instructions. Detailed, formatted notes, images, and even barcoding, can be used when using the RTF import option.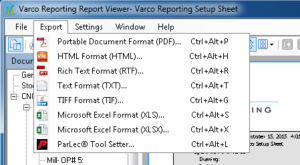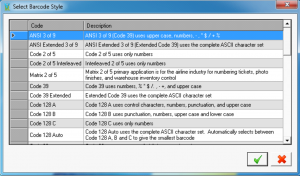 The Setup Sheet and Tool List reports are highly customizable by the user. However, if you need a special version to fit your needs, Varco Reporting can develop one for you.
Once you've worked at a shop that has setup sheets dialed in, you may wonder how you could've ever gotten by without them. Varco Reporting's Setup Sheets are the missing link between the programmer and the shop. To see what shops have to say about using these setup sheets, you can view the customer testimonials here.
Varco Reporting's Setup Sheets not only provide the instructions that your machine operators need, but make it much easier to create these instructions and customize them for your shop. 
If you are interested in Mastercam Setup Sheets by Varco Reporting, email our Sales Team at sales@mcamnw.com for a quote!
Follow MCAM Northwest!
Facebook: @MCAMNorthwest
LinkedIn: mcam-northwest
Twitter: @MCAM_NW
YouTube: The MCAM Northwest
To view and register for upcoming MCAM Northwest Mastercam webinars, visit our Events page.