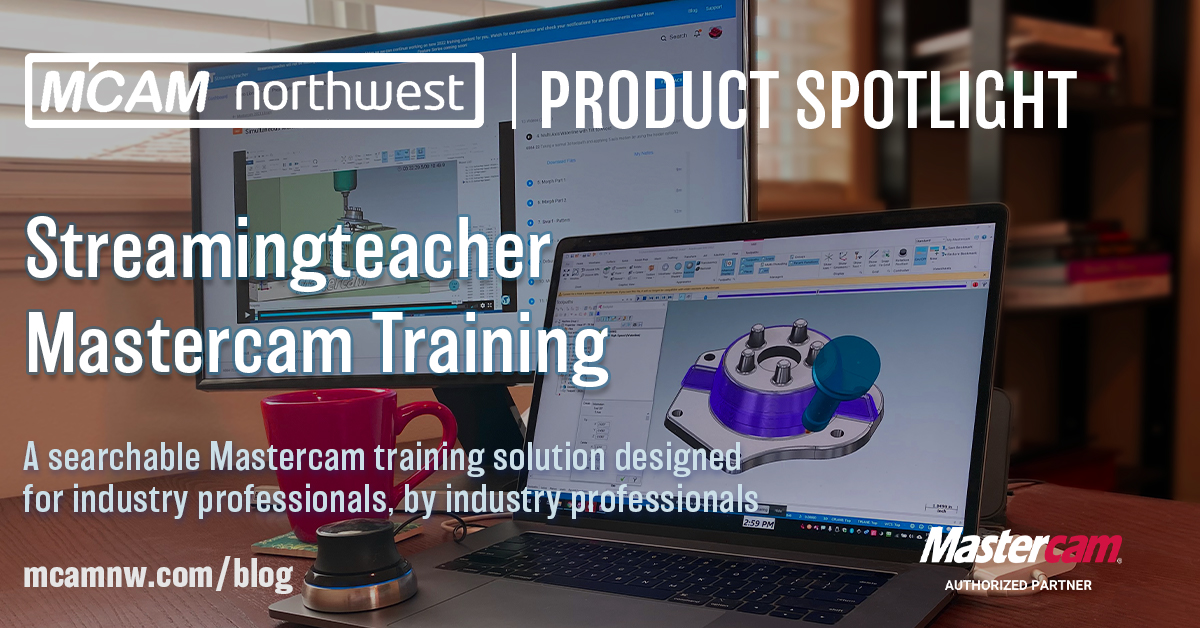 Product Spotlight: Streamingteacher
Born from industry, Streamingteacher is a great resource for career programmers wanting to stay current on the new Mastercam features, and those wanting to learn the software for the first time.
By Callie Morgan
Monday, April 3rd, 2021, 8:30 AM PDT 
In 2003, there was a dramatic increase in manufacturers interested in using Mastercam for the first time. At MCAM Northwest, we realized that our standard brick-and-mortar training wouldn't be able to handle such a large volume of new Mastercam customers in time for the upcoming Mastercam X update.
With the help of our friend, and now retired Mastercam instructor, Bob Delgatto from Clackamas Community College, we developed in-depth training videos to cover Mastercam V9 for our Mastercam customers. The videos were a hit with customers! We wanted to make more videos, but we needed to find them a permanent home. So, we created a new website and new company to host our training videos: Streamingteacher.com.
In March 2004, the site was officially launched. Streamingteacher first hosted roughly 120 lessons for Mastercam V9. 17 years later, the site now hosts over 1,900 lessons for all supported versions of Mastercam and over 20,000 registered users worldwide, consisting of career programmers, managers, educators, students and Mastercam resellers. 
Taught by Mastercam instructors with many years of experience working in the industry, the primary focus of Streamingteacher's lessons is to help CNC programmers build the problem-solving skills needed to tackle any challenge faced on the job. The lessons address how specific Mastercam settings affect your programs and when and why to use them, and using multiple part examples to demonstrate programming concepts. 
New lessons and presentations for the current version are uploaded continuously, which makes this training excellent for anyone wanting to stay up-to-date on the latest enhancements to the software.
Lessons are sorted by Mastercam product, and a powerful keyword search function. This avoids the need to waste time going down YouTube search rabbit holes and getting distracted by other CAD/CAM products when finding solutions for Mastercam problems. The search function is especially useful for crafty Mastercam instructors who want to easily find and grab Streamingteacher's videos to supplement their course lesson plans.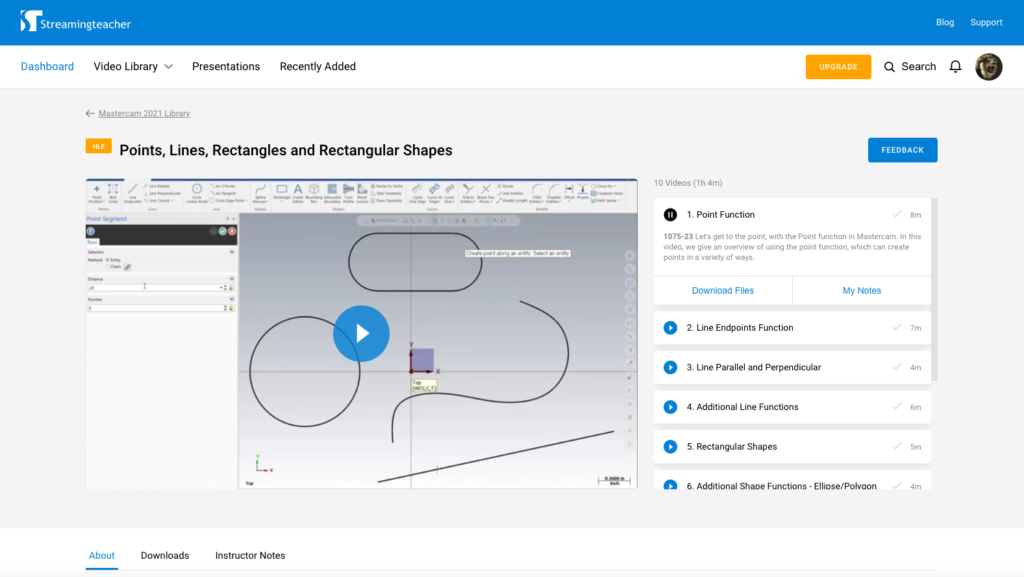 With a Free account, a user can learn the basics of the current Mastercam version. The Free courseware, which includes basic-level design, solids, interface, mill and lathe, is slightly more than someone would learn in the first two semesters of a community college Mastercam course.
For the by-the-book type of Mastercam instructor, there are sample lesson plans for an introductory level 3-term, 12-week college course and an introductory 1-term high school course available in the "For Instructors" lesson group.
To learn more advanced Mastercam topics in Solids, Design, Router, Lathe, Mill, Mill-Turn, Multi Axis and more, there is a Pro subscription, which includes all lessons for all supported versions of Mastercam (2017-Current). To see the benefits of upgrading to a Pro account, free users can view all the available lessons that are watchable with the Streamingteacher Pro subscription in the library, and can choose to upgrade their plan with the click of a button. To view Pro plan pricing options, click here.
Streamingteacher also has a Team subscription that bills multiple Pro users under a single administrator account. This is ideal for businesses and classrooms because it makes it easy to purchase, remove and transfer subscriptions whenever needed. 
Team admins can view the metrics for each user, making it a helpful tool for educators to monitor their students' learning progress. However, to be part of a team, the admin needs to give you a Pro subscription, which will be eventually needed when students progress beyond beginner level.
Twice a month, Streamingteacher hosts live Presentations that provide in-depth instruction on how to take advantage of Mastercam's most powerful features. The links to watch these presentations live one-time for free can be found in the MCAM Northwest newsletter and the "Events" page on our website. To watch these presentations after their live premiere date, however, requires a Pro Streamingteacher subscription.
If you are interested in on-demand Mastercam training by Streamingteacher, register for an account at streamingteacher.com/register, or talk to the MCAM Sales Team at sales@mcamnw.com or (503) 653-5332.
Follow MCAM Northwest!
Facebook: @MCAMNorthwest
LinkedIn: mcam-northwest
Twitter: @MCAM_NW
YouTube: The MCAM Northwest
To view and register for upcoming MCAM Northwest Mastercam webinars, visit our Events page.