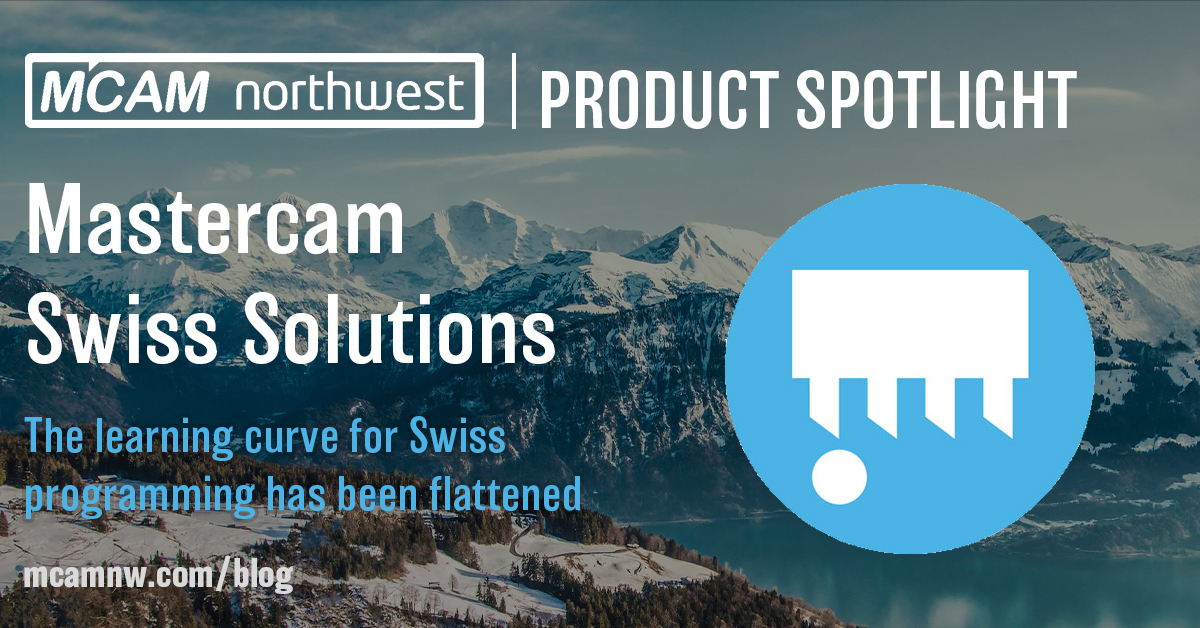 Product Spotlight: Swiss Solutions
Keep your shop all in the Mastercam family with this modern and user-friendly Swiss programming solution.
By Callie Morgan
January 4th, 2020, 10:40 AM PST
Swiss machining is a type of CNC machining originally developed for manufacturing the tiny components for Swiss wristwatches. This type of machining has expanded to include the manufacturing of other small, precise parts for medical devices, dental devices, and automotive parts.
Mastercam Swiss Solutions is a complete Swiss programming solution introduced with Mastercam 2020. You may have heard of its predecessor, Mastercam Swiss Expert, which was introduced with Mastercam X7 in 2013. Swiss Expert was a powerful Swiss programming product, but it required more training to use, since its functionality differed significantly from Mastercam's other products. 
With Swiss Solutions, the learning curve has been flattened, even for users new to Swiss programming. This software operates as a hybrid of Mastercam Mill and Mastercam Lathe, with customizable Swiss post processors for accurate G-code programming. It is also easy to switch a programmed part between different machine makes and models of Swiss machines.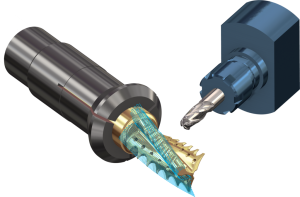 Programming in the Lathe end of Swiss Solutions gives access to C-axis programming with roughing, grooving, threading, parting, drilling, boring, and tapping. For heightened productivity, you can use Contour, Drill, Dynamic Motion, OptiRough, Pocket, and Project in Mastercam Mill. When the Mill and Lathe ends of Swiss Solutions are used in concert with each other, you can perform face contour and drilling, and cross contour and drilling all in one place. 

If you are programming a part for a Swiss machine (say a Citizen, Star, Swistek, Tsugami, etc.) in Mastercam Lathe, and have to edit the code for your Swiss machine, your time and money would be better spent programming it in Swiss Solutions. Since Swiss programming in Mastercam now shares the same interface, tools, and workflow, programming Swiss machines in Mastercam is now as easy as programming a lathe part. The only differences between Swiss Solutions and Lathe are in the "Custom Parameters" and "Miscellaneous Values" tabs, and pick-off and cut-off (POCO) operations, which occur with machine brands that use variable options, such as the use of high-pressure coolant. You can learn the specifics about the switching between Lathe and Swiss in this helpful article on Mastercam.com.


With support for over 100 machines across 15 different brands, there is a good chance yours is supported with this simple solution.  To see if Mastercam Swiss Machining Solutions is right for your shop's programming needs, talk to our Sales Team by email at sales@mcamnw.com or by phone at (503) 653-5332.

Follow MCAM Northwest!
Facebook: @MCAMNorthwest
LinkedIn: mcam-northwest
Twitter: @MCAM_NW
YouTube: The MCAM Northwest
To view and register for upcoming MCAM Northwest Mastercam webinars, visit our Events page.