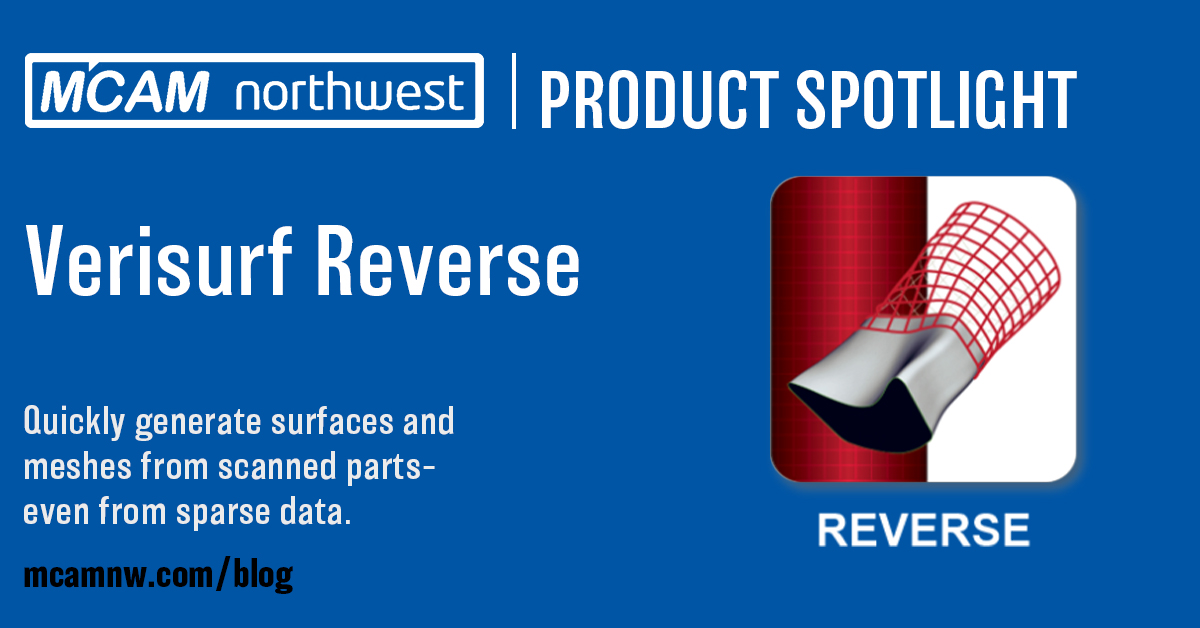 Product Spotlight: Reverse
Don't have the CAD file on hand for a part? Verisurf's reverse engineering software can quickly generate meshes and surfaces, even from limited scan data.
By Callie Morgan
December 1st, 2020, 10:38 AM PST
Verisurf's 3D scanning and reverse engineering software Verisurf Reverse can generate 3D CAD models from point clouds captured from non-contact measurement methods, such as laser scanners, photogrammetry and arms. 
Reverse creates, manages and reverse engineers point clouds that can be made into meshes and surfaces for manufacturing, inspection and tool fabrication. 
By utilizing its advanced metrology tools, Verisurf Reverse creates and custom-fits lines, arcs, planes, splines, spheres, freeform surfaces, and more, even with sparse data. STL meshes, surfaces, solids, prismatic features can be blended in a single design. You can even create splines for lofted surfaces using the Slice tool. 
For simple surfacing tasks, you can use Single Patch. For more complex surfaces, use the Autosurfacing feature. Auto surface creates the fewest number of surfaces possible for the target quad count and surface details. 
Quick Surface
The Quick Surface option added in Verisurf 2020 allows for more creating simple, more accurate modeling from meshes, derived from scan data or STL files. This results in smoother, high-speed toolpaths. Quick Surface generates complex polygonal meshes with very little button-pushing, making it easy for novice users to navigate.
To learn more about Quick Surface, watch this video demonstration:
Software Ecosystem
Reverse is included in Verisurf's 3D Scanning and Reverse Engineering Suite, which contains their "CAD" and "Measure" software. The programs in the suite act as a software ecosystem. 
The Reverse software allows a complete scan to part workflow. To start the reverse engineering workflow, you first use Verisurf Measure to scan the part. Measure provides an integrated data capture system in a real-time CAD environment that lets you construct the model as it measures. The point clouds from the scan are converted into a polygonal mesh by Reverse that can be edited to smooth the mesh prior to surfacing. 
Even programs outside the suite work in harmony with Reverse. With Verisurf Build and Verisurf Analysis, you can compare the accuracy of your CAD model back to its original scan data.
Verisurf offers a variety of software suites that include the Reverse software, including the Metrology Enterprise, 3D Scanning and Reverse Engineering, and the Scan Data Suite. For more information about Verisurf Reverse, give our Sales Team a call at (503) 653-5332 or an email at sales@mcamnw.com.
Follow MCAM Northwest!
Facebook: @MCAMNorthwest
LinkedIn: mcam-northwest
Twitter: @MCAM_NW
YouTube: The MCAM Northwest
To view and register for upcoming MCAM Northwest Mastercam webinars, visit our Events page.