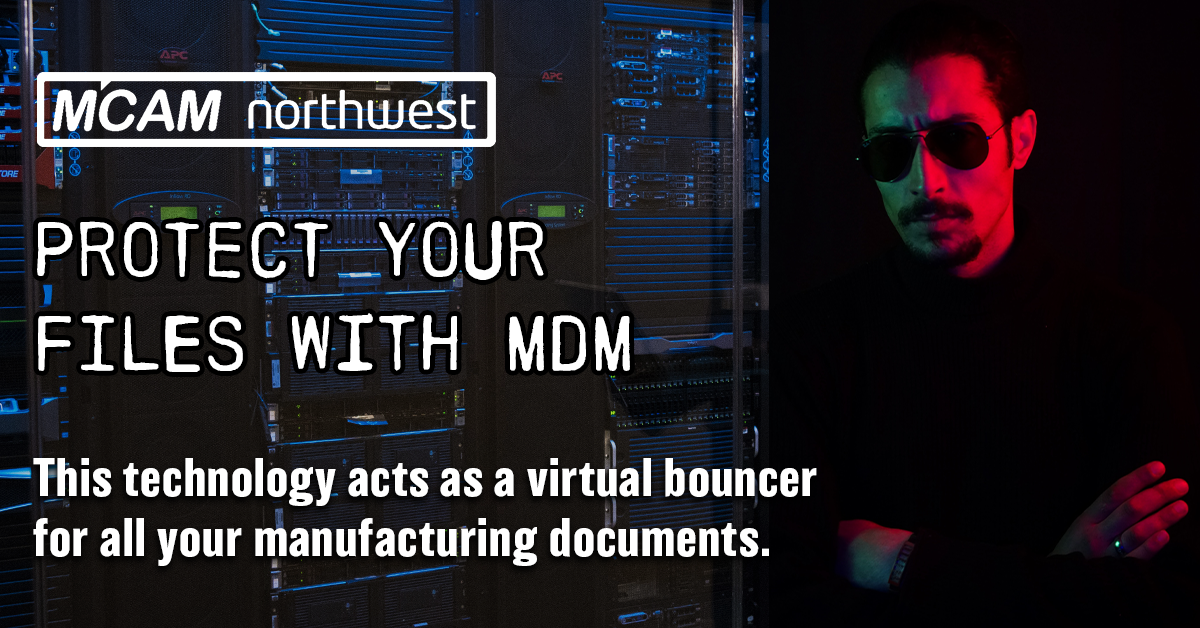 Protect Your Files with MDM
Looking for a smarter way to store and secure your manufacturing files? Consider an MDM solution!
By Callie Morgan
Monday, July 31st, 2023, 11:20 AM PDT
To see MDM technology in action, sign up for our next webinar: "Manufacturing Document Management" on August 9th, 2023 at 10 AM on Demio!
Modern manufacturing is overwhelmingly trending towards paperless and finding secure, efficient ways to store this data should always be a top concern.
Manufacturing Document Management (MDM) is a technology that automates the process of organizing, associating, and protecting all related files. With MDM, manufacturing documents and data are automatically backed up with revision tracking, letting you know what was changed, who made the changes, and when.
In today's manufacturing environment, traceability is of utmost importance. Any sort of data loss can have serious consequences. Having the right data storage and backup methods can protect us from data loss resulting from system crashes, cloud connection issues, simple misplacement of files, or file overwrites.
File overwrites are a type of data loss we deal with on a more regular basis. Let's say Engineering decides they need to change a feature on a part's CAD file. You would have to track down and figure out which version of the file was changed, where that file is located, and then update every single file related to it to reflect the changes (i.e. the setup sheets, inspection reports, programming CAM files, posted code files, etc.).
Cimco MDM is the premier manufacturing data solution that we offer to our customers. This application acts as a central hub that can be fully customized to work with your existing setup to make paperless shopfloor operation secure and organized. MDM integrates with your existing applications such as editors, DNC, and MDC systems as well as CAD/CAM systems, including Mastercam. MDM is installed locally (i.e. Virtual Machines, workstations, or servers). It works with your existing documents and directory structure and adds a layer of powerful functionality to your existing files.
You can access MDM documents from the mobile or web client. Cimco MDM has ways to set permissions on which users have access to your files and how many users can access a file at a time. Cimco can also limit what each user can see so that a non-ITAR-compliant operator can see only what they are allowed to. 
MDM tracks changes made to files and keeps all files under version control. You can browse the version history of any file, do side-by-side comparisons of versions, or restore an older version. When changes are made to a file, you can set up workflows that alert users. You can set a workflow that locks a file for approval when modified, sends a notification email of changes, requests the user fill out a form and more. You also have the option to have Cimco build custom workflows for your alert system.
If you want to know more about Cimco MDM, we are featuring it in our next webinar! You can register for "Managing Documents and Data for Manufacturing" on August 9th, 2023 at 10 AM on Demio. We hope to see you there!
Follow MCAM Northwest!
Facebook: @MCAMNorthwest
LinkedIn: mcam-northwest
Twitter: @MCAM_NW
YouTube: The MCAM Northwest
Instagram: mcamnorthwest
To view and register for upcoming MCAM Northwest Mastercam webinars, visit our Events page.