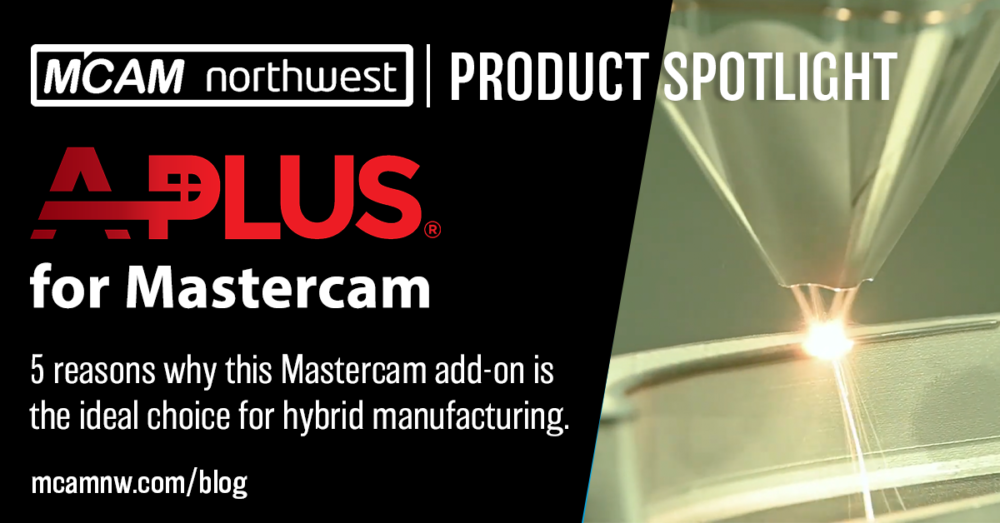 Spotlight: APlus for Mastercam
Hybrid manufacturing is possible in Mastercam with this sleek add-on by CAMufacturing Solutions. 
By Callie Morgan
Wednesday, January 25th, 2023, 11:00 AM PST
Additive manufacturing (3D printing) and traditional subtractive manufacturing (CNC machining) methods are often compared to each other. But, this competition between these two manufacturing methods should not exist, as they run in their own lanes. 
However, each method has their unique strengths that when combined, can efficiently produce beautiful new products and repair existing ones. Today, there are CNC machines and add-on devices available that can 3D print and CNC machine all in a single work holding. When additive and subtractive methods are blended together like this on a single machine, it is called hybrid manufacturing.
APlus is a hybrid manufacturing software designed exclusively for Mastercam users, giving users the ability to program additive and subtractive toolpaths within Mastercam. We give you 5 features of APlus that will streamline your hybrid machine programming and give you the best return on investment.
1. Built for Mastercam
APlus is a hybrid manufacturing solution developed for Mastercam Mill, Lathe and Router (excluding Entry licenses). APlus has 5-axis multiaxis additive machining toolpaths, but having Mastercam Multiaxis is not required to use them.

APlus is accessed from Mastercam in its own tab, so you can program, edit, simulate and post-process both the additive and subtractive toolpaths without leaving Mastercam. Additive and machining operations can be interlaced in any order in the Mastercam Toolpath Manager. Editing toolpath parameters and selected geometry for additive operations works the same way as it does for machining operations.

2. Build Bigger Parts Faster
Unlike other additive manufacturing processes, APlus uses toolpaths and functionality specifically for Direct Energy Deposition (DED). DED uses a directed heat energy source, like a plasma arc, laser or electron beam, to melt powder or wire, depositing that material onto a surface to build a structure. 

DED builds parts with big beads, making DED a more ideal method for building larger parts, unlike Powder-Bed Fusion (PBF), which uses a similar process to DED but with smaller beads. The results of a recent benchmark study by Optomec show DED was 10 times faster and 5 times less expensive than using PBF to build a 150 mm diameter, 200 mm tall metal part. 
Think of DED like using an oversized crayon to fill in a shape. As you could imagine, using an oversized crayon will make drawing outside the lines difficult to avoid. Across all methods, 3D printed parts are not capable of being as precise as parts machined with a CNC. To fix the "overdrawing" that happens with DED, CNC milling or turning is used afterwards to remove the extra material to qualify the part dimensionally and to improve the surface finish where required. 

One of the key strengths of hybrid manufacturing is its ability to create parts with complex shapes efficiently. Other additive methods require additional structures called supports to hold up overhanging part geometry during the build process. With DED, there is no need to build, then later on, machine away supports when creating tall, curved shapes, which will save you a significant amount of time on programming and machining for the hybrid process.
3. Eliminate Voids
DED's broad strokes of large beads can occasionally leave voids (holes) or underfill regions in part geometry. However, APlus has sophisticated toolpaths that reduce and eliminate voids. The Exact Overlap additive toolpath is an example of one of the toolpaths that results in completely void-free parts, as demonstrated in this short video: https://www.youtube.com/shorts/TUdy25xaAkA.
4. Realistic Rendering and Backplot Simulation
In APlus, you can see what the finished part will look like layer-by-layer with the "Part Model" viewing feature. This feature also allows you save additive part models to use as stock for follow-up machining operations and simulation.

Since APlus is fully integrated into Mastercam, you can use the Mastercam Backplot feature to show the additive and subtractive machining process from start to finish.

5. Unparalleled Support
APlus is very user-friendly hybrid manufacturing software, but for the times when questions arise, expect very quick support turnaround from CAMufacturing Solutions and participating Mastercam resellers. Similar to Mastercam's development style, APlus greatly values feedback from their users and incorporates user suggestions into their next version releases.
Why Choose APlus?
There are many reasons why APlus is an incredible tool to add to your CNC software arsenal. With its slew of intelligent 5-axis additive toolpaths that prevent voids in your parts, APlus improves part quality with DED and has many applications. APlus has been used to repair existing parts, modify injection molds for component cooling, create roll dies, build a single part with multiple materials, and much more. 
If you are interested in hybrid manufacturing with APlus for Mastercam, reach out to the MCAM Northwest Sales Team at sales@mcamnw.com or (503) 653-5332 for a quote! 
Follow MCAM Northwest!
Facebook: @MCAMNorthwest
LinkedIn: mcam-northwest
Twitter: @MCAM_NW
YouTube: The MCAM Northwest
To view and register for upcoming MCAM Northwest Mastercam webinars, visit our Events page.