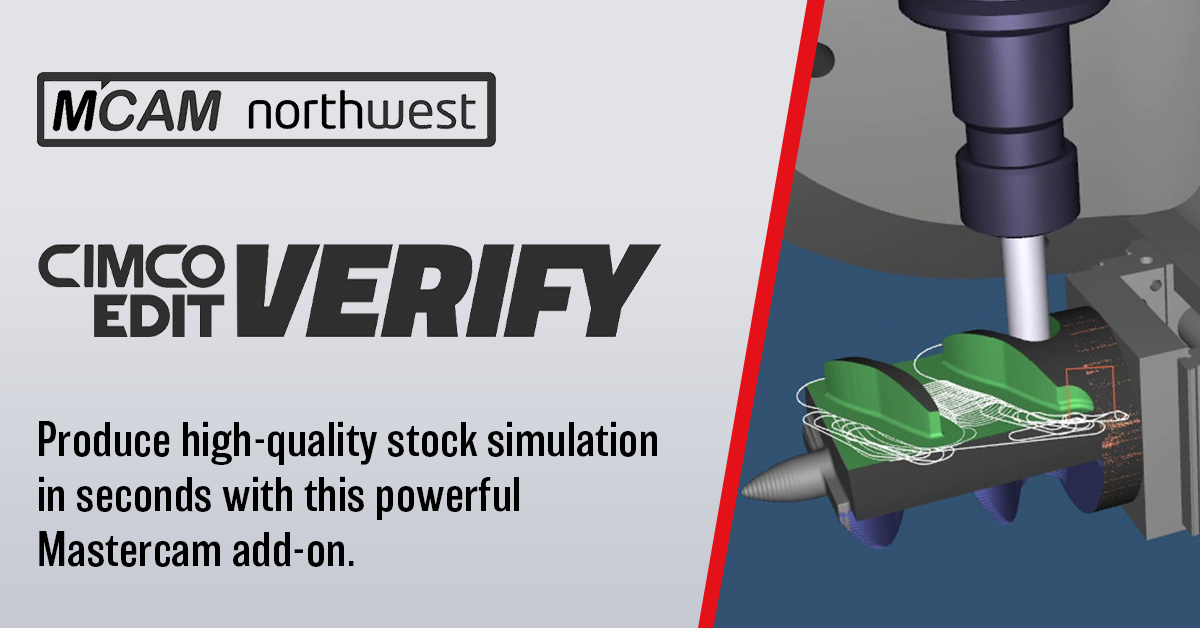 Spotlight: Cimco Edit Verify for Mastercam
This Cimco add-on brings powerful, fast verification to Mastercam.
By Callie Morgan
Wednesday, June 28th, 2023, 3:55 PM PDT
If you are looking for a formidable and fast programming verification and machine simulation solution for Mastercam, look no further. Cimco Edit Verify is a new add-on that can produce full-stock simulation from start to finish in seconds, even on highly detailed parts. 
Advanced Backplot
In Edit Verify, you have easy video controls to navigate forward and backward through the simulation, speed up or slow down the playback for backplot and simulation. While in Backplot, you can select toolpath modes and toggle the visibility of points, cutting moves, vectors and more. After making changes to a stock model, you can still see the changes in real time and produce a new simulation quickly. 
Machine Simulation Accessibility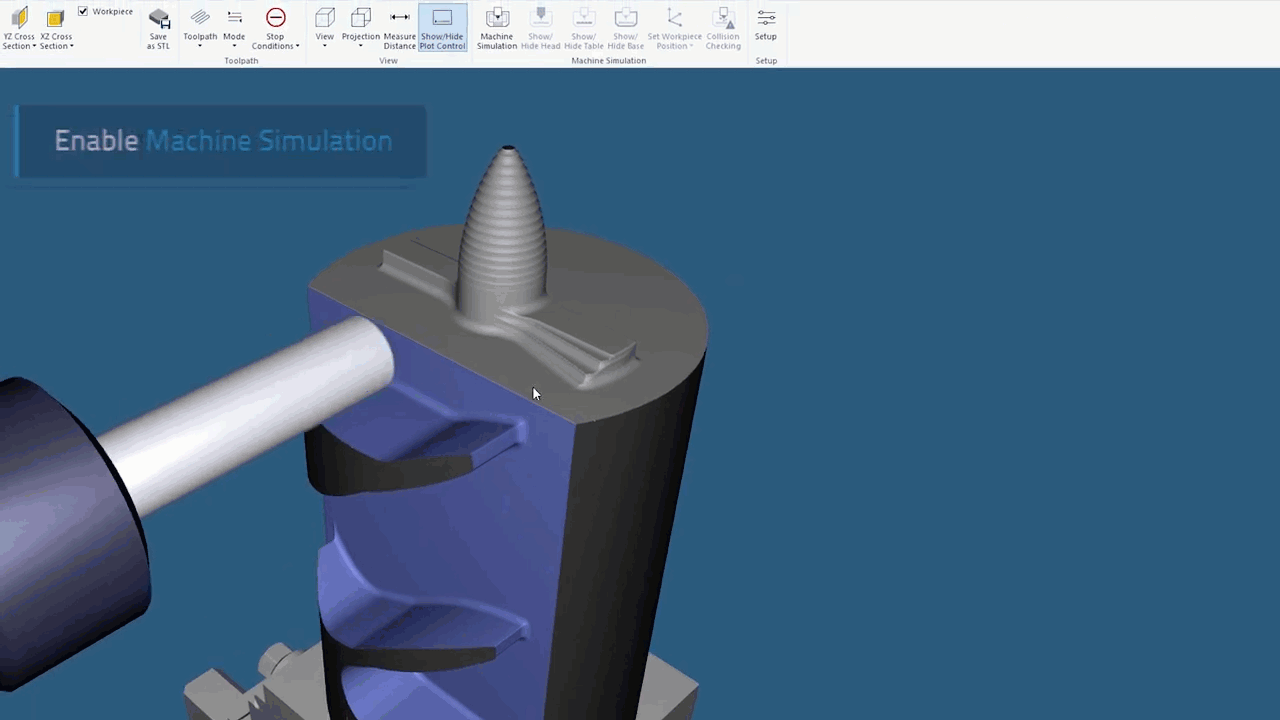 Clicking between Edit Verify and the Cimco Machine Simulation applications doesn't interrupt an active simulation. The built-in machine simulation gives you the ability to predict machine collisions and errors before they happen on 3, 4 and 5-axis machines. With excellent default settings and automatic workholding positioning, simulation setup is very easy.
Stock Operation Coloring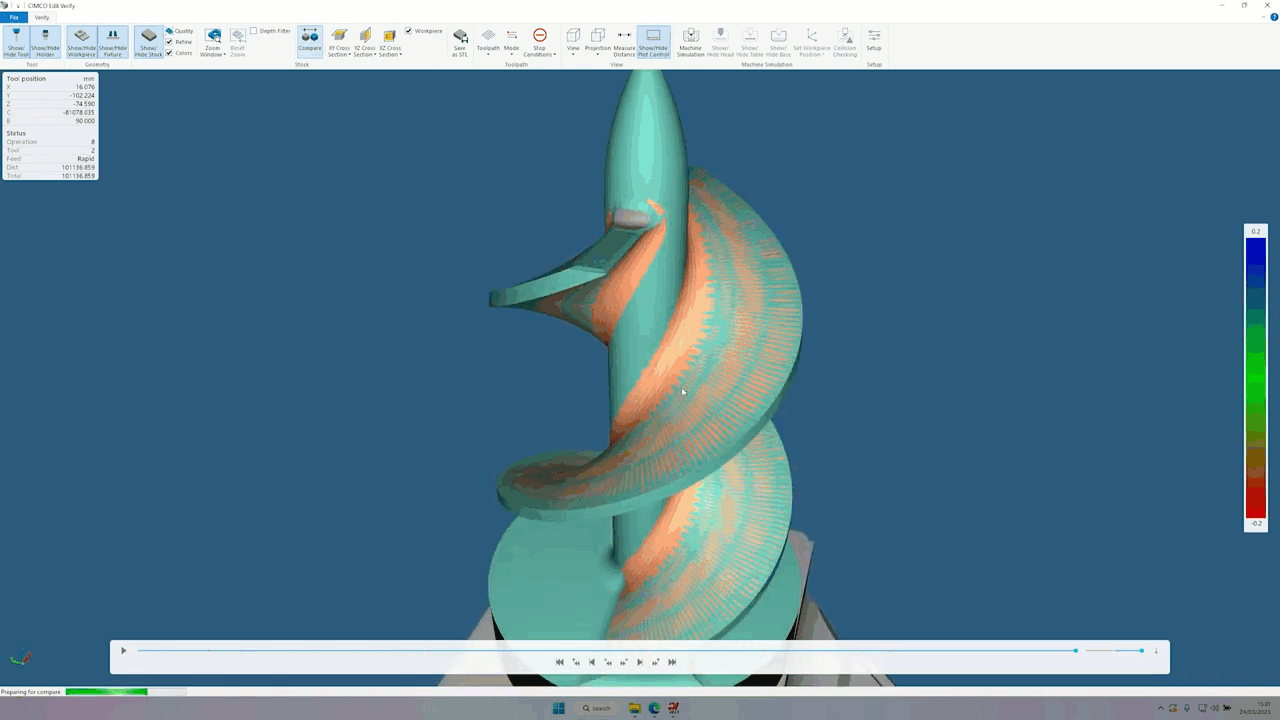 You can specify different operations with different colors for easy visualization of leftover stock. The colors reveal material missed by an operation. 
Cross-Section Views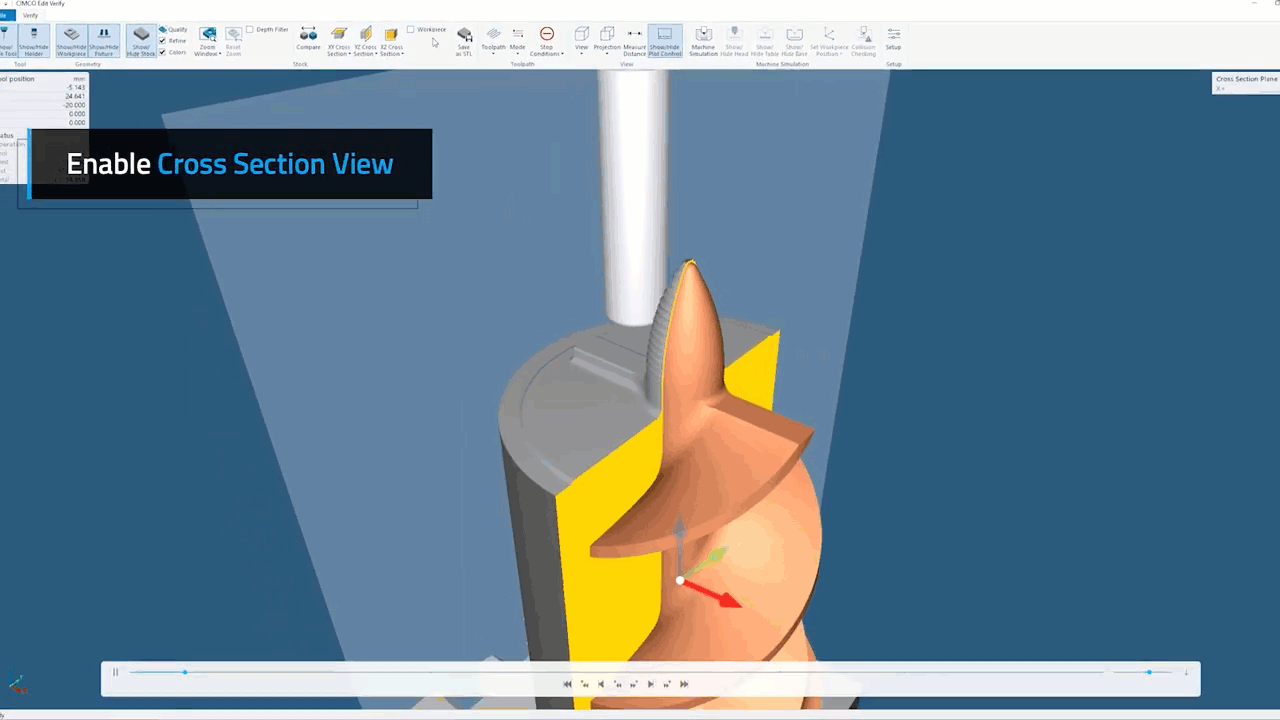 While simulation is running in Edit Verify, you can actively toggle two-dimensional slices of the stock and workpiece on and off without affecting the simulation performance.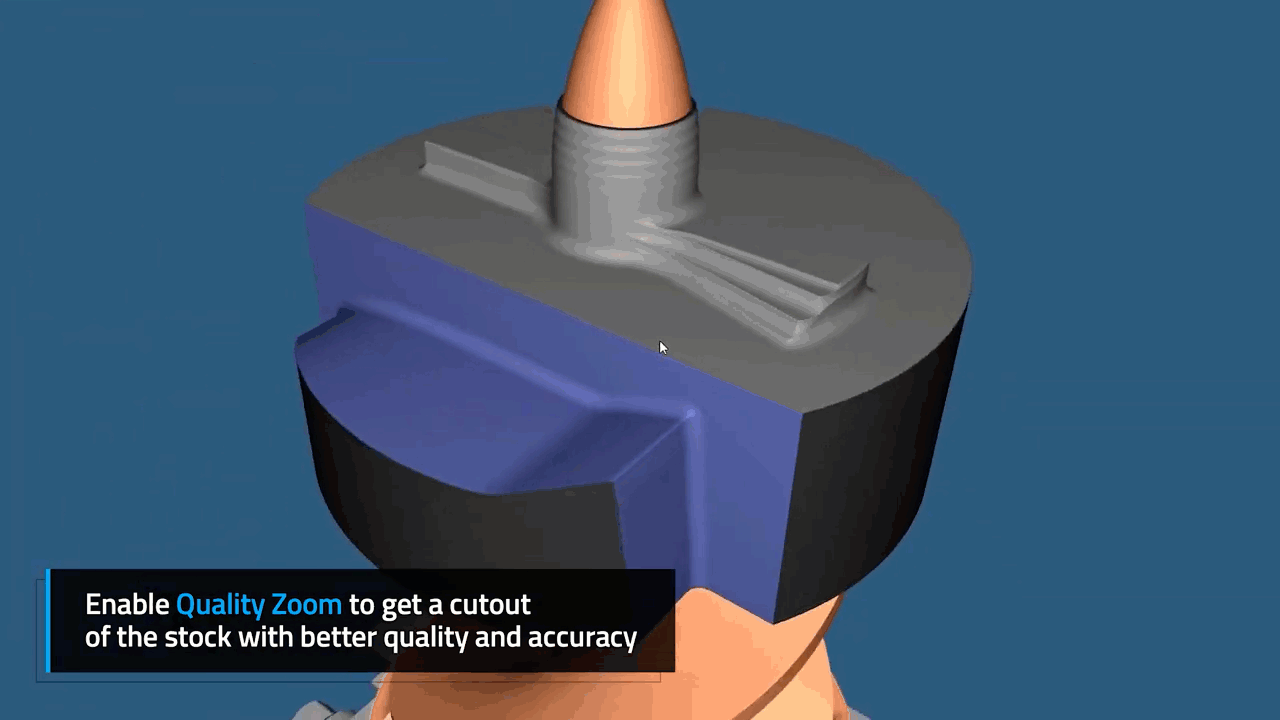 The Quality Zoom shows more detail of the machining within the cross-sectioned stock.
Collision Detection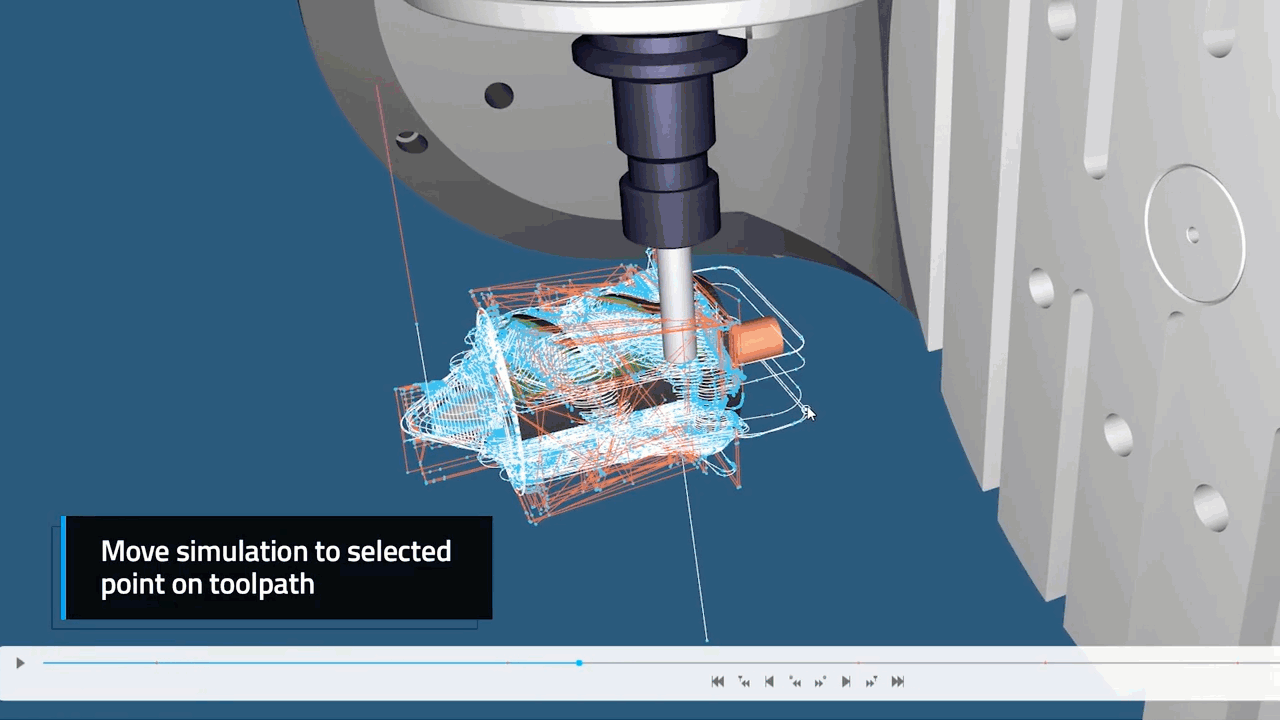 Specific trigger conditions can be set to stop simulation whenever a collision occurs during Machine Simulation, giving clear indication of errors that must be corrected. Collisions with the tool, stock, workholding, fixtures, and rapid moves to stock flash red during simulation.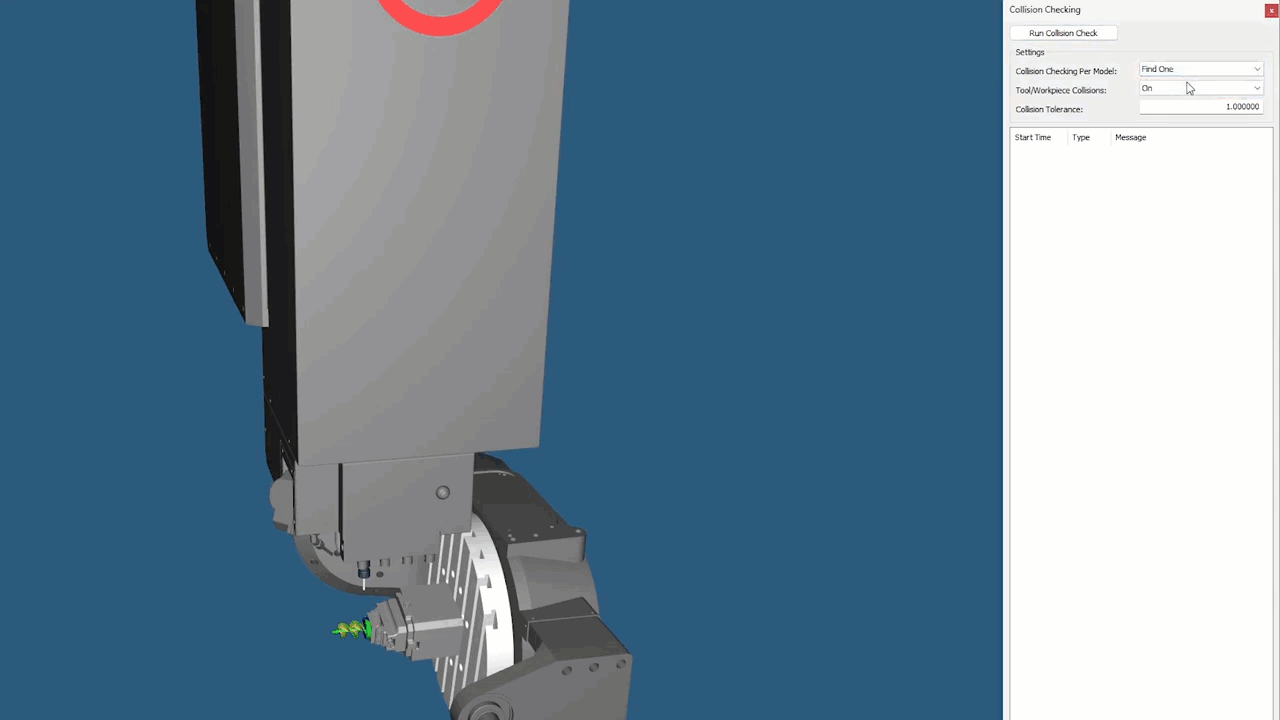 All errors that occur during simulation are recorded and provided on a report on the right side of the interface. 
Superior Performance
A major advantage of using Cimco Edit Verify is its high graphic performance. We ran a performance test and were thoroughly impressed with its frame rate output. Cimco Edit Verify's FPS (frames per second) were roughly 13 times higher than Mastercam Verify on the same big part file. In Cimco's internal tests, they saw up to FPS up to 50 times faster! The difference in FPS is due to Cimco utilizing the Graphic Processing Unit (GPU) for the majority of its performance, whereas some verification software, like Mastercam Verify, utilizes the Central Processing Unit (CPU) more.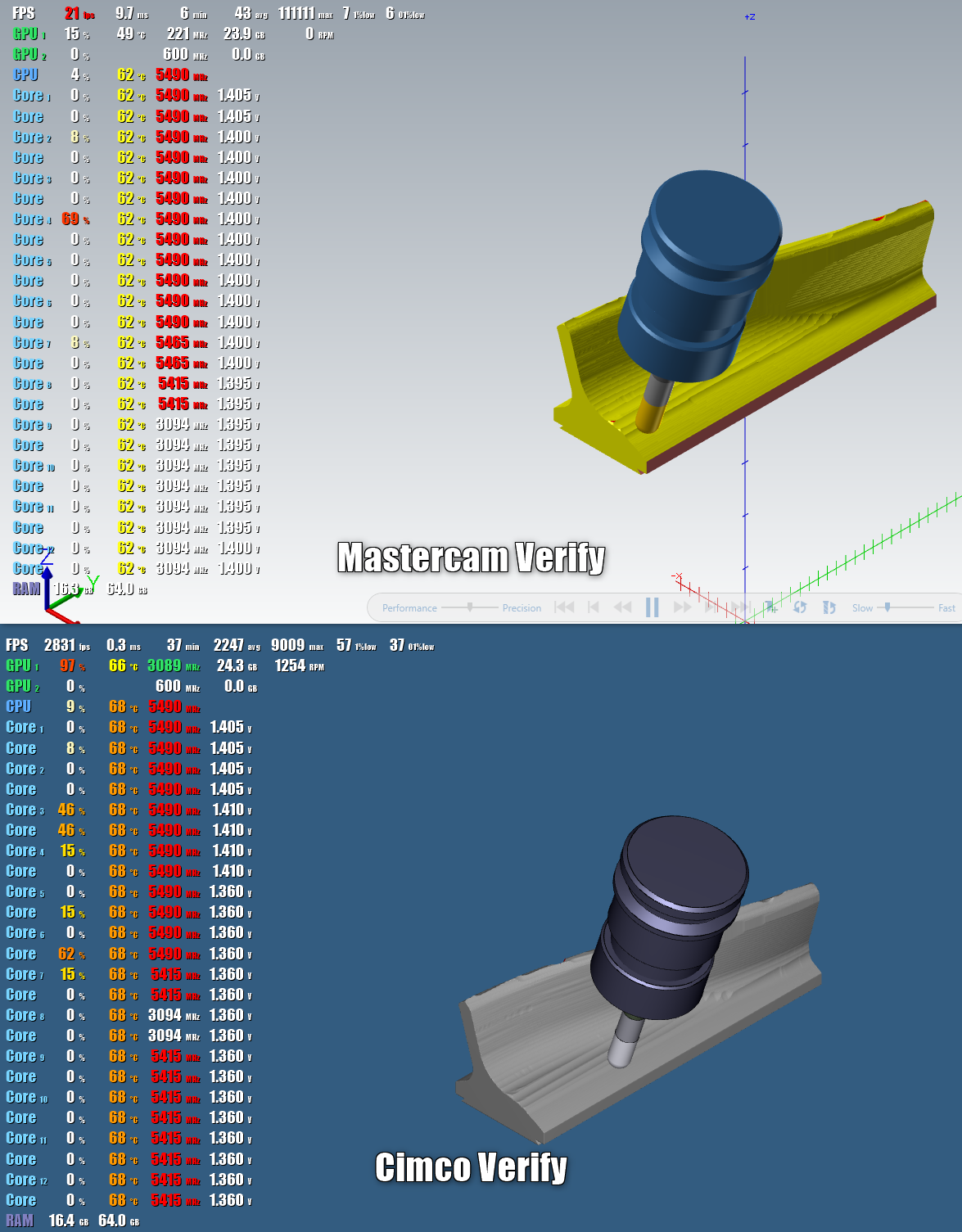 Cimco offers smooth simulation playback by taking advantage of the power of modern GPUs. It is recommended to use a Nvidia 2060 RTX GPU or better to take full advantage of the quality simulation output.
Ready to upgrade your programming verification and machine simulation experience? For a quote, contact the MCAM Northwest sales team. This add-on provides a big upgrade to your verification experience in Mastercam—but you don't need to just take our word for it, you can try it out for free! Cimco Edit Verify for Mastercam can be evaluated for free for 30 days before purchase! Give it a try today by downloading it here: https://www.cimcoverify.com/download. 
Follow MCAM Northwest!
Facebook: @MCAMNorthwest
LinkedIn: mcam-northwest
Twitter: @MCAM_NW
YouTube: The MCAM Northwest
To view and register for upcoming MCAM Northwest Mastercam webinars, visit our Events page.