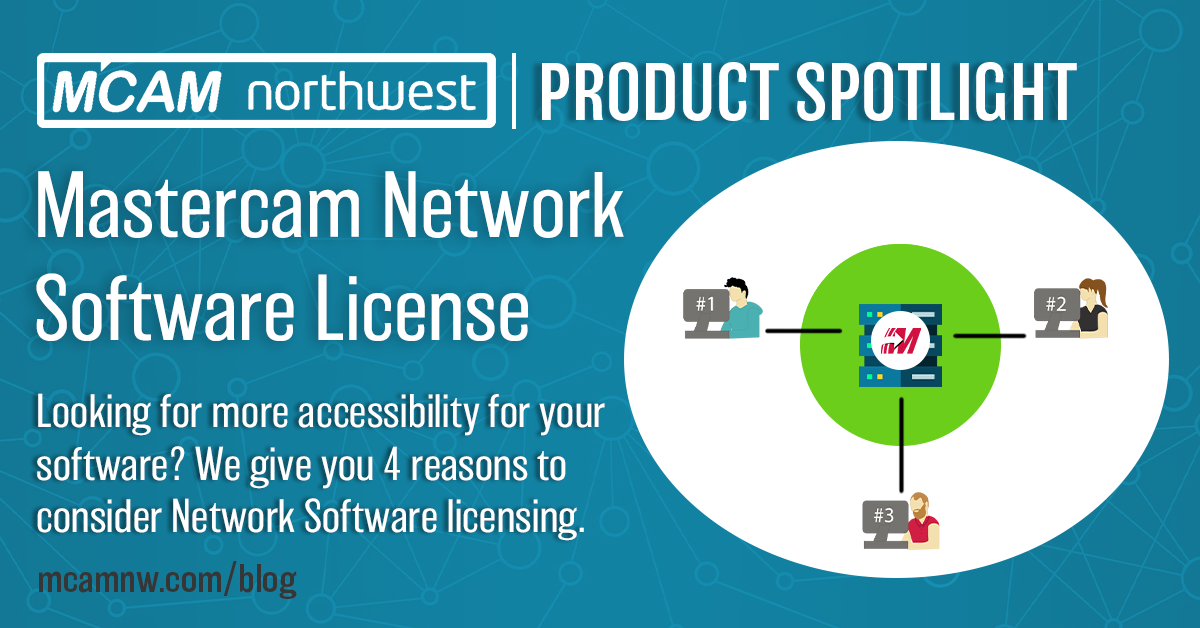 Mastercam Network Software License
We explain the key differences and added benefits of using Network Software Licenses over Single-Seats.
By Callie Morgan
Wednesday, December 28th, 2022, 11:00 AM PST
A Network Software License is the network solution for software licenses for Mastercam versions 2019 and newer that blends together the best aspects of a single seat software license and a NetHASP. Network Software Licenses work similarly to NetHASPs but without needing a piece of hardware to service several workstations. Instead, a Network Software License uses a server (or a computer designated as a "server") to act as a hub to store and distribute all your Mastercam licenses to your programmers to your programmers.
Having a Network Software License will grant your programmers much more accessibility to your Mastercam licenses than using Single-Seat Licenses and are a good way to reduce the amount Mastercam licenses that your organization needs. We'll explain how Mastercam Network Licenses work and four benefits to using them over conventional, Single-Seat Licenses.

1. Unlocking Mastercam Licenses
A big benefit of Network Software licenses is that they "unlock" your Mastercam licenses from each other. 
Let's say that you have three CNC programmers. You have decided that you need Mill 3D, Lathe, Multiaxis and Mill-Turn for your machines. With Single-Seat Licenses, each Mastercam license is accessed as a group by each seat. Programmer #1 needs Mill 3D, Multiaxis, Lathe and Mill-Turn, and Programmer #2 needs Mill 3D and Lathe, and Programmer #3 only needs Mill 3D.
Every time Programmer #1 wants to use Mastercam Lathe, they will also be opening their Mill 3D, Mill-Turn and Multiaxis licenses, even if they don't need to use all these products at this time. 
If your programmers all use Mill 3D, but infrequently, you could purchase only one seat of Mill 3D, instead of three. However, if you do this with a single-seat license, Mill 3D would have to be activated and deactivated on each programmers' computer after each use to be accessible by all three programmers at different times of the day.
However, if you were to have a Network Software License, Mill 3D, Lathe, Multiaxis and Mill-Turn are treated as separate entities but hosted in one central location (the server), not on a programmer's workstation. This means that all licenses only need to be activated once on the network host/server to be accessed by all of them. For example, if Programmer #1 is using Mastercam Lathe, Programmer #2 can access the second seat of Lathe and Programmer #3 can access Mill 3D, all without interrupting each other's access to Mastercam. 
Things to Note About Unlocking Mastercam Licenses
A Network Software license must be hosted on a network server or on a single, ideally, unoccupied computer/workstation. If you use a computer/workstation to host the network licenses, it should be a workstation that no one uses, since it must be left on at all times to give everyone access to the Mastercam licenses.**
**Note: I.T. assistance may be needed.
For both single-seat and network software licenses, a single license of a Mastercam product cannot be accessed by multiple users at the same time. Network Software licenses allow you to purchase fewer licenses, since the licenses won't be attached to a specific computer as they are in Single-Seat licenses. 
A way to avoid tying up licenses for other users on your network is to customize the Mastercam Launcher to only launch specific licenses. Watch the Streamingteacher Tech Tip to learn how to do this: https://youtu.be/5Plo4l_HaCM

2. License Borrowing
The License Borrowing feature of Mastercam Network Software Licenses allows a user to "check out" a Mastercam product license off-network for up to 10 days, to work in Mastercam outside of the office. This feature makes having a Network Software license a great option if you have programmers who work outside the office for short durations. 
To accomplish something similar using a Single-Seat license, the only option is to:
Deactivate the license on Workstation #1 (work)

Activate the license on Workstation #2 (home)

When finished, deactivate the license on Workstation #2 (home)

Activate the license on Workstation #1 (work)

Since this type of license does not use the internet to function, the Codemeter application will block the license from being accessed by anyone on the network server while a license is in its borrowing period. For example, if you have one license of Mill 3D, when Programmer #3 borrows it from the network while they are working from home, Programmer #1 and Programmer #2 won't be able to access Mill 3D. However, if you have another Mill 3D license on your network, one of the programmers will still have access to it.
Things to Note About License Borrowing
Before running the Mastercam License Borrow Utility, be sure that:
Mastercam 2019 or newer is installed on your computer.

A software network license is set up. 

The Mastercam license is entered as a borrowable license. This is a one-time task that your network administrator can perform by reactivating your Mastercam network license.

You are connected to the network that hosts the Mastercam licenses. After borrowing, you can disconnect from the network.
If a license is being borrowed, and another programmer in your network needs access to it earlier than its return date, the license can be returned to the network early, but only by the borrower. However, the network administrator can boot any in-network, onsite user out of their Mastercam seat at any time.

3. VPN Access
If you need to use a license remotely for longer than 10 days, you can use a Virtual Private Network (VPN)* to access a license from your network.
*Note: VPN connections will require using your own IT department to manage network and firewall settings.
4. Usage Tracking
With Network Licenses the administrator can track who is accessing the licenses and the frequency they are being accessed. It helps give you data that you can use to make budget decisions for using the software over time (re-evaluating the number of licenses you actually need).
Why Choose a Network Software License Over a Single-Seat?
Network Software Licenses are ideal for situations where your programmers need more flexibility in their access to Mastercam. Depending on your situation, it's also a way to have more control over the amount of licenses you need, leading to potential cost savings over time. We are happy to help you determine which solution will work best for your programming needs and situation. Reach out to our Sales Team at sales@mcamnw.com for a consult and quote for Network Software Licensing.
Follow MCAM Northwest!
Facebook: @MCAMNorthwest
LinkedIn: mcam-northwest
Twitter: @MCAM_NW
YouTube: The MCAM Northwest
To view and register for upcoming MCAM Northwest Mastercam webinars, visit our Events page.