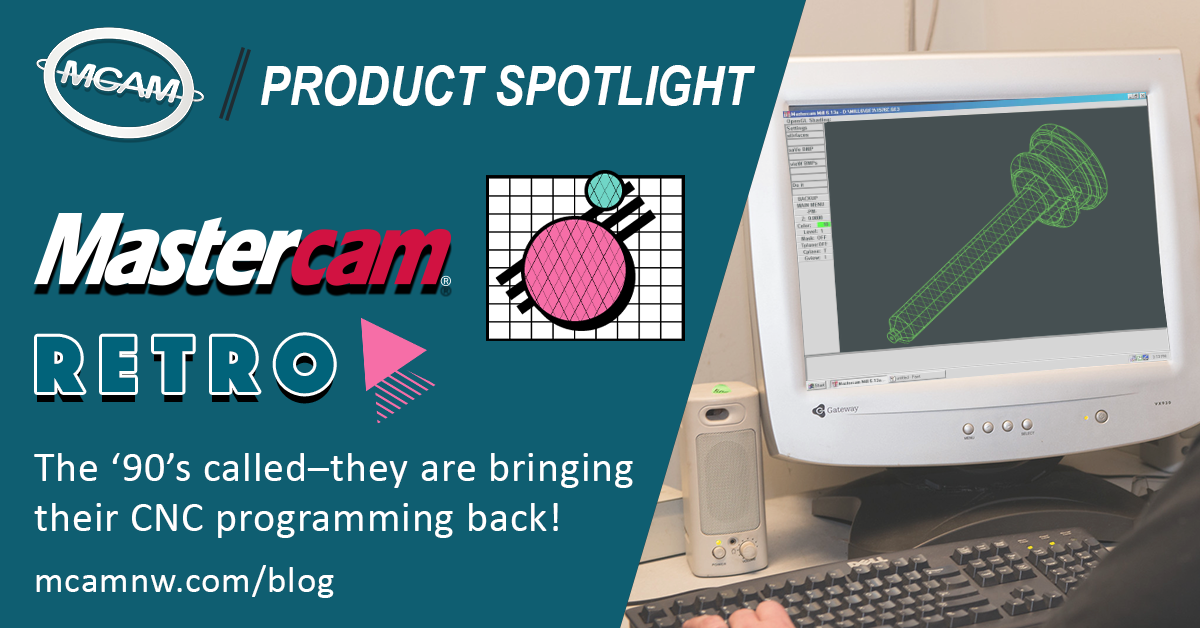 Spotlight: Mastercam Retro
Looking for a more simplified CNC programming solution? Mastercam Retro offers all the best features of '90's CAD/CAM for a more involved programming experience! 
By Callie Morgan
Friday, April 1st, 2022, 8:00 AM PDT
There has been a big movement to return to the technological simplicity of the '90s. With the exhausting need to keep up with new more efficient programming methods, manufacturers have been longing for times when CNC programming was simple. CNC Software, the makers of Mastercam, designed a new software that combines the best features of the first versions of their software.
"We did everything so well 30 years ago, why should we change the process?" said Nunya Bisniss, Chief Satire Officer from CNC Software, Inc. "It's not like the economy ever changes." 
Mastercam Retro doesn't contain pesky solids or surfaces, an overwhelming amount of options for toolpaths or automation features like the modern versions have. This software contains pre-V7 features, so everything is simplified with wireframe models only.
"I love redrawing everything I need to make parts from a velum print," said Trim Manny from Bare Bones Machining. "It's a much more interesting process than just using the models from my customers or from engineering. Nothing gives me a better chance to change the design to what it should be than completely re-drawing it in wireframe!"
Mastercam Retro contains a simplified side menu with all the functionality you need to get the job done. If you somehow can't find the toolpath you need on the clickable menu or just want to keep your mind sharp, you can use a set of complex keyboard commands to program the toolpath.
Retro is excellent for exercising your programming skills! Unlike modern programs that make you lazy with all their automated features, Retro keeps your mind sharp with manual calculations required for anything between finding geometric points to conversions, so keep your calculators, slide rules and trigonometry and logarithmic tables close by*! 
*Calculator, slide rule, and trigonometry and logarithmic tables from "Wonders of Trigonometry" By Dr. Ikandu Math are included for an additional fee.
Just read the glowing reviews from these longtime Mastercam users!
"I used to spend maybe an hour or two a day programming, but now with Retro, I spend more time programming than I do actually running my machine!" -Rudy Router, Lead Programmer, Bare Minimum Boring. 

"My machine used to make chips constantly. Modern toolpaths meant constantly clearing chips automatically. With Retro, the machine gets to take a break for a while. It's so much easier to get pictures of my machine now, I can put them on the AOL chat room! (once my mom gets off the phone so I can use the dial-up modem)."– Chip Von Lathe, Owner, Good Enough Manufacturing Group.
This isn't just some nothing-to-hold-in-your-hand, digital voodoo! We ship you the actual product in the mail: a five 3.5" floppy disc set* of Mastercam installation media. Or if you really want to go Retro, 20 5.25" floppy discs!
*Mastercam Retro only operates on Windows 3.11, Windows 95, and Windows 98 operating systems with operable floppy disc drives.
But wait, there's more! Do you find modern Mastercam tutorial videos too fast-paced? Do you not trust downloaded files on your computer like .pdfs? Well, you're in luck! To get the true '90's programming experience, Mastercam Retro instructions are ONLY available in the nostalgic black spiral-bound paper books! 
Are you ready to go Retro? Fax us your name and address and we'll get back to you in 7-10 business days! Or for faster service, send us a SASE (self-addressed stamped envelope).
Editor's Note: Happy April Fools from MCAM Northwest! In all seriousness, Mastercam's capabilities have come a very long way since the '90's! It's important to stay current on the modern Mastercam in your shop, so your production isn't stuck on "dial-up" speed. The easiest way to keep your business or school always up to date with Mastercam releases is to join the Mastercam Maintenance Program, which is a real thing! Call us today to learn more about Maintenance at (503) 653-5332.

Follow MCAM Northwest!
Facebook: @MCAMNorthwest
LinkedIn: mcam-northwest
Twitter: @MCAM_NW
YouTube: The MCAM Northwest
To view and register for upcoming MCAM Northwest Mastercam webinars, visit our Events page.