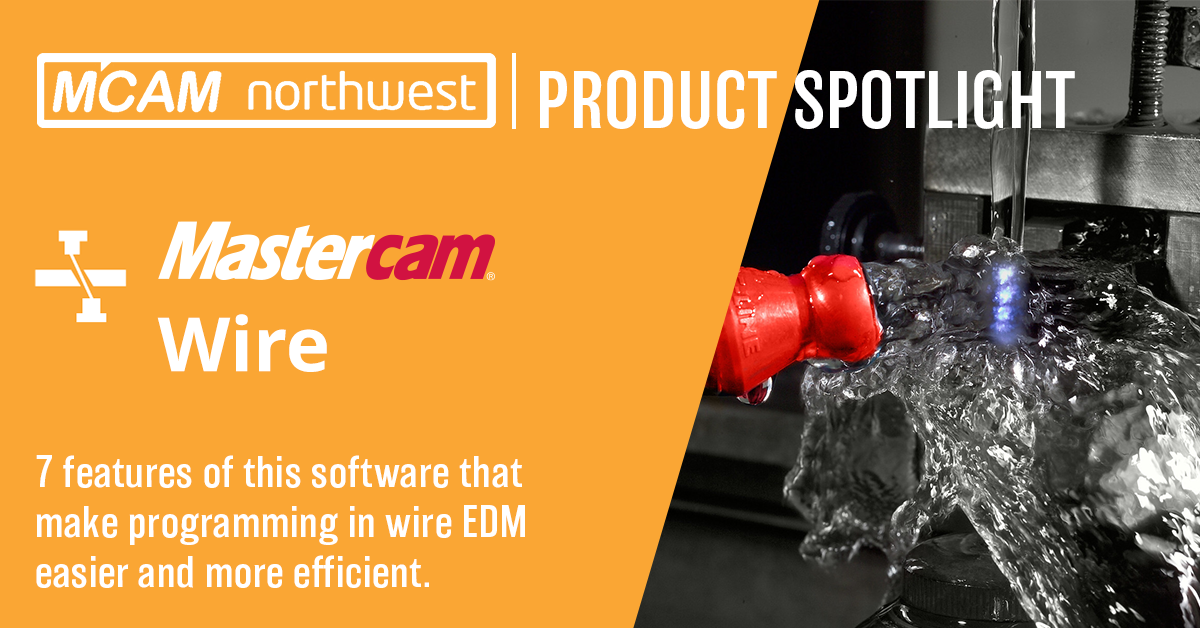 Spotlight: Mastercam Wire
Here are the top 7 features of this Mastercam product that make programming in wire EDM easier and more efficient.
By Callie Morgan
Monday, February 28th, 2022, 10:00 AM PST
What is Wire EDM Machining?
Wire EDM machining cuts material via electrical pulses between a wire and an electrode or workpiece (conductive material) on a CNC machine. The main difference between Wire EDM programming and other CNC programming types is that wirepaths (the wire version of toolpaths) require a thread point, which is where the CNC machine will thread the wire, often through a pre-drilled hole in the part.

The work that you do in Mastercam Wire is done entirely in 2D (unless you are doing tapers or angled cuts). Mastercam Wire makes programming Wire EDM CNC machines, fast and simple, with its assortment of 2-axis and 4-axis wirepaths. 
1. Easy Navigation
The interface updates that came with Mastercam 2022 make accessing the tools and features of Wire much more streamlined. The functionality of Wire is very similar to Mastercam Lathe and Mill.
2. Data Management
You can move a single part file between machines. Wire libraries save your preferences for power settings and rough and skim passes. Also, you can import virtually any CAD file type.
3. Mixed Machine Environment
In a Mastercam Wire programming session, you can also include other machine types such as mills or lathes connected to the same model. This provides the programmer with a smooth workflow when the workpiece requires both milling and/or lathe operations combined with wire EDM operations.
4. Tabs
Adding multiple tabs to any piece of geometry in Mastercam Wire is very fast and efficient.

The Tab setting in the Cut Parameters allows you to leave space around your part, so the part doesn't drop out and jam your machine. Tabbing parts is important in wire EDM machining to prevent damage to the part, and the wire, by giving the core of the part material to hang onto until it can be knocked out with a tool, like a hammer, after machining.

5. Taper
In the Taper settings in the Wirepath Contour settings, you can customize the Taper direction and angle and control the corner type. 

6. 4-Axis Wire EDM
With Mastercam Wire EDM, synchronizing lower to upper complex boundaries is easy, using one of several synchronization types.

7. Wire Posts
Many wire posts became available for GFMS Cut Series 4-axis machines (formerly known as AgieCharmilles) and other types of Wire machines with the release of Mastercam 2022. This list is still expanding. To view the full list of machine posts for wire, visit the Mastercam Tech Exchange.
Mastercam Wire's easy data management, quality wirepathing options and no-core cutting make it a great option for wire EDM machining. Also, having the same straightforward interface functionality as other Mastercam products, makes this software very easy to learn. If you are interested in Wire EDM Programming with Mastercam, reach out to our Sales Team at (503) 653-5332 or email at sales@mcamnw.com.
Follow MCAM Northwest!
Facebook: @MCAMNorthwest
LinkedIn: mcam-northwest
Twitter: @MCAM_NW
YouTube: The MCAM Northwest
To view and register for upcoming MCAM Northwest Mastercam webinars, visit our Events page.