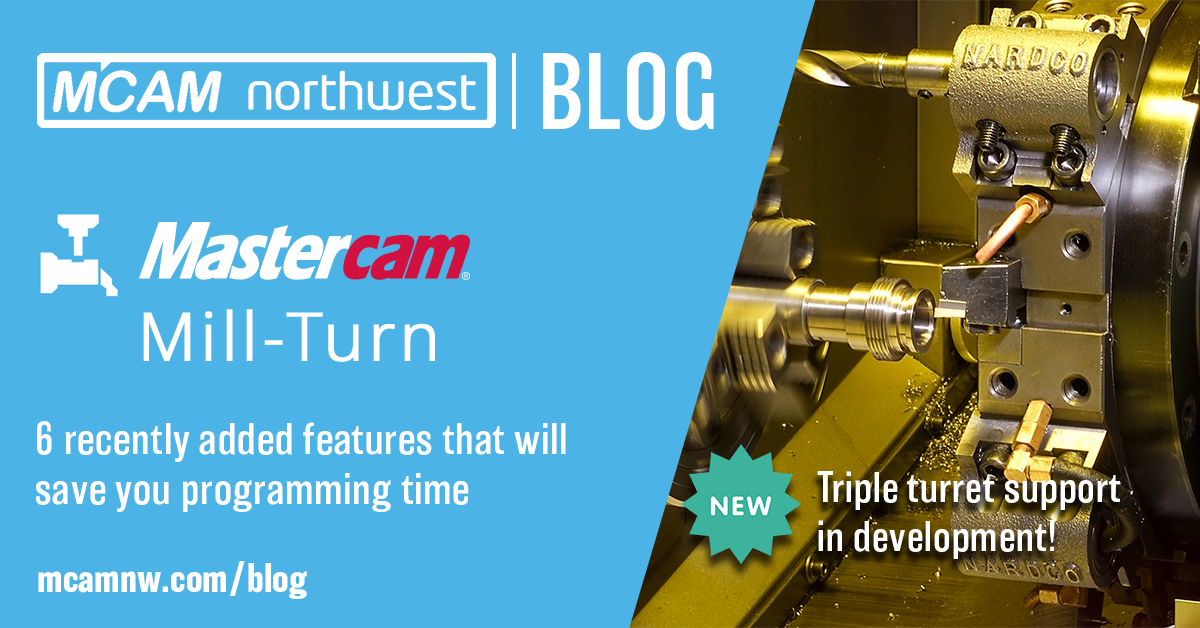 Spotlight: Mill-Turn
We put together a list of 6 recent enhancements to the software that are monumental to saving you programming time in Mill-Turn–including the introduction of .machine environments for triple turret machines!
By Callie Morgan
Updated: 9:20 AM PDT, Wednesday, December 29th, 2021
Published: 8:15 AM, Friday, July 31st, 2020 
What is a Mill-Turn Machine?
Mill-Turn machines are multitasking, multi-function CNC machines capable of producing complex parts in a single operation through rotating tool operations. The machine's ability to perform multiple functions simultaneously increases shop productivity by reducing setups, redundant fixturing, manual part handling, and idle time.
Mill Turn in Mastercam
Mastercam Mill-Turn hosts a single environment for both establishing routines and testing cutting strategies before you set your stock on the machine. With it's smart, stock-aware toolpaths and visually-precise .machine simulation feature, you can create parts without the risk of costly collisions or damage to your machine.
This mill and lathe hybrid software uses Mastercam's milling and lathe toolpaths to simplify the programming process with automated job setups and part handling tools customized to your machine. We sum up 6 of the most recent additions to the Mastercam Mill-Turn software.

1. Incremental Spindle Moves
You can now specify the destination in the Spindle Move operations panel in Mastercam 2022. Setting a positive value will move the spindle towards its home position while inputting a negative value will move it away from its home position.

Incremental moves give you the ability to tell the spindle to move outward by a numerical distance instead of indicating a specific position. This feature is especially helpful when you have to make a part one section at a time.
2. Modular Tool Adapters
In the past, you had to treat multi-headed tools as a single tool with different cutting definitions, making you have to redefine the entire tool and all its cutting definitions whenever you swap one of the modular tooling heads out. This saves tooling change time because you don't have to stop the machine and manually change the tool on the carousel, now you can simply index the spindle head within Mastercam to change the tool!
Mastercam 2022 now accommodates the use of multiple adapters in simulation. You can use the Holder Designer to create collections of adapters, holders and extensions and save them as assemblies. You can also create assemblies for modular components, like modular b-axis tool heads. 
3. Sub-Programming
Sub-programs automate repetitive tasks in a clean way and can be called upon from the main program. In toolpaths that have sub programming capabilities, you can now access the features in Mastercam 2022 Mill-Turn. This feature is only available if your machine supports subprograms, which can be discovered through your machine's manufacturer. 
4. Steady Rest Support
Mastercam 2022 introduced many new features for Mill-Turn, including increased steady rest support and the ability to simulate steady rests in .machine simulation. 
5. Generic .machine Files
Mastercam 2022 Mill-Turn has 5 generic Fanuc .machine files pre-installed. This gives you the ability to test and learn about what a .machine environment can show you without needing an Eval license to try it out. You can also download free generic Siemens .machine environments on the Mastercam Tech Exchange.

6. Triple Code Stream Support 
The most recent major update to Mill-Turn is not found in the What's New in 2022 landing page on Mastercam.com quite yet. CNC Software is currently developing .machine environments for triple turret (3 code stream) configurations. So far, two machines have completed development: Nakamura-Tome NTY3-150 and the Nakamura-Tome NTY3-100. Many more machines are on the list for development. You can view the full list of triple turret .machine environments in development and their status in this Knowledge Base article. If you have machines with 3 code streams that are not on the list, please reach out to our sales team to submit your machine for development. To download the available Triple Turret Mill-Turn .machine environments, log into your My.Mastercam account, visit the Tech Exchange and type in "triple" as the keyword and select the 2022 version.
The .machine environment for the DMG Mori Seiki NZX2000 STY3 is in the final stages of development and CNC Software is currently looking for beta testers. Please reach out to our sales team if you are interested in being a beta tester for the DMG Mori Seiki NZX2000 STY3 .machine environment. 

Many of the new features were covered in Streamingteacher's 2022 New Feature Series: Lathe & Mill-Turn webinar. In case you missed it, you can watch the recording any time on Streamingteacher with a Pro account in the Presentations tab. To get a quote for Mastercam 2022 Mill-Turn, give us a call at (503) 653-5332 or send an email to our Sales Team at sales@mcamnw.com.
Follow MCAM Northwest!

Facebook: @MCAMNorthwest
LinkedIn: mcam-northwest
Twitter: @MCAM_NW
YouTube: The MCAM Northwest
To view and register for upcoming MCAM Northwest Mastercam webinars, visit our Events page.