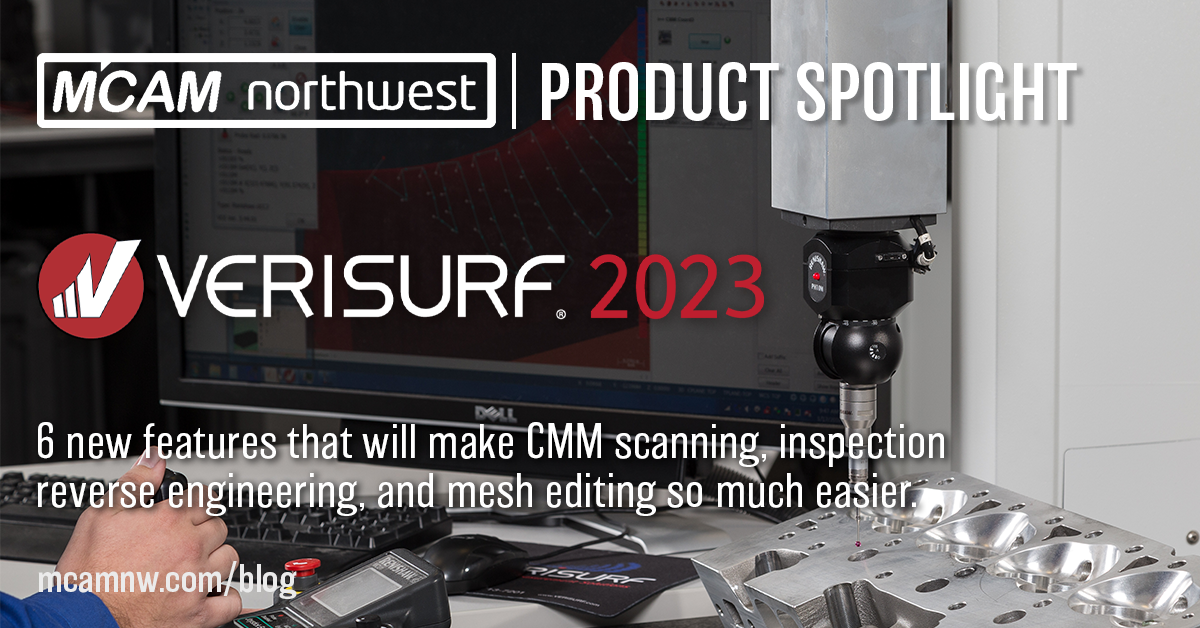 Spotlight: Verisurf 2023
We explore 6 critical highlights for CMM measurement, inspection, and reverse engineering in the all-new Verisurf 2023.
By Callie Morgan
Friday, July 29th, 2022, 11:00 AM PDT
Verisurf 2023 has just been released! This new version hosts updates that increase functionality for complex CMM programming situations and improvements to the existing mesh creation and reverse engineering tools. We sum up 6 updates found in the new version that are sure to increase your efficiency and streamline your CAD and reverse engineering programming tasks.
1. Create Automatic Splines from Holes

Editing imperfect models just got easier. The Create Slice dialog window in Reverse now includes an option to create edge splines from the cropped ends of a mesh. Plus, splines interrupted by holes in the mesh can now be closed automatically by checking a box in the Create Slice menu, which cuts down the number of steps involved to loft a surface from a mesh. 
2. New Mesh Tools

Verisurf 2023 includes tools for automatically repairing and editing imported meshes. The Tri-Mesh function can take an irregular closed mesh and produce uniformly sized triangles and maintains sharp edges (where necessary). The Flattened Mesh function creates a 2D flat mesh from an imported 3D open mesh and nesting for cutting operations. When the mesh is flattened, the edges can be exported to a CAD model as edge splines for nesting.

You can also compare the flattened 2D mesh to the open 3D mesh for accuracy with displayed metrics for perimeter surface area and edge length. Highlighting both meshes will also display the metric differences between them. Colorization on the meshes can be used to identify areas of compression and stretching on the flattened version of the mesh. For edge length, you can show the deviations. The colorized objects can be rendered and put into a report using Verisurf's analysis tool.
3. Easier Reverse Engineering 

The Lock Plane button makes it possible to project cloud slices. Projected slices created in Verisurf 2023 Reverse can be used to make reverse engineering models through a variety of methods. In one of these methods, solid extrusion, you can use the cross-section of the base of a part as a guide to cover the height of the mesh to create the stock model.

4. No More Probe Errors for Thin-Walled Parts

When inspecting thin-walled parts with variations of surface depth, like stamped sheet metal, probe scans can fail due to an "incorrect location of the material" error. With the new Dynamic Edge Point Programming feature in Verisurf 2023, a surface index point is automatically added to adjust the location of the edge. This creates interactive edge points that you can adjust, resulting in clean probe hits on the part's surface. Verisurf 2023's Dynamic Edge feature supports both 3 and 5-axis probing systems for greater flexibility.
5. CMM Support

Updates were made to Verisurf's simulation feature for more accurate probe simulation display. Verisurf 2023 supports Knuckle style and Star style probes, and 3 and 5-axis probing. Also, Verisurf software accommodates many different brands of CMMs! The Optional Universal CMM software can run Hexagon Dea, Leitz, Mitutoyo, Wenzel, Pantec, Nikon, LK or Zeiss™️ machine controllers, as well as Renishaw, Tesa, Hexagon Leitz or Zeiss™️ head controllers. Check out the list of supported 3D measurement devices on Verisurf's website.
6. MBD from 3D Annotations in Mastercam
Verisurf's longtime partnership with Mastercam assures that there will always be more compatibility features added in every version. The dimensions and tolerance data embedded in Mastercam 3D annotations files, and simple drafting entities, can be converted into associative, model-based definition (MBD) callouts in Verisurf 2023. This feature saves programming time by eliminating transcription errors during plan creation. The MBD conversion feature also works for different CAD software, like Solidworks, Inventor, Solid Edge, STEP, and AP242. 
Learn More About Verisurf 2023
You can check out a larger list of Verisurf 2023 features, along with short videos demonstrating these features, in the What's New in Verisurf 2023: Release Highlights PDF. There are many software bundle options available for Verisurf to best fit your shop's budget for your metrology, inspection and reverse engineering needs. If you are interested in Verisurf 2023 for your shop, please contact our Sales Team at sales@mcamnw.com or (503) 653-5332!
Follow MCAM Northwest!
Facebook: @MCAMNorthwest
LinkedIn: mcam-northwest
Twitter: @MCAM_NW
YouTube: The MCAM Northwest
To view and register for upcoming MCAM Northwest Mastercam webinars, visit our Events page.