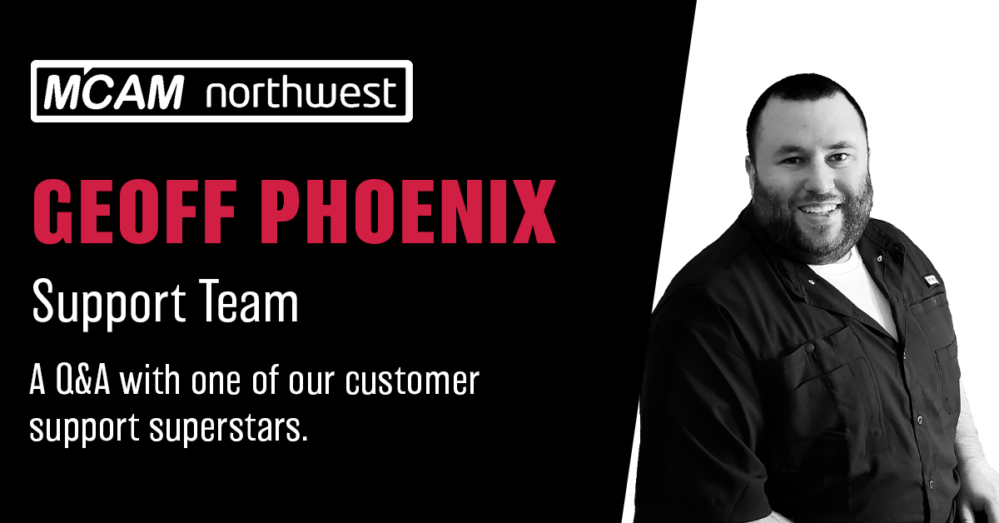 Team Spotlight: Geoff Phoenix
Meet one of our Mastercam support team superstars: Applications Engineer/Support Technician Geoff Phoenix! 
By Callie Morgan
Wednesday, March 29th, 2023, 11:00 AM PDT

When you call our support line, Geoff Phoenix is is one of the chipper voices you hear, ready to tackle any product issue you toss at him. You may have also chatted with Geoff at our tradeshow booths or have seen a few of his videos on Streamingteacher, where he introduces Mastercam lesson groups with infectious enthusiasm, humor and some zippy special effects. 
We sat down with Geoff to talk about his journey to becoming a machinist and CNC programmer and advice he has for future makers.
What do you do at MCAM Northwest?
G: My primary role is to provide support to our customers when they email or call into the office with questions or problems they're having with one of our supported products, like Mastercam, APlus, Cimco, Verisurf, Ansys, or Varco Reporting!
Where are you working from?
G: I work from my home office in Port Byron, New York! Hello from the East Coast!
What's a job you dreamed of having when you were a kid?
G: As a toddler I had wanted to be a Train Engineer. I'm sure "dinosaur wrangler" also floated its way into my headspace at that age. In grade school it was to be an Astronaut. When reality set in, I think I settled for School Teacher.
What are your Hobbies?
G: I have a passion for creating music, which I find to be a rewarding and challenging hobby. I also enjoy exploring the immersive worlds and narratives of video games.
Why did you choose manufacturing?
G: I was a part of the robotics team when I attended Newberg High School, years 2001 and 2002.  I carried the machining skills I learned over with me into industry. Manufacturing seemed like a good fit, and it was familiar.
Where did you learn to become a machinist/CNC programmer?
G: I learned on the job, mostly due to the good graces of the coworkers who mentored me.  I quickly soaked up all their knowledge thrown my way, and even had a bit of practice programming G-code by hand! In 2018 I attended Mastercam classes at Clackamas Community College, and I transitioned more into a CNC Programming role.
What did you do before joining MCAM?
G: I had been working in industry as a CNC machine operator since Spring of 2006.  I started schooling for my Mastercam certification in 2018, and have spent the last 5 years programming with Mastercam.
Which person taught you the most about the industry?
G: Two people: Danny Bautista and Jonathan Bishop, both whom I owe a great deal of gratitude to for sharing their wisdom and knowledge with me. "Aloha, gents! I've still got that machinist's purse!"
What is the coolest thing you have learned recently that Mastercam can do? 
G: I wish I knew this sooner. Multiaxis toolpaths in Mastercam don't have to be strictly multiaxis. You can lock them to 3-axis and still use them to machine your 3-axis parts! I definitely would have programmed a lot more parts to utilize the Multiaxis Deburr Toolpath. It can save a lot of deburring handwork!
What advice do you have for people wanting to pursue a career in manufacturing?
G: Stay curious; ask questions! The profession can often allow for blocks of time to think and reflect on things.  If you have a moment, try to learn something new about your process. Over the years, you'll find your personal growth enables you to do many more things than you had originally thought possible, leading to an enriching and rewarding career!
Follow MCAM Northwest!
Facebook: @MCAMNorthwest
LinkedIn: mcam-northwest
Twitter: @MCAM_NW
YouTube: The MCAM Northwest
To view and register for upcoming MCAM Northwest Mastercam webinars, visit our Events page.