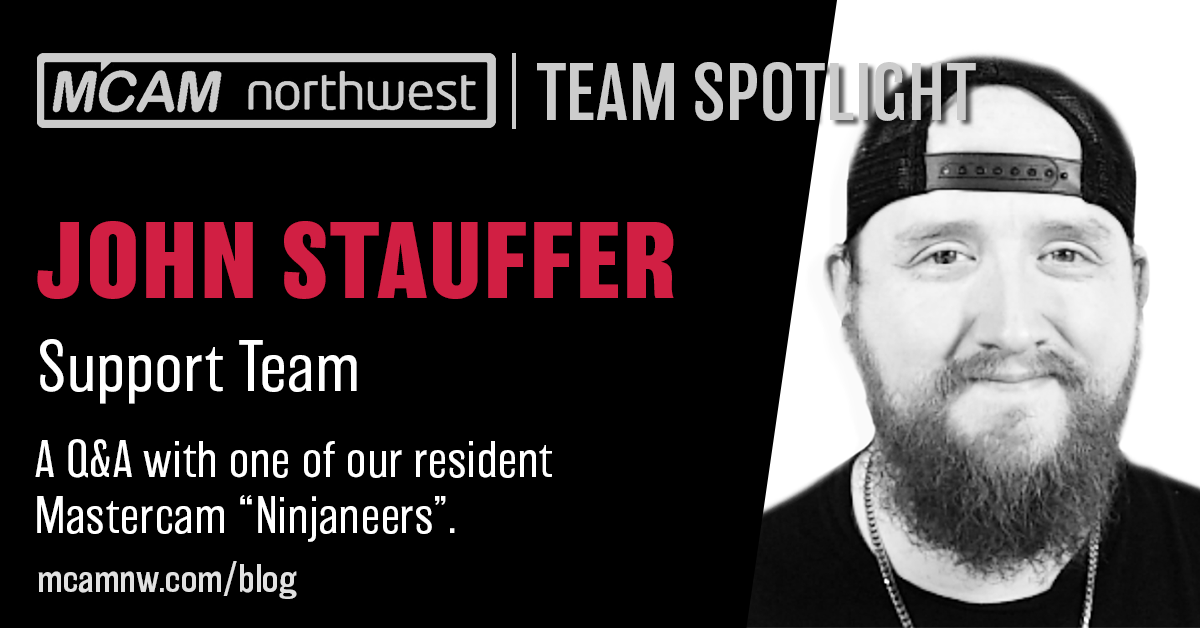 Team Spotlight: John Stauffer
Meet one of the shining stars of our Mastercam support team: Applications Engineer John Stauffer!
By Callie Morgan
Thursday, August 25th, 2022, 12:00 PM PDT
You may have heard or seen MCAM Applications Engineer John Stauffer in many different places. You may have met him at a tradeshow, heard him on our support line or caught one of his videos on our Mastercam training site Streamingteacher. At MCAM, he has been one of our Mastercam "Ninjaneers" for over 3 years. We sat down with John and chatted about what inspired him to pursue a career in manufacturing.
Q: What do you do at MCAM Northwest?
J: I collect hats. Training in Mastercam, making and editing videos, writing, support, and whatever else needs a technical or creative hand!

Q: What did you do before joining MCAM Northwest?
J: I worked at several machine shops before coming here. I've worked in shops doing work for computer components, making parts for bows, knives, and guns, heavy equipment, and recycling equipment. At the heavy equipment shop, I actually worked with Geoff Phoenix [fellow MCAM Support Team Member] there—although, not directly. At my last shop job, I went to school in the evenings to learn Mastercam, where I met Geoff again in the class. Shortly after finishing the class, I started working here, and it's been a fantastic experience!

Q: What's a job you dreamed of having when you were a kid?
J: Definitely being a rockstar. That was my goal in life until I did some management work in that world and saw how terrible the pay and lifestyle are until you hit the top.

Q: Why did you choose manufacturing?
J: I had taken machine shop classes in high school as a backup to a music career. I figured it would be a good choice because, at the time, I wasn't interested in going to college, and I was told that you don't need to go to college to be a machinist. I got absolutely hooked on it freshman year and I've never really stopped doing it.

Q: Where did you learn to become a machinist/CNC programmer?
J: I learned the basic premises of machining and programming in high school in my machine shop class. I spent almost 9 years working in several shops where I learned more about machining. I didn't do a ton of programming while I was working in the shops until my last shop job, where I took a part-time role as a programmer. Then I went to Clackamas Community College to take a full course on Mastercam and came here a bit after that.

Q: Which person taught you the most about the industry?
J: On the industry as a whole, it's either Tim Rowley or Russ Johnson [from Western Tool and Supply]. They have both had a big impact on my career development and provided me with new experiences I could learn and grow from.

Q: What is the coolest thing you have learned recently that Mastercam can do?
J: Probably the Tilt Relative to a Reference Surface option in Multiaxis. It's new for 2023. You can control your tool orientation from a completely different surface or solid than what you are actually programming. This is similar to a clean core methodology, but it doesn't disrupt the point space tolerance like clean core programming does. It basically gives you ultimate control over your toolpath, only limited by your imagination!
Q: What are your hobbies outside of MCAM?
J: I'm currently spending most of my hobby time either riding my motorcycle or playing games on my PC. PC is superior to console, fight me.

Q: If you could spend a day in someone else's shoes (anyone in the world), whose would they be?
J: Maybe an astronaut? And that's only because I want to experience true weightlessness in space.

Q: What advice do you have for people wanting to pursue a career in manufacturing?
J: Don't be afraid to try something new. Sure, you will probably have failures, but everything is a learning experience with the right mindset. Never say "no" to an interview. The only reason I even got this job (the best job I've ever had) was because of a chance encounter with Marci at the front desk, and she said I should talk to Tim. I felt unqualified to work here at the time, but I decided to give him a call anyway.
Fast forward to a few weeks from that point and I was offered a job in a scary new world. But I absolutely love it and I wouldn't change a thing. My last piece of advice is to ask for forgiveness instead of permission (at least most of the time). It generally works out, and you can accomplish so much with that mindset!
Follow MCAM Northwest!
Facebook: @MCAMNorthwest
LinkedIn: mcam-northwest
Twitter: @MCAM_NW
YouTube: The MCAM Northwest
To view and register for upcoming MCAM Northwest Mastercam webinars, visit our Events page.