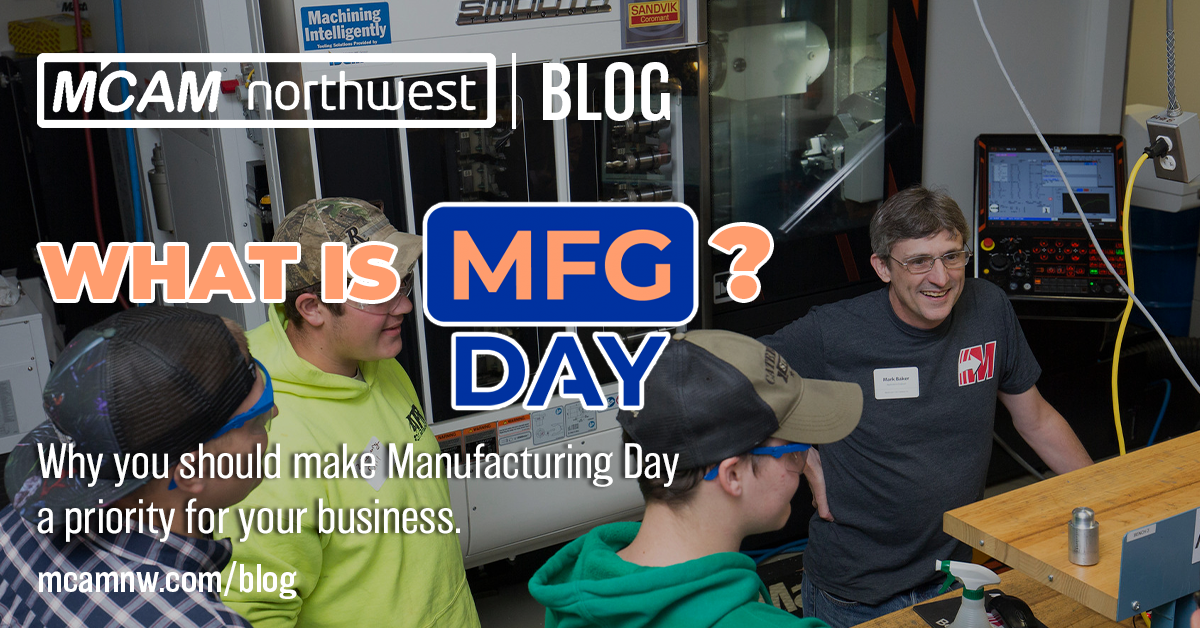 What is MFG Day?
Here's why you should make Manufacturing Day a priority for your business.
By Callie Morgan
Friday, September 30th, 2022, 2:10 PM PDT
Manufacturing is the backbone of local, national, and global economies. Nationally, 10.94% of total economic output is from manufacturing. In the State of Oregon alone, manufacturing makes up about 14.58% of the state's economic output. 
Regardless of how important manufacturing is to our economies and our livelihood, pursuing careers in the industry has long been rumored to be a lesser career choice—which is far from the truth.

"People see [manufacturing] as a dirty, nasty, oily—you know—greasy hole that people go into and have to do lousy work," said Grant Kirby, a Workforce Development Manager at the Oregon Manufacturing Innovation Center (OMIC). "The world has changed, and it's a very clean, progressive kind of job where you're working in a clean and professional environment with machines that are very smart."  

Manufacturing has become a highly tech-driven field with careers that span beyond simple manual labor.

"Advanced manufacturing implies that you're using subtractive or additive manufacturing tools, which are high skill requirements, and the wages are significantly higher than what most people think," added Kirby. 
Advanced manufacturing jobs involve STEM skills, such as Computer Numerical Control (CNC) programming, automation, artificial intelligence (AI), collaborative robotics, Internet of Things (IOT), and more technologies. Most advanced manufacturing careers can reap a very handsome payout without the need for extensive schooling. For example, the national median annual income for CNC programmers is $60,780, with the 90th percentile earning up to $86,940 per year. An Associates Degree or, at minimum, certifications are required for obtaining CNC programming work.  
Regardless of the opportunity to achieve higher pay with less schooling, finding skilled manufacturing workers gets harder every year. As many as 2.1 million manufacturing jobs may be left unfilled by 2030, according to a study by Deloitte and the Manufacturing Institute. If the pool of skilled workers continues to shallow, the only option for manufacturing will be to increase investment in automation to fill the labor gaps, which is the option the University of Idaho is taking to tackle factory workforce challenges in the state. 
Get Involved with Manufacturing Day
To spread awareness of the skills gap and to establish a steady pipeline of new generation manufacturing workers, Manufacturing Day is a national campaign that takes place on the first Friday of October every year. Manufacturing Day is a great opportunity for manufacturers to tell their stories and dispel myths about working in the industry to young people (their future employees) and potential clients. 

The need to encourage youth to pursue manufacturing careers also expands outside of Manufacturing Day. Participating in Manufacturing Day provides a mutual benefit between education and industry. When manufacturers open up their shop floors and talk to the community, it provides insight into the skills the industry demands, which will improve education and spread awareness of an industry career as a viable option for future generations. 
If you happen to be in the area, MCAM Northwest will be at the 2022 OMIC Manufacturing Day at OMIC R&D. The event takes place at both the Portland Community College OMIC Training Center and the OMIC R&D Center in Scappoose on Friday, October 7th from 10:30 AM – 3:15 PM PDT. Click here for more information. Registration is not required for the general public. To find other Manufacturing Day events near you, visit https://www.mfgday.com/#find.

It's not too late to host a Manufacturing Day event! Events take place on Friday, October 7th, and throughout the whole month of October! To register your Manufacturing Day event so your community can find it, visit https://www.mfgday.com/login/. If you are a manufacturer wanting to get connected with a local school, or you are a school interested in getting a visit from a local manufacturer, please let us know! A part of our mission is to foster strong relationships between local schools and industry. Call us at (503) 653-5332 or email us at customercare@mcamnw.com. 
Follow MCAM Northwest!
Facebook: @MCAMNorthwest
LinkedIn: mcam-northwest
Twitter: @MCAM_NW
YouTube: The MCAM Northwest
To view and register for upcoming MCAM Northwest Mastercam webinars, visit our Events page.