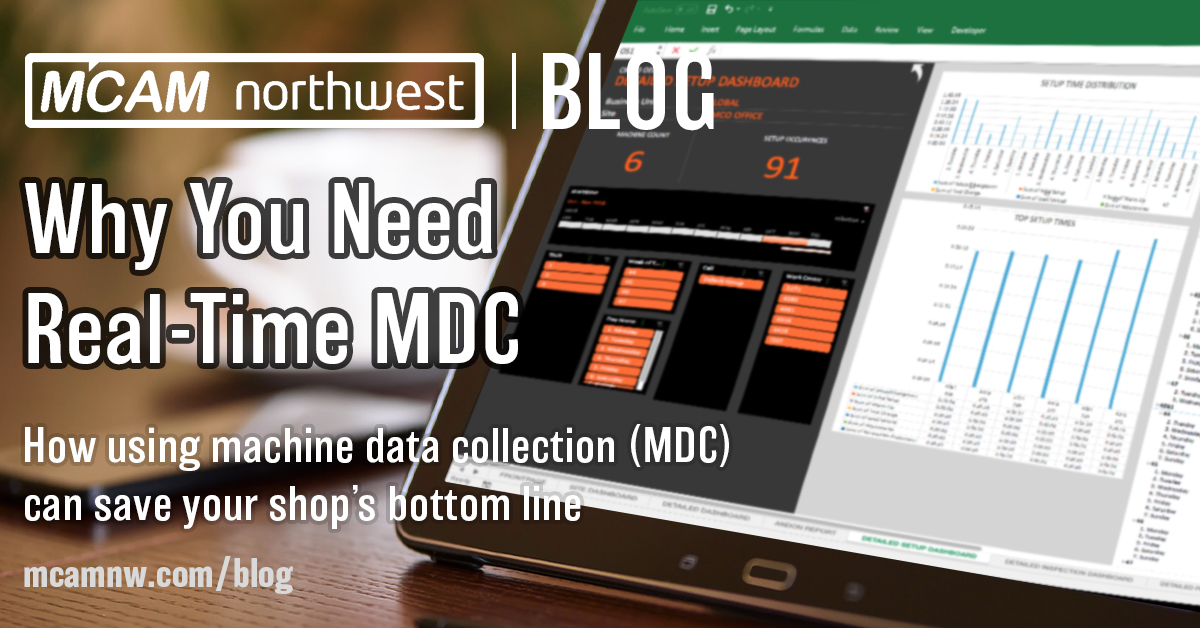 Why You Need Real-Time MDC
Your machines are talking to you–will you listen to what they have to say? Learn how properly collecting your data from your machines can give your shop a strong competitive advantage.  
By Callie Morgan
January 4th, 2021, 10:30 AM PST
You may have noticed that we live in an age of hyper-connectivity. Most technologies we use in our everyday lives have the ability to gather and transmit data, otherwise known as the Internet of Things (IoT). IoT is the invention of devices that simultaneously talk to the internet and to each other, such as smart speakers, cellphones, cars, and refrigerators. Your shop's CNC machines are also no exception.  
The Industrial Internet of Things (IIoT) has brought manufacturing into the digital age, where production data can be shared from machines to web applications. There's a wide breadth of data that can be made available from proper Machine Data Collection (MDC), in fact, the newer your machine tool is, the more information it is generating right now.
MDC is a way to tap into that information, which can then be logged and used to reduce overhead costs, cycle times, machine downtime, increase worker safety and more. ITIF reported that IoT applications for monitoring machines can potentially increase manufacturing productivity between 10 and 25%.
Data can be gathered from many different areas, such as machine tools (alarms, loads, speed and feeds, etc.), connected systems (external ERP, tooling and maintenance systems), an operator's notes, and sensors on the machine and shop floor (machine temperature, vibration, power draw, etc.). The question is, with this great wealth of data at our fingertips, how can we collect the right kind of data that will help manufacturers optimize their production?

To not get bogged down by information overload, there is one such product we have recently started worked with that can select and collect the data you need from all your machines, operators and shop floor 24 hours a day, 7 days a week, all on a single platform. CIMCO MDC-MAX provides instant historic and real-time reports of your machines' productivity, and the ability to efficiently schedule machine maintenance. Operators can report machine downtime on the application through mobile devices, barcode readers or tablets. Research by Deloitte tells us that machine monitoring and machine maintenance scheduling features on IoT applications, such as MDC-MAX, can reduce a shop's machine maintenance costs up to 40%, making these applications a very worthy investment for improving your bottom line.

The data on MDC-MAX is exportable with customizable viewing options for Microsoft Excel and .xml. When working from home has become the norm due to COVID-19, you don't have to be physically present in your shop to see what's going on with your machines. There is a live screen feature where you can view all your machines' statuses at all times on a report and a real-time shop floor map. For lights-out machining, MDC MAX can even be set up to notify a machine operator at home when a machine stops for any reason via text message. If you are curious about implementing this MDC solution for your shop, feel free to reach out to our Sales team at (503) 653-5332 or sales@mcamnw.com.

Machine Data Collection (MDC) can give your business the edge it needs to succeed in a very competitive, global market, and we can't stress enough how important it is to have a way to properly log and view this information. When you can't be everywhere in your shop, all-in-one MDC applications, like CIMCO MDC-MAX, give you a simplified, full view of everything that goes on with your machines in real-time to help you keep your production up, while keeping your overhead costs down.
Follow MCAM Northwest!
Facebook: @MCAMNorthwest
LinkedIn: mcam-northwest
Twitter: @MCAM_NW
YouTube: The MCAM Northwest
To view and register for upcoming MCAM Northwest Mastercam webinars, visit our Events page.