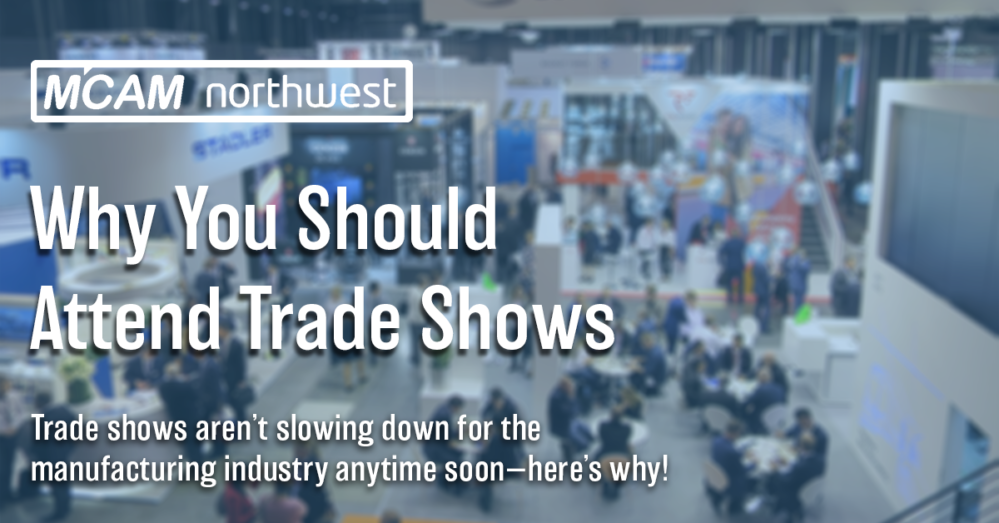 Why You Should Attend Trade Shows
Trade shows aren't going away anytime soon! Here is why.
By Callie Morgan
Friday, April 28th, 2023, 12:20 PM PDT
In March 2020, DMG Mori announced that they were no longer participating in Western trade shows, in favor of a "customer centric" strategy, where they would host their own events onsite. 
When hearing this news, we couldn't help but think, "Are trade shows becoming irrelevant?" 
Then, the pandemic happened. During this time, many businesses found success with hosting virtual events to generate leads and get important facetime with their customers. 
The return to in-person events has been slow. According to Statista, the second quarter of 2022 experienced a 22.4% decrease in U.S. trade show attendance compared to the second quarter of 2019. 
Hybrid events have also emerged in popularity. Virtual and hybrid events reduce or eliminate the need for travel, but hybrid and fully virtual events have the same problem: They can't replicate an in-person experience online. 57% of respondents in a February 2021 survey said they would rather attend a hybrid event in-person rather than virtually. In addition, only 7.5% of respondents in the vFairs survey said they would host only virtual events in 2023. Furthermore, the number of regional trade shows attended by businesses has more than doubled in 2022, compared to 2021. 
In short, it doesn't look like in-person events are going away anytime soon. We believe there is a lot to gain from participating in trade shows—especially for an industry where buying materials and equipment are all huge purchase decisions. We strongly believe that attending these shows is, and will continue to be, incredibly valuable for the manufacturing industry. Here is why.
Limited Travel Required
A big budget buster for business is traveling. On average, a business spends roughly $799 per person per day during a business trip, not to mention the time sink involved with spending time away from the office. If you were shopping for a new machine, you wouldn't want to spend all your time and money to travel to each machine vendor's location to weigh your options. Shows are a more economical way for businesses to get the most information for much less travel cost. When attending an expo, you can look at and compare several types of machine brands, tooling brands, and software to go with it, all from one location, within one day. 
Networking Opportunities
Trade shows are a great place to connect with suppliers in case you decide to make a future product purchase. Tradeshows are often attended not only by business owners, but students and other industry professionals, making it a great arena to scope out new hires for your business.
Exposure to New Ideas
Staying competitive is the most important thing in manufacturing. From going to industry shows as an attendee, you will be exposed to new ideas and technologies you wouldn't have known about otherwise—whether that be through visiting booths or listening to informative trade show seminars. 
The main attraction for exhibitors for these events is to fill up a nice list of business leads, but they are a great way to stay informed about the new technologies out there that will impact their products and how their customers operate. 
Get to Know the People Behind the Brands
Purchasing new equipment and software is a large expenditure and involves a long time commitment to the vendor. You wouldn't want to buy from a company you don't like interacting with. Industry trade shows give you a unique opportunity to meet the people behind the brands and ask them questions about their products, so you can get a feel of the type of customer service you will receive, in addition to getting more details about the product and the ability to see a live demonstration of it.
No Pressure to Buy
Having to call and arrange for a brand representative to come out to your shop puts a lot of pressure on you to make a purchase. With industry shows, there's no pressure to buy from the booths you visit. Shows are an opportunity to shop for information, so when the time is right, you have all you need to make an informed decision on what will likely be a large purchase.
Trade shows are a low-pressure environment to weigh your options for large purchase decisions and offer nice networking opportunities. The manufacturing industry is always changing and it's important to stay informed about anything that will give you a leg-up on your competition. Although virtual events have been and continue to be popular, they have proven to be more a business tool, not a whole replacement for the unique experience in-person events offers. 
If you are looking for an excellent regional industry trade show to attend this Spring, register for the 2023 Northwest Machine Tool Expo May 10-11th at the Oregon Convention Center in Portland, Oregon. Registration for NWMTE for free! MCAM Northwest will be at NWMTE at Booth #741 with Verisurf, so be sure to stop by and say "hi" to us!
Follow MCAM Northwest!
Facebook: @MCAMNorthwest
LinkedIn: mcam-northwest
Twitter: @MCAM_NW
YouTube: The MCAM Northwest
To view and register for upcoming MCAM Northwest Mastercam webinars, visit our Events page.