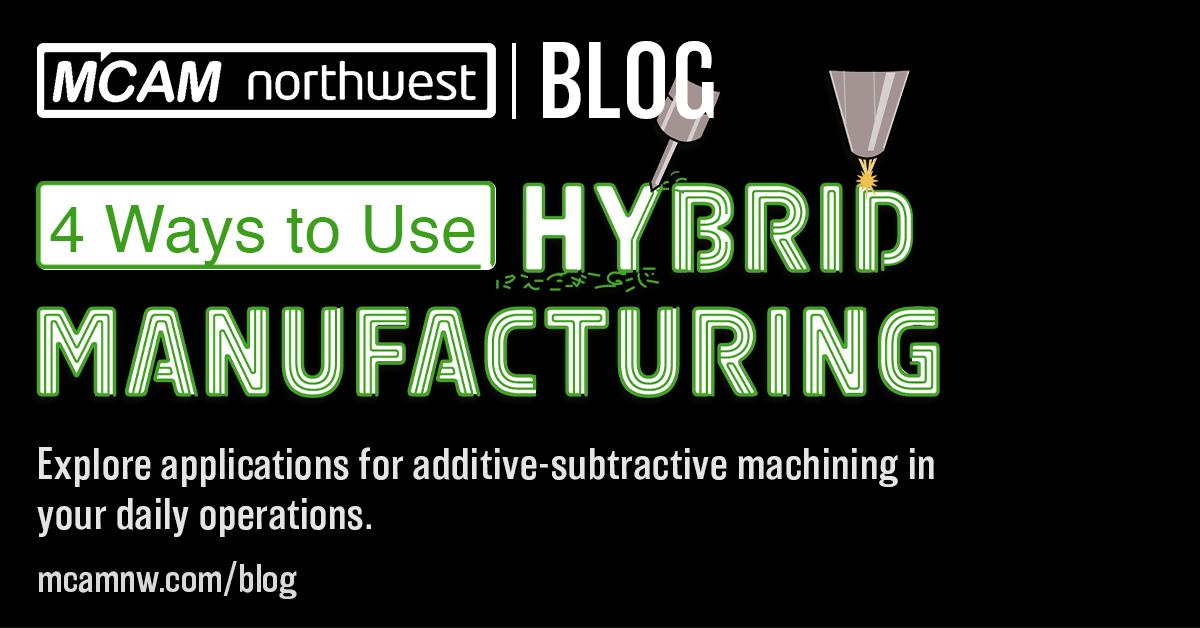 4 Ways to Use Hybrid Manufacturing
Get the efficiency of 3D printing with the precision of CNC machining, all in one! Here are four common applications of hybrid manufacturing technology.
By Callie Morgan
Monday, January 30th, 2023, 2:00 PM PST
3D Printing is a relatively new technology used to build a part layer-by-layer guided by a 3D CAD model. Although 3D printing and CNC machining are often pitted against each other as rival technologies, their processes are so different one cannot be put above the other; One method takes away material while the other builds it up. 
Hybrid manufacturing combines 3D printing (additive manufacturing) with traditional CNC machining (subtractive machining) on one machine. Additive manufacturing has many technologies for building metal material but hybrid machines most commonly use tooling heads with Direct Energy Deposition (DED), Powder-Bed Fusion (PBF) or Material Extrusion (ME) technologies. 
The design flexibility and material-saving qualities from additive machining combined with the detail and precision from CNC machining opens up a wide range of possibilities.  In this article, we will explain four common ways to use hybrid manufacturing and this technology's impact on the future of the industry.
Prototyping
Whereas a 3D-printed prototype by itself will rarely match the exact dimensions of the final product, hybrid manufacturing adds accuracy to prototyping big and small parts.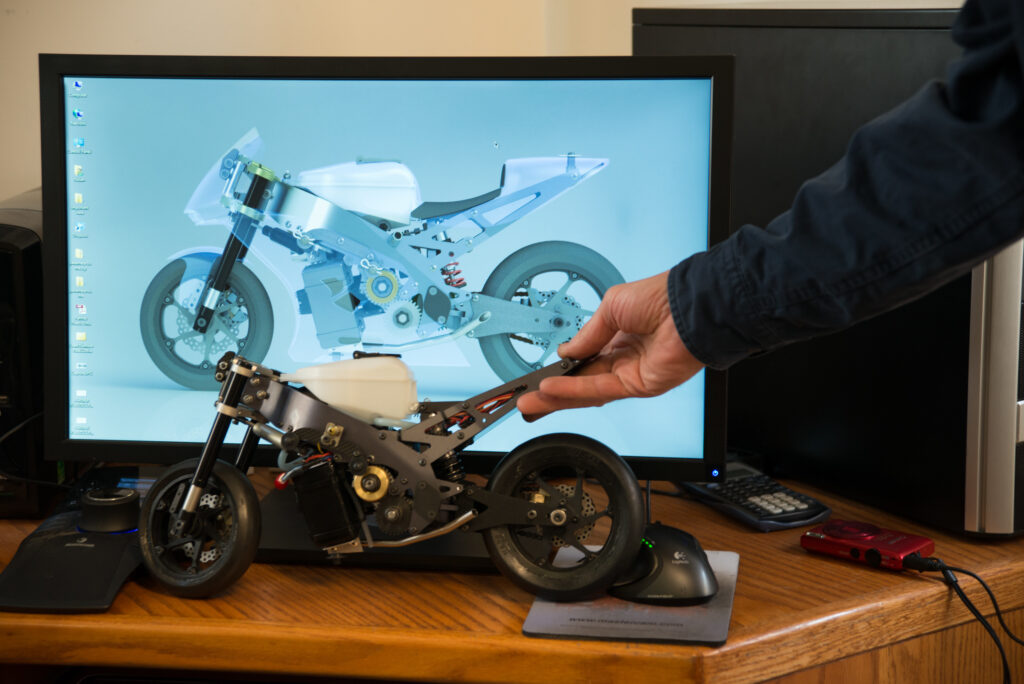 A functional mini prototype motorcycle compared to its CAD model in Mastercam for Solidworks. Image from CNC Software, Inc. 
With hybrid manufacturing, CNC machining is used in concert with 3D printing to remove excess material from prototypes to make them dimensionally and surface accurate. This also makes for more functional, testable prototypes that are quicker and less expensive to produce.
Recreating Legacy Parts
A big advantage of hybrid manufacturing is being able to recreate products that you no longer have programming files for. If you have a CAD file for it, or can reverse-engineer a CAD model from a scanned part with a coordinated measurement machine (CMM) and software, you can 3D print the legacy part then CNC machine it.
Repairing Parts
With hybrid machining, you can avoid wasting parts by building on top of a part's existing metal substrate to repair its worn-out surfaces. For example, additive methods, like PBF or DED, can be used for repair with hybrid machining by fusing beads of new material onto an existing part, then using CNC milling to smoothen out the newly added material.
This video shows an example of turbine repair in action by Prima Additive using DED technology and APlus hybrid manufacturing software: https://youtu.be/CbvlF29hyv4. After the DED process fills in the damaged turbine section using the APlus for Mastercam add-on, Mastercam toolpaths are generated from the same model to machine the repaired blade to spec.
Making Molds
Injection molds are one of the most widely used manufacturing processes, involving pouring a heated metal, or plastic, material into a cavity in the shape of the final product that is rapidly cooled. Having an efficient rapid cooling process for mold designs is crucial to getting consistently high-quality molded parts with lower cycle times.

The flexibility of the additive manufacturing to build parts with complex shapes can optimize the cooling process by allowing for the creation of conformal cooling channels for molds.
Multi-Material Parts 
Multi-material additive manufacturing (MMAM) occurs when 2 or more materials are layered on a 2-dimensional or 3-dimensional structure. Utilizing MMAM can save considerable production time and reduce material cost, plus it gives a part unique performance characteristics. Some uses for mixing materials in parts are to make them resist wear and corrosion, withstand higher temperatures, or to give them electrical conductive properties. MMAM commonly uses combinations of steel and copper, steel on steel, steel with ceramic, and combining two aluminum alloys with other metals. The most common way to achieve MMAM is through hybrid machines that use DED tooling heads.
Why Does Hybrid Matter?
Hybrid manufacturing is a relatively new concept of combining two different technologies, additive and subtractive, in one system. There are many hybrid software systems available (like APlus running inside of Mastercam CAD/CAM) that provide a cohesive workflow between additive and subtractive technologies. 
If you are looking for trends that will indefinitely shape the future of manufacturing, hybrid manufacturing is a trend to watch closely! There is increased pressure for manufacturers to deliver high-quality products cheaper and faster. Hybrid allows for complex geometry, saves material, and maximizes efficiency by streamlining two very different machining processes in a single environment. It is undeniable that hybrid will revolutionize the way we make metal parts in the industry—we have witnessed its rapid adoption in the automotive and aerospace industries. The only question is how long it will take to become standard across more industries.
Follow MCAM Northwest!
Facebook: @MCAMNorthwest
LinkedIn: mcam-northwest
Twitter: @MCAM_NW
YouTube: The MCAM Northwest
To view and register for upcoming MCAM Northwest Mastercam webinars, visit our Events page.