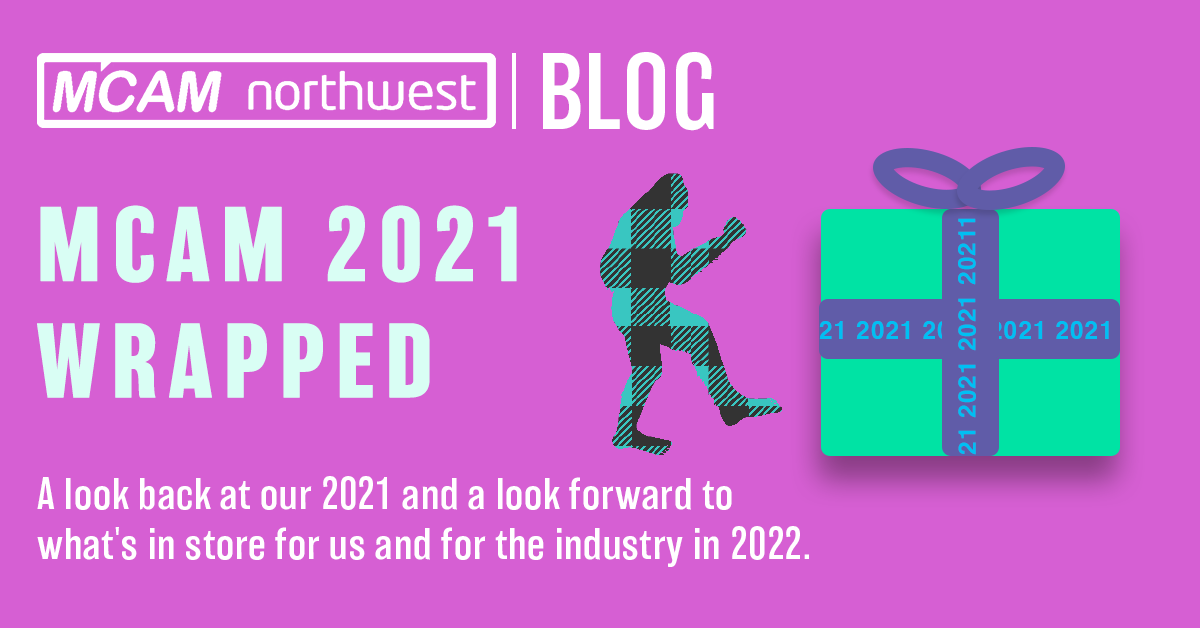 MCAM 2021 Wrapped
Sasquatches, tool shows and teachers! We take a look back at our 2021 and look forward to what's in store for the new year for us and for the industry.
By Callie Morgan
Wednesday, December 29th, 2021, 5:00 PM PST
2021 was a year of recovery for manufacturing. The year had its share of challenges stemming from the fallout of statewide lockdowns and global supply chain disruptions from the pandemic.
For MCAM, it was quite a year. MCAM's founders Tim and Lori Rowley made a big move to the Big Island in Hawaii and continue to run the business seamlessly from paradise. Some of us are still working entirely or partially remote. We use online communication methods to tie us together across time and space, and continue to have weekly staff video meetings online to keep us all insync.
This nifty infographic sums up our 2021 but keep scrolling down to read more about these cool stats!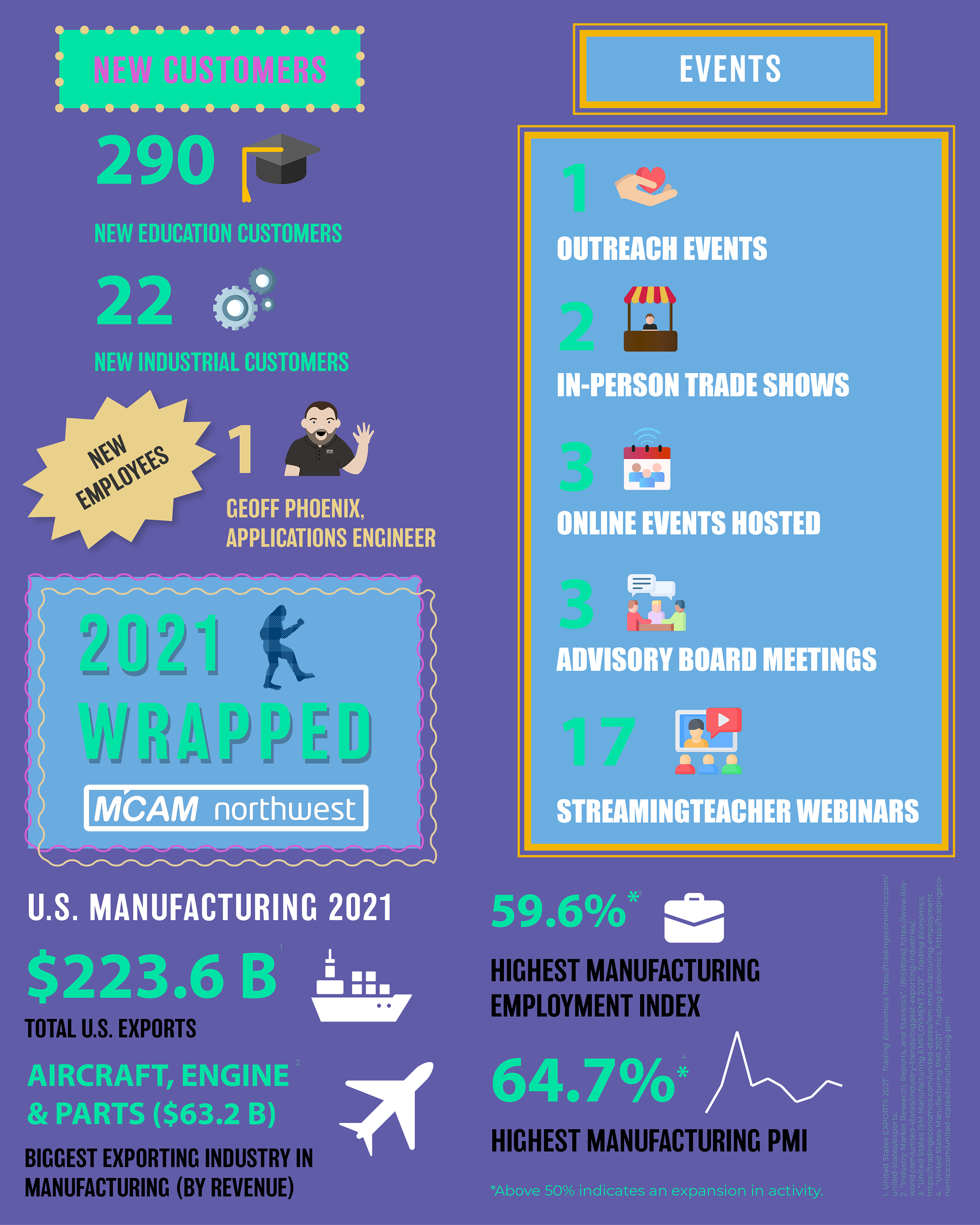 1 New Employee
We gained 1 new team member this year! In September, we added a second Applications Engineer Geoff Phoenix to the MCAM team. Geoff has been a CNC machinist and programmer since 2007. Geoff is a former student of our friend Charlie Lettenmeier at Clackamas Community College. Geoff got his Mastercam certification in 2019 and works as a machinist and programmer in the semiconductor and medical industries.
He is on deck to help out with MCAM customer support calls and moonlights as an instructor for our Mastercam training site Streamingteacher. 
2 In-Person Events Attended
With the widespread availability of COVID-19 vaccines, we felt confident enough to squeeze in a few in-person visits towards the end of 2021. We attended 3 in-person shows this year! Jena, John and Chris attended the Northwest Machine Tool Expo in Portland, Oregon in September. Chris went over to Scappoose to help out with instructor training at OMIC R&D (Oregon Manufacturing Innovation Center Research & Development) in August.

John and Geoff attended King Machine's annual Haas Demo Days in Boise, Idaho in October. Geoff was very ready to help man the table at his first show with us this year after being with us for only a few weeks at the time!

3 Online Events Hosted
We hosted 3 online events this year! Our annual rollout for Mastercam 2022 went online for 2021, we introduced ourselves to local manufacturing educators in our online Educator Meet & Greet, and we hosted our first large online event.  
We have been asked by partners if there would be another NIME (North Idaho Manufacturing Expo). NIME was an all-day lecture event/trade show we put on right before lockdown at North Idaho College in Rathdrum, Idaho. We wanted to have a similar event, but would have to to fit it within the confines of an online space. After lots of planning, we hosted "Sa-Squashing" Manufacturing Inefficiencies" as an all-day online event in March with our friends from different areas of manufacturing technology to give 20-minute talks on how to make manufacturing operations more efficient.

Hosting an event of that magnitude online was a learning experience for us and we are very grateful to those who came and chatted with us and applied some of the tips they learned to improve their shop's productivity.

1 Outreach Event Attended
Chris represented MCAM Northwest at Connected Lane County's Career Expo in November. He talked about the value of manufacturing careers to high school students and showcased some cool wooden signs he created on his CNC router machine with Mastercam.
3 Advisory Board Meetings Attended
Chris participated in 3 advisory board meetings this year that took part in shaping manufacturing education in Oregon. The goal of these meetings is to bring together industry and education leaders to discuss and determine what the industry needs. In this way, educators can find ways to better educate their manufacturing students, so students come to the job market prepared with the skills that industry demands.
290 New Education and 22 Industrial Customers
In the past, we got to know many educators through our MCAM Live and outreach events at the schools. With the channel changes with Mastercam this year, we are now able to provide support to local schools who want to teach Mastercam. We welcome our 312 total new education and industrial customers that we gained in 2021 and we are very excited to continue fostering stronger connections between them.
Looking Forward to 2022!
We appreciate each and every one of our customers for your friendship and entrusting us to keep your software up to speed. We are very much looking forward to continuing our mission to lessen the skills gap in the Pacific Northwest by talking to students at excellent career exploration events such as Industry Days & Pathways Night at CTEC-Salem and the Central Oregon Skilled Trades Fair in Redmond. Some events we are looking forward to this year include Haas Demo Days at King Machine and assisting in some more fun events at OMIC R&D. 
With the success and fun we had hosting our own events, the online "Sa-squashing" event in March 2021 and our in-person NIME event in Rathdrum, Idaho in February 2020, we expect to hold another exciting event with our partners this year!
Many recall the past two years as quite tumultuous for manufacturing and prefer to remain pessimistic about the new year, especially with the pandemic sticking around longer than we had hoped, becoming more embedded in our everyday lives. However, U.S. manufacturing has proved to be quite a resilient beast, ending the year with a 58.7 purchasing managers index (December 2021), charging through obstacles placed by the pandemic. A purchasing index above 50 indicates an expansion in manufacturing activity, and every month in 2021 was above 55!
Sure, some adjustments are needed for the industry in 2022 in response to challenges faced in 2021 to keep the industry strong. One being more federal and state investment in manufacturing education programs to increase interest in pursuing manufacturing careers to mitigate the scary predictions by Deloitte of 2.1 million unfilled skilled manufacturing jobs by 2030. At the Oregon Business Plan Leadership Summit in 2021, Oregon Governor Kate Brown called for upping the funding for the statewide Future Ready Oregon program to fund career technical education programs. 
We are also seeing the increased need for more domestic manufacturing and implementing software, like shopfloor visualization (such as CIMCO's products) and digital twin technology, to stay organized and combat supply chain challenges we witnessed in 2021. Also, the use of cybersecurity software and insurance to protect manufacturing businesses from the increased number of ransomware attacks we saw increase by 67% in 2020.
With how well manufacturers pulled through in 2021, we are very optimistic about what 2022 has to offer for the industry and we are looking forward to helping our customers utilize the latest technology to help them navigate the modern demands of an ever-evolving industry.
Follow MCAM Northwest!
Facebook: @MCAMNorthwest
LinkedIn: mcam-northwest
Twitter: @MCAM_NW
YouTube: The MCAM Northwest
To view and register for upcoming MCAM Northwest Mastercam webinars, visit our Events page.