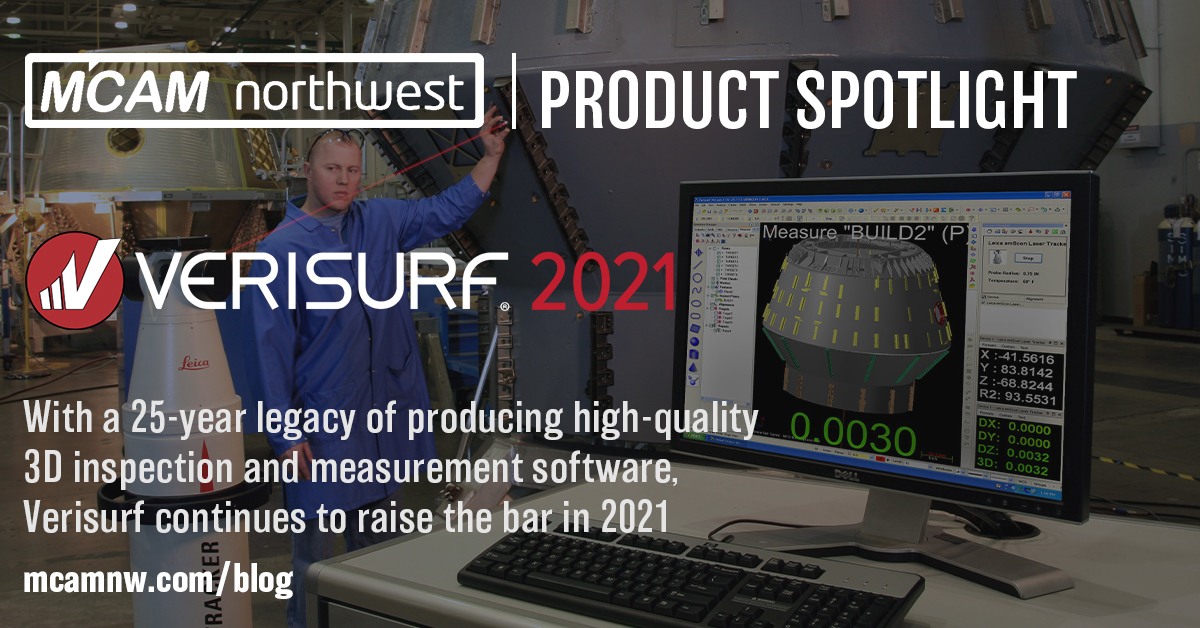 Product Spotlight: Verisurf 2021
With a 25-year legacy of producing high-quality 3D inspection & measurement software, Verisurf continues to raise the bar in 2021.
By Callie Morgan
August 2nd, 2021, 9:15 AM PDT
Making consistently high quality parts is key for coming out on top in a highly competitive global arena. Raw materials and castings can have defects such as shrinkage, holes, and cracks, while fabricated materials can have issues with things such as misalignment, features being out of tolerance, or bad welds. To mitigate material imperfections, coordinate measuring machines (CMMs) have been utilized to check parts for consistency for decades.
With the first 3-axis CMMs being invented back in the 1960's, numerical data for measurements from these were displayed on a digital read-out (DRO) panel. It wasn't until the 1990's when personal computers (PCs) became low-cost enough for the masses that PC-based software for displaying the metrology data finally became available. In 1994, Verisurf was the first company to develop a PC-based software that could do a full comparison of a part's physical measurements taken from CMM scan data to the surface of its CAD model.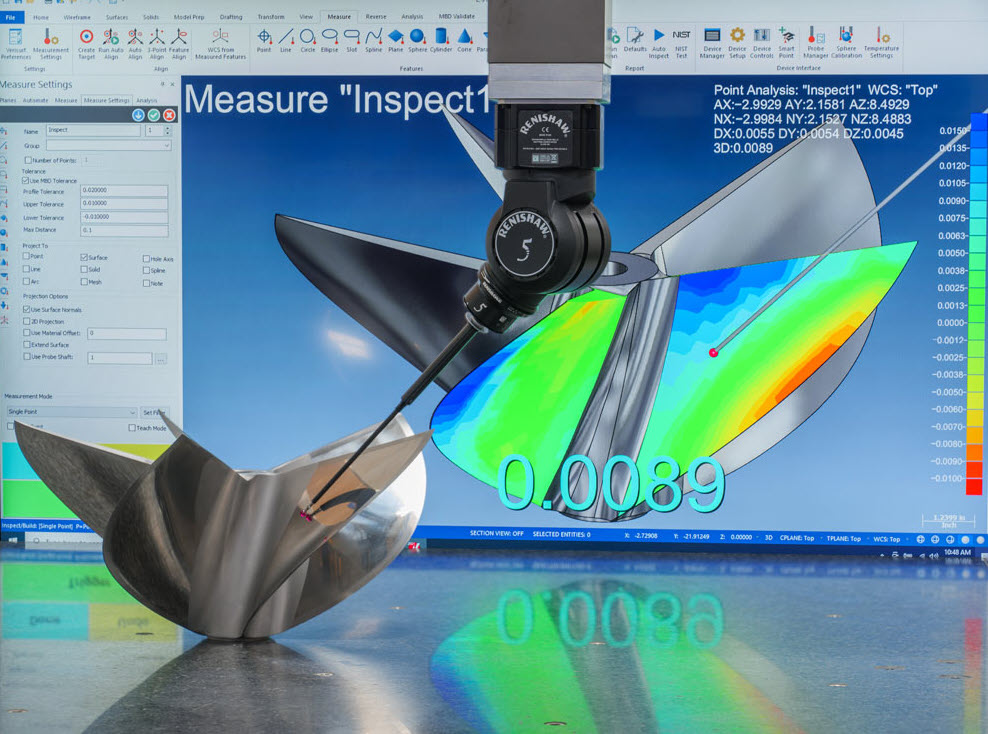 Since then, Verisurf has had an impressive over 25-year legacy of improvements to their software's capabilities. Verisurf is an easy-to-use 3D measurement platform that uses 3D models for the purpose of manufacturing inspection, tool building and reverse engineering. The newest version, Verisurf 2021, has made extensive improvements to the software's 5-axis scanning capabilities, CMM plan creation, reverse engineering, CAD translators and more.
CMM Probing Capability Enhancements
Verisurf Automate allows you to program all brands and types of contact and non-contact CMMs. Verisurf 2021 supports 5-axis programming support for Renishaw PH10, PH20, and REVO CMM probe heads. In addition, 2021 now has a one-click Auto Thickness feature for inspection planning. This feature uses the CMM to detect the surface thickness of a selected portion of a scanned part. This feature can also create automatic "GoTo" moves for proper clearance and collision avoidance for automated CMM inspection.
Verisurf VDI is an application that makes controlling different types of CMMs possible within a single interface. 2021 includes updates to VDI that support even more probe types, including Renishaw REVO, Renishaw PH20, Fowler zCAT portable programmable CMM, Faro tracker 6Probe, API Radian Pro, Radian Plus & iSCAN3 trackers and scanners, and Hexagon-Leica ATS600.
Verisurf 2021 includes enhancements to the Verisurf SDK to communicate with other machines, such as collaborative robots and CNC machines.
The new Enable 5-Axis Move feature in Automate's Generate Path makes making complex measurement moves very easy. Rather than programming that just moves the heavy arm of a CMM, the software can move the probe head, even along sharp angles, for maximum precision and faster scanning. 
Articulating a probe along complex angles to gather point clouds was reserved for metrology specialists with more advanced skills in the past, as it usually involves line-by-line coding, but Verisurf overcomes the skill gap by automating this process with a simple interface that involves click-drag, rotate, scroll, push-pull actions for CMM planning. 
Boeing DPD Compliance
Verisurf now meets and exceeds Boeing requirements for Digital Product Definition (DPD), Physicalisch-Technische Bundesanstalt (PTB) and the National Institute of Standards and Technology (NIST). Verisurf Validate includes NIST testing and reports that compare tolerances between a derivative and a native CAD file with numbers that span to the last digit, past necessary accuracy or tolerances, with margins that far exceed industry standards and minimums, making this software an excellent choice for aerospace manufacturers and other precision parts producers.
CAD Updates
Verisurf is a CAD-based software and its newest version has made many updates to its many CAD modeling functions. Some of these enhancements include the ability to recognize complex hole geometry in a part, a reflow UV feature that allows you to adjust the path of a probe to match the rotation direction of the surface of a propeller part, and a 3D PDF save entity that generates an interactive, virtual report that shows levels, planes and entities, similar to Mastercam 2022.
Verisurf Reverse also has updates to their Power Surface feature, including the option to use point vectors for surface meshes. The Power Surface feature can take a mesh created from CMM scan data and create a clean, continuous surface on the CAD model from that mesh. This makes reverse engineering faster and much easier.
Optional CAD Translator Updates
Verisurf 2021 now supports the following versions of CAD translators:
CATIA V5 R31 and V6 R21 

Siemens NX 1961

JT 10.6, ProE/Creo V7.0 with MBD Import 

STEP AP242 E2

CATIA/NX/JT/ProE Tree/Ops Mgr
This is only a short list of Verisurf 2021's new features. To view a longer list of feature highlights for Verisurf 2021, click here! 
There are different software bundles available for Verisurf 2021 to best fit your shop's budget and metrology and reverse engineering needs. If you are interested in purchasing Verisurf 2021 for your shop, please contact our Sales Team at sales@mcamnw.com or (503) 653-5332.
Follow MCAM Northwest!
Facebook: @MCAMNorthwest
LinkedIn: mcam-northwest
Twitter: @MCAM_NW
YouTube: The MCAM Northwest
To view and register for upcoming MCAM Northwest events, visit our Events page.