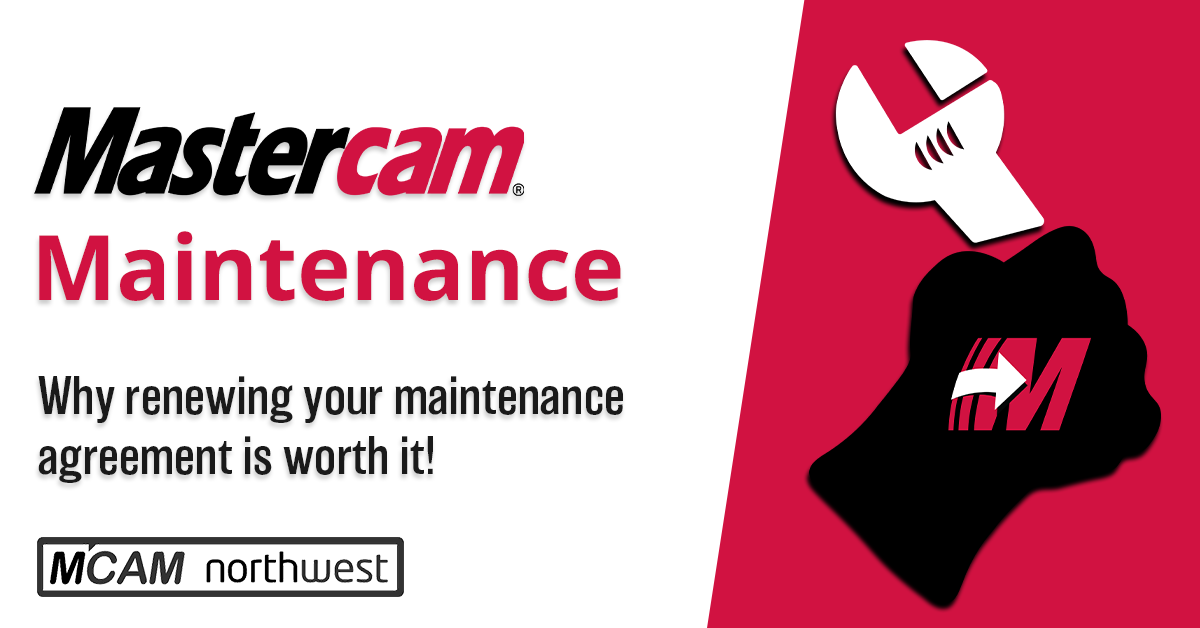 Spotlight: Mastercam Maintenance Program
Protecting your software investment.
By Callie Morgan
Friday, September 1st, 9:45 AM PDT
The Mastercam Maintenance Program ensures you get the most value out of your software by aligning with the evolving technology trends needed to keep your business strong and moving into the future. We all know updates are included with Maintenance but did you know about the other benefits?
Access to the Tech Exchange
Maintenance customers have unrestricted access to the Mastercam Tech Exchange, which is a library of files designed to help you create parts in Mastercam. Access to the Tech Exchange includes FREE generic machine posts, tutorials, signature part files, tool libraries, and more.
Access to Training
MCAM Northwest offers private group training sessions exclusively to our current Maintenance customers. With the purchase of multi-year maintenance agreements, training is free! These training sessions are customized to fit specifically what your programmers need to know. We can even use your part files to guide the training sessions (we will sign your NDA if needed). You can request a training session here.
If you are a current Maintenance customer, your training hours with MCAM Northwest are renewable, meaning any unused training hours will roll over into the next year until your maintenance agreement expires. 
Priority Access to Support
Since support is always based on the current version, Maintenance customers have priority access in the queue. Whenever issues arise, you will get dedicated, top-notch customer support from MCAM Northwest. 
Save on Updates
Maintenance allows you to budget for a recurring operating expense: Maintaining your software. Purchasing Mastercam updates individually cost more than becoming a Maintenance customer. Maintenance gives you access to updates for your version, downloads for new version releases, and even access to Beta versions. With access to the Beta, you have an opportunity to try new features before they are released to the public and offer your feedback directly to Mastercam's development team.
The most up-to-date software for your operation is essential to keeping you competitive. Each update ensures that your software remains compatible with new devices, operating systems, and compliant with with the changing industry standards and regulations. Plus, updates bring new features and functionalities that improve your experience and keep the software on the cutting edge, improving your opportunities to save time and make more money. For example, if you increase tool life by 20% with an enhanced toolpath provided in an update, and one job uses 15 endmills at $100 each, you could save $300 alone on that one job!
Every version releases hundreds of new features and improvements that improve tool life, workflow, and overall efficiency. To see the impact of staying current with your software, check out our Time Travel 2017-2024 Blog.
In conclusion, Mastercam Maintenance isn't just a fixed asset, it acts as a method of appreciation for your software. Maintenance ensures you get the most value out of your Mastercam investment. If your Maintenance has lapsed, it's a great time to get caught up! Reach out to our sales team today to get a quote.
Follow MCAM Northwest!
Facebook: @MCAMNorthwest
LinkedIn: mcam-northwest
Twitter: @MCAM_NW
YouTube: The MCAM Northwest
Instagram: mcamnorthwest
To view and register for upcoming MCAM Northwest Mastercam webinars, visit our Events page.