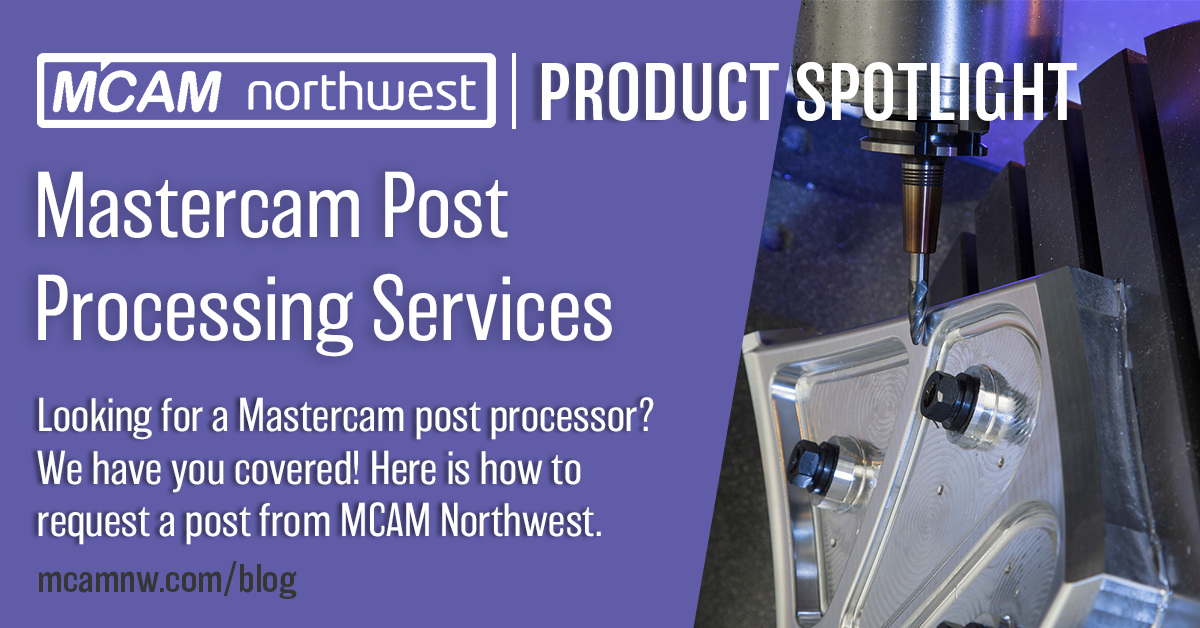 Spotlight: Mastercam Post Services
Looking for a Mastercam post processor? MCAM Northwest and our post partners will offer you the highest quality post processing services for Mastercam.
By Callie Morgan
Monday, November 28th, 2022, 11:00 AM PDT
You may be wondering if the recent announcement of our post developer Allan Jones' retirement will change the way you get machine posts from MCAM Northwest. Rest assured, the way posts are requested and delivered to you will not change after Allan retires. We assure that you will continue to get whatever you need for your machine posts and the best support possible through us and our post partners. We have fantastic resources for post processing that we have worked with for many years. If you are new to requesting a Mastercam post from MCAM Northwest, here is an explanation of how our post request process works.
Generic or Custom Post
First things first, if you need a new post, determine whether or not a generic post is available for your machine. Log into your My.Mastercam account and visit the Mastercam Tech Exchange to search for generic posts by typing in your machine brand name/model in the keyword search bar, select the Mastercam product (Mill, Multiaxis, Blade Expert, etc.), the Mastercam version from the dropdown menu, and highlight "Posts" on the bottom tab. Generic posts are free to download for all current Mastercam Maintenance users.

If you are unable to find a generic post on the Tech Exchange that includes your machine's unique capabilities and features, you can request a custom post through MCAM Northwest. For a more detailed explanation of what the different capabilities are for generic versus custom posts, check out our Understanding CNC Post Processors blog. 
To request a custom post, look for your machine type in the hyperlinked list on our Post Services Page. Then, click on and fill out the hyperlinked request form for that machine. 
Depending on what kind of machine you need a post for, your post will be provided by either Postability, InHouse Solutions or CNC Software.
Post Delivery
If your post needs more adjustments, or if more information is needed, you will have the ability to work directly with a post developer from your post provider whenever necessary. Our Applications Engineer Geoff Phoenix is also trained on MP posts and is available to answer most of your post-related questions from the support@mcamnw.com email.
Before your custom post is delivered, it will be fully tested using a sample part file, which will be included with your post delivery. You will be notified via email when your post is ready and will be prompted to schedule an installation meeting with MCAM Northwest. During the meeting, we will walk you through installing and testing your post and, if applicable, your machine simulation, or Mill-Turn Environment, to ensure that you are set up for success.
The initial post file you will be sent is a timed post file (the file will expire within 30 days). An un-timed, permanent post file will be emailed to you in approximately 30 days, provided payment has been received. The installation instructions will be included in the email with your permanent post file, however, if you need help installing the post, we are happy to help you!
Post Maintenance
New custom posts include a minimum 6-month maintenance period, and are quoted for renewal annually. For any modification or correction work for your post, your post must be within the maintenance period. Maintenance covers a range of work from basic (i.e. help with migrating a post from an older version) to more advanced needs, however, work outside the original scope of the post may include an additional cost.
Modifying Posts
You can request to modify generic posts and a post made for an older (legacy) Mastercam versions. However, modifications of generic posts are limited to cosmetic fixes (i.e. putting N-numbers on every line vs. only at the start of every toolpath operation). Modifications beyond that will qualify as a custom post. It is important to note that it will often cost you more to modify legacy and generic posts than to order a new post. 
When modifying an existing post, it is important to know who your post author is so you can request post support directly from them. If you need to request a modification to your post, send an email to your post provider and be sure to CC support@mcamnw.com so we can monitor the process of your request. For Postability, email your request to team@postability.com and for In-House Solutions, email postdev@inhousesolutions.com. 
For other authors, or if you don't know the author of your post, fill out and submit a Post Modification Form. Important note: If your post is authored by MCAM Northwest or Allan Jones, it no longer qualifies for modification and will be quoted for replacement by a modern, supported post from our post partners at either InHouse, Postability or CNC Software.
We want to assure that you get the post that keeps you running at maximum productivity and efficiency. We are happy to provide high quality support for all your post processing needs. If you are interested in getting a new custom Mastercam post or modifying your current Mastercam post, visit our Post Processing Services Page to fill out post request forms and/or reach out to our Support team at (503) 653-5332 or support@mcamnw.com .
Follow MCAM Northwest!
Facebook: @MCAMNorthwest
LinkedIn: mcam-northwest
Twitter: @MCAM_NW
YouTube: The MCAM Northwest
To view and register for upcoming MCAM Northwest Mastercam webinars, visit our Events page.