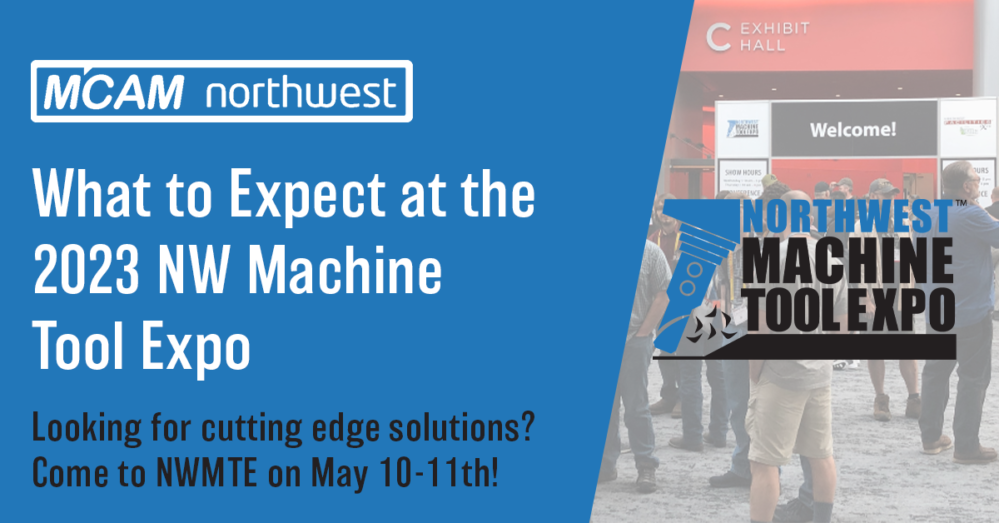 What to Expect at the 2023 Northwest Machine Tool Expo
MCAM Northwest will be at the 2023 Northwest Machine Tool Expo! Here is what to expect at this year's show.
By Callie Morgan
Thursday, April 27th, 2023, 9:48 AM PDT
If you are looking for new ideas on how to operate more efficiently and stay ahead of your competition, the Northwest Machine Tool Expo (NWMTE) is the place to be! This year's two-day show at the Oregon Convention Center in Portland, Oregon will host over 70 exhibitors. Exhibitors will cover the areas of CAD/CAM, fixtures and workholding, additive manufacturing (3D printing), robotics, lean manufacturing and much more. You can scan through the full list of NWMTE exhibitors on the event website. Machine tool shows are a low-pressure environment to explore products and have conversations with the people behind those products. 

At this year's show, we will have Verisurf joining the MCAM Northwest booth to demonstrate their Master3DGage probing and scanning arm with Verisurf CMM programming software. We will be showing off the powerful, time-saving features of Mastercam CAD/CAM and the new additive manufacturing add-on for Mastercam: APlus. Plus, if you chat with us for a bit, you might score a super secret swag item!
There will be live machining demonstrations at the show this year! A Trak mill,Trak lathe, and a Hurco five-axis machining center will be running on the show floor, provided by Rosco Precision Machining. 
NWMTE is a localized show, frequented by business owners, programmers, machinists, artisans and students. This makes the expo a spacious arena for networking with prospective employees and business connections.

The ability to connect face-to-face with fellow industry professionals and product representatives is one of the main reasons to attend NWMTE, but this year will also host seminars on manufacturing hot topics that shouldn't be missed! The seminars will cover automation, 3D printing (additive), scanning, taking advantage of tax credits, and the labor shortage. Visit the NWMTE conference page to view the schedule for this year's seminars. This year's keynote by Mark Harris, the President of CNC Machine Services Inc., will address how innovations in advanced manufacturing, like A.I., robotics and additive, are helping shops become more globally competitive. 
Be sure to stop by and chat with MCAM Northwest and Verisurf Software at Booth #741 at the 2023 Northwest Machine Tool Expo and Conference May 10-11th. Registration for NWMTE is free. Attending this show is a wonderful opportunity to soak in some great information and experience the latest technology that will take your shop to the next level. We hope to see you there! 
Follow MCAM Northwest!
Facebook: @MCAMNorthwest
LinkedIn: mcam-northwest
Twitter: @MCAM_NW
YouTube: The MCAM Northwest
To view and register for upcoming MCAM Northwest Mastercam webinars, visit our Events page.